By Chris Williams, CycloneFanatic.com PublisherFollow Chris on Twitter @ChrisMWilliams
I picked Texas A&M to beat Iowa State on Saturday. However before the game, the thought of the Cyclones going down to College Station and coming away with a win wasn't far-fetched. A 24-point win? Well, that's another story.
While sitting at a wedding and constantly checking my phone for the score (I know that you're not supposed to do that. Sue me.), I darn near wet my pants from shock when I saw the numbers 74 and 50.
While one of my wife's good friends did schedule her wedding at a poor time (anytime you get married while the Clones are playing in anything, or any wedding during the months Sept. – Dec. is a bad time if you're thinking about planning your own special day sometime soon), I did get to watch the first half of Iowa State's spanking of the Aggies. Even so, the final score surprised the 'you know what' out of me. Before this wedding began at 4:30 on Saturday afternoon, the Clones were up by 20 with around 15-18 minutes to play. After securing several dirty looks from an old (and mean I might add) lady who didn't appreciate my Android device being out during the ceremony, I turned to my beautiful and very understanding wife (God bless her. I'm sure that it isn't easy being married to me.) and whispered, "Only Iowa State can find a way to blow this one babe."
She giggled, but also agreed adamantly .
That was a good win folks. No…That was a great win.
We don't need to sugarcoat this. The schedule couldn't have set up any better for Iowa State. Saturday was a great time to take a road trip to College Station.  Right now, Billy Kennedy's Aggies are as flat as a month old, already opened two liter bottle of Sprite (gross). But as Missouri found out on Saturday, road wins are HARD to come by in conference play. To beat the Big 12's co-preseason favorite (by the coaches) by 24 points on the road is quite the accomplishment.
Maybe things have finally clicked for this bunch?
That's still only a big maybe but I can guarantee you one thing. Wednesday night is going to be one hell of a showdown in Ames.
They're no longer undefeated, but nationally-ranked Missouri will come to town for perhaps the final time in the history of this long rivalry. The Cyclones are 2-0 in the Big 12. Students are going to be fresh off of what has seemed like a four-month long Christmas break. Something tells me that Hilton Coliseum is going to be a bit on the nutty side when the SEC-bound Tigers roll into town.
This is a monstrous game for Iowa State. You just got a big road win in the league. Giving one back at home to an old school rival like Missouri won't sit well.
So you want to be an NCAA Tournament contender? With Iowa State's lackluster non-conference resume, ending the season above .500 in the Big 12 should be enough to put the Cyclones in the Big Dance. After a hot start, the Cyclones are currently in the conversation. You want to stay in the conversation? Take care of business at home. Iowa State basketball was built on winning games at home. If you're not wearing cardinal and gold, you don't win in Hilton.
You want this program to be "back?" You've got to win games like the one that is looming on Wednesday night.
That place better be packed. And loud. And a bit on the obnoxious side as well.
More on hoops…
— I thought I'd link THIS BLOG by CBS' Jeff Goodman regarding the Missouri Tigers. Contender or pretender?
— While I do hate to brag, I thought I'd point out that Brent Blum, Tron Smith and I all correctly predicted the Tigers to get pummeled by Kansas State on Thursday night's CycloneFanatic.com/Wilson Toyota Call-In Show from Buffalo Wild Wings in Ames (heard on Des Moines' sports station 1460 KXNO from 7-8 every Thursday night).
— It's nice to have Melvin Ejim back amongst the living.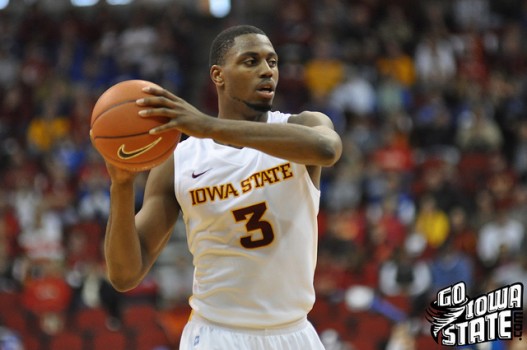 ABOVE: Ejim led Iowa State with 15 points in Saturday's win.
— There is a fine line between being a confident basketball team and an over-confident basketball team. So far, so good for the Cyclones. Stay tuned.
— Some ISUAgronomist video here. Royce White secures his triple-double…
— When I look at the current Big 12 basketball standings, here's what stands out to me. The teams with new coaches are really struggling. Texas A&M, Texas Tech and Oklahoma are all 0-2 right now. Missouri is 1-1. That's not to say that the Tigers won't bounce back after going unbeaten in the non-conference, but it's a trend worth noting.
— Not to take anything away from Iowa State, but the Aggies had to have been one of the nation's top five most overrated teams in the country in the preseason. Still, I have a feeling that the Aggies will bounce back and at least make things somewhat interesting for their fan base down the stretch. Right? Well, maybe I guess.
— Elsewhere around the league, can we all just finally admit that Frank Martin is a good basketball coach? Two years ago, I thought that the man was a fluke. Now, I'm convinced that he's legit. The Wildcats don't have obvious tournament talent this season but with that bull-headed style of play, beating Kansas State (especially in Manhattan) will be a daunting task for anybody in the league this season.
— If you didn't get a chance to read THIS BLOG from Thursday, check it out. It's why Tyrus McGee is one of my favorite players to ever put on an Iowa State uniform.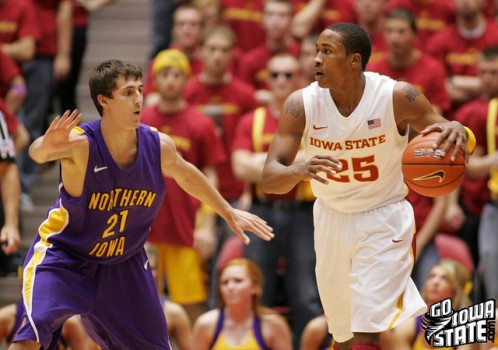 Women's hoops…
— The fact that Iowa State took top-ranked Baylor to the limit on Saturday night didn't surprise me at all. First of all, the game was in Hilton Coliseum. You all are the best women's basketball fans in America.
Secondly, Bill Fennelly is Iowa State's head coach. Guys like Fennelly live for challenges like the one the Cyclones faced on Saturday night. It's been a tough couple of weeks for Fennelly, who is one of (if not the) cornerstone of the Iowa State athletic department. This year's team might not have as much talent as those of the past, but these Cyclones won't go away quietly. I've never seen a Fennelly coached team that has…
— Speaking of the last name Fennelly, Billy Fennelly spoke to supporters at last Thursday's Story Co. Cyclone Club luncheon. I emcee this event once a month at the Hickory Hall in Ames. Billy did a heck of a job. He's as smooth as "The Rock" with a mic in his hand. If you've never been to one of these events, you should consider going. I describe them as a monthly Iowa State town hall meeting. Coaches do their thing and then it's time for the fanatics to fire away with questions. Pretty entertaining stuff. Great food too.
RANDOMS
— My wife and I were pleasantly surprised when ABC's "The Bachelor" returned to our television last week. Yeah, I watch "The Bachelor" with my wife. You got a problem with that? What's up?
Anyway, there is this crazy gal on the show named Jenna. This woman is beyond nuts. She's Ron Artest type of loco. Her occupation? She's a blogger.
My wife found this to be awfully humorous for obvious reasons.
— Rumor has it, the Coors Light Girls will be attending Thursday night's call-in show at Buffalo Wild Wings in Ames….
— Some preseason country music awards for you…
The Newcomer of the Year for 2012 will be? Brantley Gilbert.
Comeback Artist of the Year? Chris Cagle.
Entertainer of the year? Duh. "King" George Strait of course.
That is all.