By Chris Williams, CycloneFanatic.com PublisherFollow Chris on Twitter @ChrisMWilliams
The Cyclone Nation better learn how to spell the man's name correctly now.
Paul Rhoads is going to be here for a while.
On Thursday evening, many were concerned that Rhoads was seriously entertaining a look to become the next head football coach at Pittsburgh, a program where Rhoads nearly spent a decade in the 2000's as a defensive coordinator.
At around noon on Friday, Rhoads was trending on Twitter after it was announced that Iowa State's head football coach had signed a brand new, 10-year, $20 million contract with the Cyclones.
Some notable tweets about the new deal…
– Future Cyclone Luke Knott – "Couldn't be more happy about Coach Rhoads 10 year extension. One of only a few coaches that gave my brother and I a chance"
– The Voice of the Cyclones, John Walters – "Ten year extension sends strong message – ALL IN"
– KCCI TV Sports Director Andy Garmin – "He's dreaming of a GREEN Christmas – ISU says Paul Rhoads' contract is 10 years, $20 million dollars."
– Blair Kerkhoff of the Kansas City Star – "Paul Rhoads and I-State agree to 10-year deal. I can see a Snyder/KState kind of tenure (w/out the break) in Ames."
– Iowa State women's basketball coach Bill Fennelly – "GREAT to hear Coach Rhoads got a contract extention!! So happy for Coach/his family/and Cyclone Nation!"
– Iowa State men's basketball coach Fred Hoiberg – "Just got out of practice and saw the awesome news on coach Rhoads! Great day for Cyclone Nation…Go Clones!!"
FAIL: This image was sent to me from @LukeVMiller on Twitter from KCRG-TV in Cedar Rapids.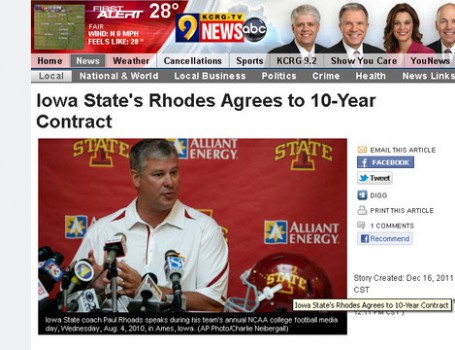 PHIL STEELE LIKES RUTGERS: College football guru Phil Steele has picked Rutgers to defeat Iowa State in the 2011 Pinstripe Bowl. Steele released his bowl confidence picks on Friday, putting the number six next to the Scarlet Knights. CLICK HERE to view Steele's picks.
LOTS 'O' LINKS
— ESPN.com's Gene Wojciechowskipreviews what he refers to as the "little" bowl games. The Pinstripe Bowl is one of them.
— Iowa State basketball spent the majority of finals week working on team defense. Central Michigan will come to town on Sunday.
— Here's a feature on Rutgers quarterback Chas Dodd from The Star Ledger. The real juice of that link for Cyclone fans is the fact that Rutgers still doesn't know who will start at quarterback against the Cyclones in the Pinstripe Bowl.
— Back to hoops. Bobby La Gesse from the Ames Tribuneinvestigates how and why the Cyclones have played better defense as of late.