By Chris Williams, CycloneFanatic.com PublisherFollow Chris on Twitter @ChrisMWilliams
What: Iowa State (0-0) vs. Lehigh (0-1)
When: Saturday, Nov. 12 at 1 p.m.
Where: Hilton Coliseum
TV/Radio: Mediacom/Clone Zone — Cyclone Radio Network
I walked away from Iowa State's 77-62 exhibition win over Grand Valley State last Sunday very underwhelmed. But when you consider the facts that Iowa State's best player, Chris Allen, played sparingly and that Fred Hoiberg was experimenting with his lineup quite often in the glorified scrimmage, its best to enter Saturday's season-opener against Lehigh with a clear head.
Here's the preview.
Iowa State's projected starters
G: Chris Babb, 6-5 Jr.
G: Scott Christopherson, 6-3 Sr.
G: Chris Allen, 6-3 Sr.
F: Melvin Ejim, 6-6 So.
F: Royce White, 6-8 So.
What to watch for:
— Iowa State's roster lacks height, but so does Lehigh's. A big key to Saturday's game is who will win the rebounding battle? The Mountain Hawks aren't big but they're feisty. Lehigh out-rebounded St. John's 36-28 on Thursday night (more on that later). Meanwhile, the Cyclones struggled on the glass against a division two team in its exhibition. Iowa State was the Big 12's worst rebounding team a season ago. If the Cyclone Nation wants to go dancing this March, that can't be the case again in 2011-12.
— What, if any adjustments have been made to Iowa State's situation at point guard? Scott Christopherson got the majority of the reps against Grand Valley State. He racked up six assists to only two turnovers while running the show. Will Hoiberg stick with this game plan or have tweaks been made over the last week?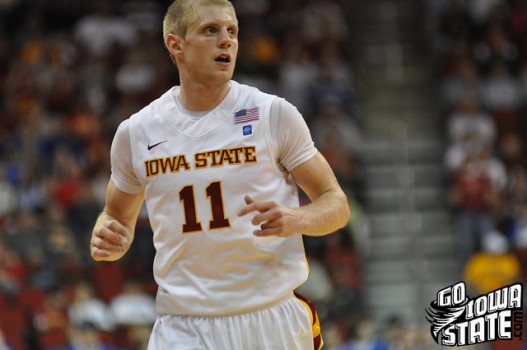 — What will the crowd be like? Without a football game to compete with, a jam-packed Hilton Coliseum is to be expected. But how rowdy will it be for a season-opener against a little-known Patriot League foe? With as much anticipation as there has been for the upcoming season, nothing will surprise me. A Big 12 feel would be nice for a group of players who haven't competed in a real game for in some cases, years.
— I'll be curious to see what Iowa State's substitution patterns look like in a real game. I assume that junior Tyrus McGee will be the first Cyclone off of the bench for the entire season. But who's next? How deep will Iowa State go? Right now, I anticipate an eight man rotation that could grow to nine or even 10, depending on the progress of true freshman Tavon Sledge. Stay tuned, as this will likely be something to keep an eye on for the next month. My guess is that it will change often.
NOTEBOOK
— During his media availability on Thursday, Hoiberg referred to guard Chris Allen's status as as "game time decision." Allen suffered a hip pointer last week in practice. I think that he'll play but there are obviously no guarantees. Allen only played 13 minutes during Iowa State's one and only exhibition game last Sunday. He had two points in the win.
— Saturday will mark the first time in history that Iowa State and Lehigh have played. The Cyclones are 2-1 all-time vs. opponents from the Patriot League. That one loss came back in 1970 to Holy Cross.
— Saturday's coaching matchup is an interesting one. There's Hoiberg, who is 39 years old. Lehigh's head coach, Brett Reed, is also 39. The pair makes up two of the nation's 29 division one head coaches who are under the age of 40.
— Scott Christopherson didn't make a 3-pointer in Iowa State's exhibition. Lucky for Christopherson, that game meant nothing. Heading into Saturday, Iowa State's new starting point guard has made a trey in 34 straight games.
— Iowa State has ranked in the top-30 nationally in attendance the last five seasons. That's a streak that will likely continue as Iowa State's ticket office recently announced that a record number of 10,252 season tickets have been sold for the upcoming campaign. That's pretty impressive when you consider that this was a 3-13 Big 12 team last season. I've said this for years and of course my bias is showing a little bit here, but Iowa State has the most loyal basketball fans in America. The support this program gets is pretty awesome.
— Lehigh has never beaten a Big 12 school in the history of its program. The last time that Lehigh beat a BCS program was in 2008 against Rutgers.
— Iowa State has won 13-straight season-openers.
LOTS O' LINKS
— Iowa State assistant basketball coach Matt Abdelmassih joined Tron Smith and me on Thursday night's CycloneFanatic.com Call-In Show on 1460 KXNO. His interview is located at the beginning of segment two in this podcast.
— Another podcast for you. In this one, Brent Blum and I preview Iowa State's 2011-12 men's basketball season.
— Fred Hoiberg and I discuss his 2012 recruiting class in this Q&A.
— Who is Royce White? Ames Tribune sports editor Bobby La Gesse investigates in this strong feature.
THE LEHIGH MOUNTAIN HAWKS
Projected starting lineup
G: C.J. McCollum, 6-3 Jr. – 19.0 PPG, 9.0 RPG
G: Mackey McKnight, 6-0 So. – 1.0 PPG, 3.0 APG
F: Holden Greiner, 6-7 Jr. – 12.0 PPG, 6.0 RPG
F: Gabe Knutson, 6-9 Jr. – 16.0 PPG, 6.0 RPG
F: Jordan Hamilton, 6-6 Sr. – 7.0 PPG, 5.0 RPG
The Leigh Mountain Hawks don't have the depth of pure talent that Iowa State does, but this Patriot League power does possess one thing that the Cyclones do not.
That's chemistry. Four of Lehigh's five starters are back from last season's team that finished 16-15. The Mountain Hawks were picked to finish second in this year's Patriot League standings by the league's coaches.
Lehigh proved their worth on Thursday night by nearly beating St. John's on the road. The Red Storm won the game by a 78-73 final, but Lehigh actually had a 16 point lead at one point in the first half.
For the Mountain Hawks, everything begins with the nation's leading returning scorer, junior guard C.J. McCollum. Two years ago, McCollum was named the Patriot League's Player of the Year as a freshman. He's even better now. McCollum averaged 21.8 points per game as a sophomore, which ranked ninth best in America. He also averaged 7.8 rebounds per game. McCollum went for 19 and 9 in Thursday night's loss to St. Johns.
Central Iowa Cyclone fans might know the name Gabe Knutson. Knutson, a 6-foot-9 junior out of Waukee High School, had 16 points in Thursday night's loss. Knutson averaged 12.2 points and 5.7 rebounds per game last season.
NOTE: Knutson isn't the only former CIML all-star that plays for the Mountain Hawks. Last year's CIML Player of the Year, Johnston's Corey Schaefer scored five points in 19 minutes in his college debut against St. John's.