By Chris Williams, CycloneFanatic.com PublisherFollow Chris on Twitter @ChrisMWilliams
Happy Monday Cyclone Nation!
I trust that you all had a relaxing weekend, knowing that your Cyclones are 3-0 for the first time since 2005. Saturday was a blast for me. It isn't very often that I get to sit down and watch an entire day of college football. I put my man cave to work on Saturday.
It's too bad that what is happening on the field is the second most important story that's going down right now.
If you're tired of conference realignment talk, trust that I understand. I'm sick of reading about it. I'm sick of writing about it. I'm sick of thinking about it.
But also understand that while this story is somewhat nauseating, it's also very important. I'll begin today's musings with my thoughts on that.
On conference realignment…
Nobody hates conference realignment worse than my wife. My phone has been working overtime lately and she's not too fond of it.
I'm not going to get into the latest on realignment here. CLICK HERE to check out my running realignment blog if you need to get caught up.
I do have a few thoughts though…
— First of all, note that whatever I write now, could change within 10 minutes. To say that this story is fluid would be a massive understatement. Also, note that I am not reporting anything. I'm simply considering all of the current circumstances and thinking out loud.
So let's just pretend for moment that these Texas, Texas Tech, Oklahoma and Oklahoma State to the Pac-12 reports hold up. What then?
There's heavy talk of a Big 12 – Big East merger. From what I'm hearing, this would be a worst-case scenario for Iowa State, which is encouraging in my opinion.
I am going to go ahead and assume that Rutgers and UConn will be a part of the new ACC. That would leave the following schools (along with my thoughts on each specific school) for this new conference.
Iowa StateKansas – Would be a potential candidate for the Pac-12 or Big Ten
Kansas State – A potential Pac-12 candidate
Missouri – Rumors currently tie the Tigers to the SEC
Baylor – Probably a safe bet to stay
Louisville – Probably a safe bet to stay
Cincinnati – Probably a safe bet to stay
West Virginia – Rumored to be an SEC candidate
South Florida – Probably a safe bet to stay
TCU – Sucks to be these guys. Jump to the Big East last year. Then it implodes. Nonetheless. Safe.
So that would give this new league 10 teams. To be viable in today's day and age, you have to get to at least 12 in my opinion.
Who do you add?
BYU makes a ton of sense. You start with them. The Cougars would be foolish to not join too.  Why? I'll touch on that right now…
— Would the above league be an AQ BCS league? In my opinion, absolutely. With all of the lawsuits and angry institutions around America during these tumultuous times, there's no way that the BCS will strip these 10 schools of their chance to play in a prestigious bowl game. That's all the reason in the world for a school like BYU to join. Why not? At this point, you have nothing to use.
— At the end of the day though, it all comes down to money and television, which go together. If this new Big 12 – Big East merger can somehow hold onto the Big 12's current FOX deal and the Big East can bring some money (as their current contract is up for bids), then this league can work for Iowa State. I'm not saying that it is as strong as the Big 12 or potentially the Big Ten, but it can work. Again – It is all about the money. How much is Iowa State going to lose in whatever move it has to make? That's what to watch for here and nothing else.
— Want to know something else that is sad about this recent realignment surge? The best basketball conference in America, the Big East, is being blown up without even giving it a thought. I'm now left to wonder what is going to happen to the Georgetown's, Marquette's and St. John's of the world. If this new Big 12 – Big East merger goes down, I'd take all of the basketball schools and look to add the Butler's and Xavier's of the world. Heck, I'd even make a run at Creighton. This league could be a basketball power, not that it means anything of course. Point is, you're not going to make astronomical money with football. I can only imagine that a hoops league like that would add some dollars to the league.
— My biggest pet peeve during realignment is when media members of certain schools take cheap shots at the little guys on their way out. Here's an example.
Texas A&M's beat writer for the San Antonio-Express and Houston Chronicle Brent Zwerneman tweeted this on Friday afternoon.
Funny to me some say A&M to SEC is only about money. See the crowd & atmosphere last night at MSU? You don't get that at Iowa State.
Why? No really. Why? Why pick on little ole Iowa State on your way out? After posting that tweet, Zwerneman went on to post more wise comments poking fun at Ames and Iowa State.
Really though, why is a beat writer this emotionally attached to Texas A&M's decision anyway? Would the Des Moines Register's Iowa State beat writer Andrew Logue ever tweet something like that? The answer is no.
Stuff like this really irks me. I expect it from bloggers and fans, but when "pros" get into the mix, I get annoyed. This isn't the first we've seen of it either. Nebraska's media was bad last year. Oklahoma's is getting to this point this time around. Oh well.
Enough on realignment for now. Things are sure to be different here in a few hours.
On Iowa State football…
— Mark wide receiver Josh Lenz down as my Cyclone football MVP throughout the first three games of the season. From his two receiving touchdowns to his remarkable improvement returning kicks and punts, Lenz has been Iowa State's most consistent player through three games and has turned into a legitimate weapon for Steele Jantz to throw to.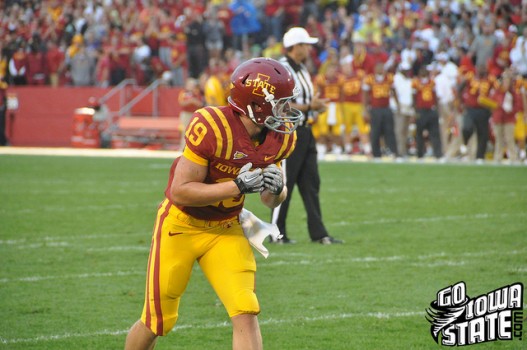 — Speaking of wide receivers, I was way wrong in doubting Darius Reynolds during the offseason. "Money" has been money so far in 2011. Reynolds is averaging 80 receiving yard per game and has caught four touchdown passes for Iowa State. Most of those have been thanks to incredible individual efforts too. Just think that he's been doing this with a broken toe.
— Speaking of Reynolds' broke toe, Iowa State's bye week could not have come at a better time. The following players are all dinged up for Iowa State at this time: Reynolds, Steele Jantz, Kelechi Osemele, Jake Knott and Stephen Ruempolhamer (just to name a few). Again – This bye week could not have come at a better time.
— I've watched a lot of Iowa State football in my life. Past Iowa State teams would have lost last Friday night at UConn. This team has a different feel to it.
ONE RANDOM…
— I've been meaning to weigh in on this for a while but haven't really had the opportunity until now. I see that some of you fanatics have been awfully hard on the Ames Buffalo Wild Wings. I guess a few weeks ago, a couple of the workers were seen wearing Iowa shirts. Now you want to boycott the location? By all means, you are free to do what you want to do. But so are those workers. I looked into this. The way I understand it is that management at a chain like that cannot require workers to wear clothing of a certain school or team. Wearing Hawk gear in Ames probably wasn't the smartest move. By all means, you don't see Cyclone apparel being flaunted in Iowa City. But trust me when I tell you that the Ames Buffalo Wild Wings does a lot to support Iowa State athletics and I will continue to support them. Management there cares very much about supporting the Cyclones. The actions of a few employees shouldn't make you think differently. That's only my opinion though. Take it for what it is worth.
Toodles.