By Chris Williams, CycloneFanatic.com PublisherFollow Chris on Twitter @ChrisMWilliams
The Cyclone Nation was expecting big news from its head football coach Paul Rhoads after Saturday night's scrimmage.
They got news all right, in the form of a nasty curve ball.
Steele Jantz will be Iowa State's starting quarterback when the Cyclones open the 2011 season vs. Northern Iowa on Sept. 3.
Jerome Tiller is academically ineligible for the upcoming season.
For details on all of the above and the conclusion of Iowa State's fall camp, enjoy this CycloneFanatic.com football notebook.
———————————————————————————————————————–
SET IN STEELE
Paul Rhoads was quick to use the word "coincidental" when explaining the timing of Jerome Tiller's academic issues with his naming of Steele Jantz as the program's starting quarterback.
Rhoads' message to reporters was simple. Regardless of Tiller's academic situation, Jantz was going to be Iowa State's signal caller when the Panthers come to town in 12 days.
"We went through the entire training camp and Steele emerged clearly as the number one guy," Rhoads said.
The fact is, Jantz is a heck of a lot better quarterback right now than he was during spring ball.
"He took off and ran this fall camp when he should have. In the springtime, he didn't do that," Rhoads said. "He threw the ball on time. He threw a lot of good balls tonight into crowds. He is making better decisions at the line of scrimmage. To operate this offense, you have to do that."
Physically, Jantz is where he needs to be. But what about the mental aspect of the game and specifically, understanding Tom Herman's complex spread offense?
So far, so good.
"As the season goes along, we will add to it (the playbook)," Rhoads said. "He thoroughly understands everything that we have in at this point."
Rhoads said that it had become more clear that Jantz was the guy after Wednesday afternoon's second scrimmage.
"I feel comfortable. Guys come from junior college all of the time and make this transition. He led a college team that has great tradition at City College (of San Francisco) into the championship game of the California junior college league. That's not an easy challenge to do, in and of itself."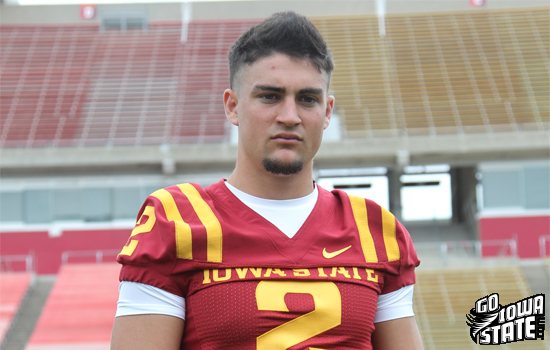 JEROME TILLER'S FUTURE
Jerome Tiller lived in the shadow of Austen Arnaud for the last three years.
It was supposed to be Tiller's time season to make a mark on Iowa State's football program.
Now that Tiller is academically ineligible for his junior campaign, what's next for No. 11?
"He'll work immediately to get himself academically eligible for 2012," Rhoads said. "He'll participate in practice like everybody else. He'll spend the 2011 season down with the scout team. We will re-evaluate as the season concludes and see where he goes from there."
Here's the real question – What position will Jerome Tiller play in 2012?
Could he make a position switch during his "off" year?
"He could," Rhoads said simply.
— Chris' Take: I think we've seen the end of Jerome Tiller, the quarterback, at Iowa State. Rhoads was very clear that Jantz would have won this battle even if Tiller was going to be eligible. With two talented young guys like Jared Barnett and Sam Richardson waiting behind Jantz on Iowa State's depth chart, does it really make sense to keep Tiller at quarterback for one season when he didn't even beat the top guy out (and maybe Barnett too) in the first place? I have doubts. Stay tuned.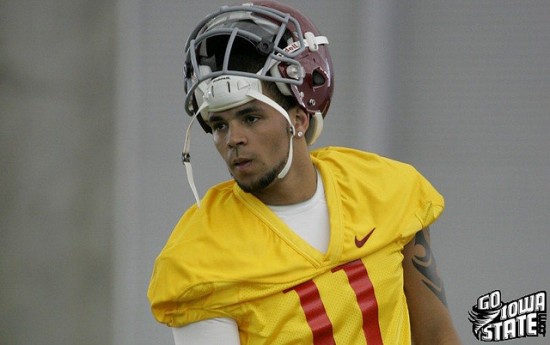 BARNETT THE BACKUP
Lost in all of this is Jared Barnett, a redshirt freshman, who thoroughly impressed Iowa State's coaching staff in spring football and fall camp.
"Jared Barnett certainly has not disappointed as we've gone through camp," Rhoads said. "Jared Barnett has a great bit of maturity for a redshirt freshman and continues to throw the ball accurately and make smart decisions. One of the good things that he does is get rid of the ball on time – Awfully important in our offense."
Ironically enough, Barnett and Jantz share one very important characteristic. They're smooth.
"This whole training camp, I've spent some time behind the quarterbacks just watching them lead and watching them perform," Rhoads said. "Jared Barnett is not unlike Steele in the fact. He is very even-keeled. When you have that calming effect as a leader of 10 other guys, you get positive results."
INJURY REPORT
Iowa State escaped fall camp with only two significant injuries.
The worst of the two is senior tight end Ricky Howard's ACL tear. Howard, who has a redshirt year available, will miss the entire season.
Late last week, senior wide receiver Darius "Money" Reynolds broke a toe.
"We are hopeful that Darius will be back for the opener against UNI," Rhoads said.
Other Cyclones have missed time due to bumps and bruises, but there are no other notable injuries that will make a dent on the lineup come Sept. 3.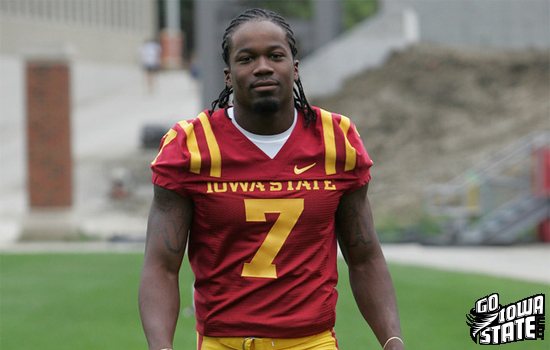 JOTTINGS
— Steele Jantz is the guy. The starting quarterback controversy is behind the Cyclone Nation right? For how long?
"There won't be any desire to pull a guy going into it," Rhoads said.
— Want to see what offensive coordinator Tom Herman had to say about the quarterback decision making progress? CLICK HERE for this CycloneFanatic.com YouTube video.
— No decision has been made, but it sounds like freshman wide receiver Quenton Bundrage is at the very least being talked about as a guy who could see the field this season.
— The Cyclone Gridiron Club had nearly 400 members attend Saturday night's scrimmage. One of the club's board members told me that it was the best turnout ever for the event.