By Chris Williams, CycloneFanatic.com PublisherFollow Chris on Twitter @ChrisMWilliams
Some quick hits from media day. Here's what you need to know…
Sit tight. We'll bring you plenty more in-depth coverage of today later this week and next.
An important date…
Mark August 20 down on your calendar.
That's when Paul Rhoads hopes to name Iowa State's starting quarterback for Sept. 3's opener vs. Northern Iowa. But don't expect to learn too much before then.
"From this moment on, until then, I will be extremely vague with any questions or information that I will provide for you regarding our quarterback battle," Rhoads said.
From now until Aug. 20, Iowa State will have completed 20 practices and three scrimmages.
Rhoads said that decision making, leadership and accuracy are three keys that he'll look for throughout the competition.
Jantz feels more comfortable in offense
The difference between Steele Jantz in April to Steele Jantz in August?
"It's night and day," Jantz said. "If I had known what I know now going into spring ball, it would have been a lot better. That being said, spring ball was very valuable for me. It helped a lot."
Jantz mentioned pass protection calls as an example of how he's grown.
Packed on the pounds…
Iowa State running back Shontrelle Johnson put on 10 pounds in the off season. Don't worry. It wasn't in fat.
"I am a lot stronger and a lot faster than I was last year," Johnson said. "I feel like a lot of those hits, I'll be able to take."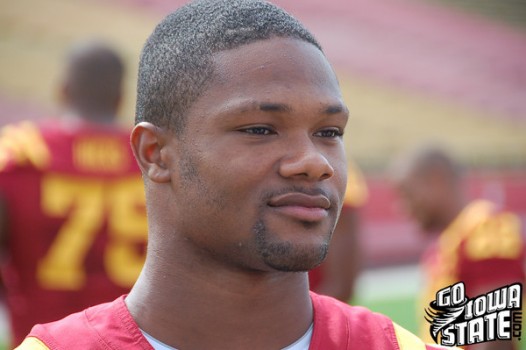 Lattimer eligible
In part of his opening statement, Rhoads announced that defensive end Jacob Lattimer has been reinstated to the football team and will be on the roster when the Cyclones play Northern Iowa on Sept. 3.
QUOTEABLE
Paul Rhoads on Big 12 offensive lines…
"The lines in this league are like our video board. They are mammoth."
Paul Rhoads on expert opinions of his football team…
"If you go by what the prognosticators will lead you to believe, we probably would be favored in maybe two games this season."