By Chris Williams, CycloneFanatic.com Publisher Follow Chris on Twitter @ChrisMWilliams
Happy Monday fanatics. I've got a few things on my mind from over the weekend…
On Cyclone football…
— It's impossible to know how much Duran Hollis' indefinite suspension will affect the Iowa State football program going forward for multiple reasons. The first is that we don't know much at all about the situation. What exactly did he do? How long is he suspended for? Will Iowa State sustain any injuries at running back throughout the 2011 season? Who knows?
All I know is that before this Hollis news broke last week, Iowa State's coaching staff was very confident that they had four running backs that they could win with heading into 2011. Hollis is no slouch.
Let's attempt to keep this all in perspective for now though.
Hollis is a fourth-string running back who has never taken a snap at the collegiate level. Regardless of the punishment he will endure, the team will move on. Also remember that to our knowledge, Hollis hasn't ever been a troublemaker since he arrived in Ames last sumer.
It isn't fair to write his future off within this program after one mistake. Let's let the facts come out and wait to judge him either way.
— I will definitely read Gene Chizik's book when it comes out on July 5. Like it or not, the guy spent two years in Ames as Iowa State's head coach. Though his name is slime in this town, Chizik is a part of Cyclone football history. I'm not a Chizik defender by any means, but the guy is still an interesting story. He went from being so darn bad (5-19) to so very good (national champion). Being that I worked with him not to very long ago, this book intrigues me and yes, I will buy it.
I'm curious to read Gene's comments regarding Jamie Pollard.
The AP received an advanced copy of the book and recently reported that Chizik wrote this about Pollard.
"Jamie is a quality athletic director, and I respect him for what he has done at Iowa State. But I wish he had handled my departure differently. It could have, and should have, gone so much better for all involved."
I don't know all of the details here and I don't claim to either. But I have a hard time buying some of this. Had Chizik chosen to show a little bit of remorse when he left Ames, maybe things could have been different. I'm sure that the fans would have understood Chizik getting paid a lot more to take his dream job.
It's the fact that once Chizik was out the door, he never seemed to give a lick about Iowa State. That is what stings.
Regardless, it is in the past. Both parties are better off now than they were before Chizik decided to leave. Chizik is at a program where he can recruit blue chip talent (which he is good at) and Iowa State has a guy in Paul Rhoads who is devoted developing a program and winning in Ames.
Cyclone fans can smell a phony from a mile away. Paul Rhoads cares and is passionate about Iowa State footbal. Iowa State could not have a better guy leading the football program. I truly believe that.
— As I reported yesterday, Iowa State offered Perry, Iowa linebacker Kane Seeley over the weekend. I've never seen this kid play football, but the following fact is impressive. Seeley placed fourth in Class 2A's state wrestling tournament at 171-pounds as a sophomore. As a junior, Seeley went 47-0 to win the title at 215-pounds. I'm not a wrestling guru by any means, but it seems to me that Seeley is a hard worker.  You don't make that sort of a gain if not.
Baseball & Iowa State…

— Thank you Sean Keeler. Thank you for writing this piece regarding Iowa State and the sport of baseball in Sunday's Des Moines Register.
I'll support Iowa State fielding a baseball team in the future if you can promise me two things.
1) It won't suck funding away from revenue producing sports like football or men's basketball.
2) The team that you field actually has a chance to be competitive.
Keeler's points out in his column that Big 12 schools spend an average of $2 million per year on baseball. In 1999-2000, Iowa State spent $104,117.
If a booster wants to give that kind of jack per year, I'd support it.
I'd rather that booster spend the money on football, but that's about the only way I'd be down with this.
On Cyclone hoops…
— I have reason to believe that this could be a busy week on the basketball recruiting front. Stay tuned…
— I attended the Des Moines YMCA Capital City League for a few hours last Wednesday night.
I think that some fan reaction to Royce White's performance was unfair. To anybody in attendance, it was obvious that White wasn't trying to score 30 points. White hung out around the perimeter for the majority of the evening while trying to get his teammates involved. Unlike pretty much everybody else in that league, White was focused on playing unselfish basketball.
White ended the night with five points, eight rebounds and 10 assists. I'm very confident that White could have dropped 20 points with ease if he wanted to.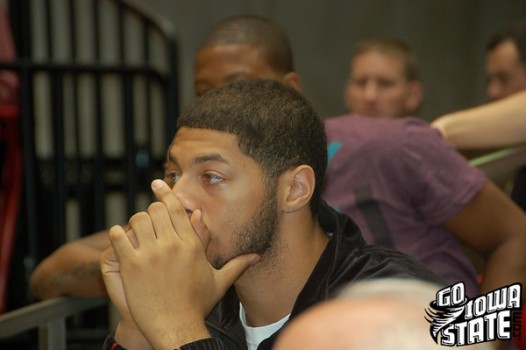 RANDOMS…
— This next piece might upset some of you. Believe it or not, I watched Caddyshack for the first time of my life on Saturday night. Here's some brutal honesty fanatics. That might be the most overrated movie I have ever seen. Did it have some funny scenes? Absolutely. Rodney  Dangerfield cracked me up. But I was under the impression that Caddyshack was some iconic motion picture? Hardly… Maybe it is a generational gap, but I'll stick to Happy Gilmore next time.
— I took in a couple of movies this weekend. The wife and I watched Little Fockers on Friday night. Those are two hours of my life that I'll never get back.