By Chris Williams, CycloneFanatic.com PublisherFollow Chris on Twitter @ChrisMWilliams
I have a problem.
I'm obsessed with hoops. I'm a junkie. Don't get me wrong. I love football. College football is probably my favorite sport as a fan. But college hoops is my favorite sport to cover.
Yesterday was refreshing for me. The Big 12 held its annual summer teleconference, where four new coaches were unveiled to the media.
In today's roundup, you'll get my reaction to what Fred Hoiberg had to say, some other thoughts and a massive version of LINKS GALORE for sure.
Happy Friday fanatics.
HOIBERG ON THE PG POSITION: Let's play a game today fanatics. What's the over/under on how many times Fred Hoiberg will be asked about his point guard situation between now and tipping off the season this fall?
My estimation is that Vegas would put that "number" at approximately 1,845.
Well of course, that question was dropped yesterday. Here's how Hoiberg responded with my thoughts mixed in as well.
"We have Tyrus McGee coming in who played last year for Cowley Community College in Arkansas City, Kan. He is a great shooter. He made 119 3-pointers in 31 games last year. He is a tough kid who I really think can guard the point guard spot and create some havoc on that end of the court. It is going to be interesting to see how his game translates to the next level. He was a first team All-American junior college player. I think that he has the toughness to play that position. From talking to his coach and watching him play last year, he has tremendous leadership ability as well. I see him coming in and making an immediate impact at that position."
My take: McGee is my early pick to start the first game of the season at "point guard" for Iowa State. I use that term loosely too. I think that multiple players will handle the basketball for the 2011-12 Cyclones. More on that in a minute….
"Another player who has just taken off this spring is a freshman, Tavon Sledge. He has had an unbelievable spring, playing in different all-star and AAU events. He has a chance to come in here and compete for that spot as well. He is only about 5-foot-9 but he is as fast with the ball as anybody I have seen. The way that we play where we really want to get the ball up and down the floor, we have shooters who will run the lanes this year with Chris Allen, Scott Christopherson and Chris Babb. Tyrus McGee will play some 2. His ability to get the ball up and down the floor will really fit our system."
My take: This comment somewhat surprised me. I knew that the coaches were high on Sledge, but I never envisioned him starting for Iowa State next season. However, I do predict that he'll be the biggest fan favorite on the roster for the next four seasons. You'll love this kid fanatics. Just wait until you hear him in an interview with Eric Heft on the Cyclone Radio Network. He's a very well-spoken, confident young man. I still think that Sledge starting is a long shot, but what do I know? I'm just a hack blogger right?
"I think that Chris Allen is a guy who we can put the ball in his hands. He played that role with the scout team last year. which was the year he sat out. I would be very comfortable with him bringing the ball up the floor."
My take: DING DING DING DING DING. What do we have for him Johnny?
While I think that McGee might be the "starter" at "point guard," I also predict that Chris Allen will handle the ball more than anybody next season. Just a hunch…
"The other guy is Royce White. He is a terrific ball handler for his size. You can play some unique lineups with the personnel that we'll have this year. I'm not afraid to play a little different. You have your forward bring the ball up the floor and just run some different sets with that."
My take: WHAT? Really? Okay……The Mayor would know….Hmmm….Royce White bringing the ball up the floor? Huh? Daddy likes….Time for a follow up interview….
BAYLOR No. 1? I've now seen multiple Big 12 writers rank Baylor as their favorite heading into next season.
The Bears will surely be talented. Yep.
But as long as Scott Drew allows these incredible athletes to chuck bricks around in his fragile glass home, that team will NOT win a Big 12 title, especially under this new double round-robin format. Does anybody actually think that those player can play as a unit for 18 conference games? No way.
LOTS O' LOVE FOR LON: I'm pretty sure that I've written something similar to this before, but Oklahoma's hiring of Lon Kruger was brilliant. It was the best hire in America this offseason, no questions asked.
Kruger will win in Norman. Period.
The general feel around the league agrees with me too.
Check out THIS LINK from the Tulsa World. The current group of Big 12 coaches did nothing but rave about Kruger in yesterday's teleconference.
The more I read about and listen to Kruger, the more he reminds me of an older Fred Hoiberg.
"He's really a good guy. And he's about as ego-less as a coach in our business can be," Bill Self said yesterday.
That's Hoiberg to a tee.
Repeat. Lon Kruger WILL win in Norman. It is only a matter of time.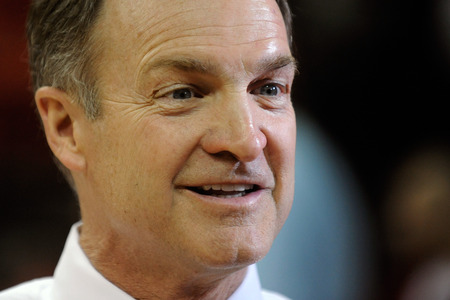 QUOTEABLE: New Texas Tech head coach Billy Gillispie dropped the line of the day on Thursday.
"I am the seventh longest-tenured coach in the league," Gillispie joked.
Well played sir.
LINKS GALORE
— The championship game has come and gone in Kirk Haaland's "Home State All Stars" tournament over at enCYCLONEpedia.com. Check it out. New York wins in a landslide in my opinion.
— Ames Tribune sports editor Bobby La Gesse checks up on the Iowa State men's basketball team's summer to do list. A good read.
— Here's a good look ahead to what the wacky, wild world of Big 12 hoops will look like in 2011-12 from the St. Louis Post Dispatch.
— Two Oklahoma writers give their "early" Big 12 basketball rankings for next year. In case you're too lazy to click on the link, the dynamic duo has Iowa State ninth. —- My quick take on this article. It is pretty obviously that these guys didn't do much homework before posting this. Their analysis of Iowa State and other schools is as amateur as it comes. Kansas State at seven? Really? Carry on.
— The Columbia Tribuneranks the returning talent in the Big 12. Scott Christopherson makes an appearance.
— Speaking of Kansas State, Frank Martin has no clue what to expect of his team next year.
— An update on Kansas' basketball recruiting efforts from the Kansas City Star.
— Get to know the Big 12's four new coaches in this link from the Daily Oklahoman.
— More notes on the four new names from the Topeka Capital-Journal.
— Props to Missouri on scheduling this game to benefit those who lost their homes in the Joplin, Mo. tornado a few weeks ago.
— Former Cyclone beat writer for the Ames Tribune and current sports editor for the Lubbock Avalanche Journal Courtney Linehan reports that the Big 12 could be tougher than ever next season.
— More from Linehan here, this time focusing on Billy Gillispie's transition back to the Big 12 in Lubbock.