By Chris Williams, CycloneFanatic.com Publisher
Follow Chris on Twitter @ChrisMWilliams
"Fool me once, shame on you. Fool me twice, shame on me."
I'm not exactly sure where that quote originally came from, but it rings true regarding Fred Hoiberg's relationship with now former Cyclone Calvin Godfrey.
In case you've been hidden in a cave for the last 24 hours, Iowa State sent out a media release on Monday night stating that Hoiberg had dismissed Godfrey from the team, after the freshman forward was arrested for possession of marijuana on Saturday.
CLICK HERE to read an in-depth discussion that Cyclone fans have been having on our boards since the news broke last night.
My Take: Calvin Godfrey is a young man that has royally screwed up an awesome opportunity to play big time college basketball. As one fanatic posted last night, Godfrey blew an opportunity that some people would "kill for."
But here's the kicker. This is the second and possibly third (remember that we don't know the whole story, we NEVER know the whole story) time that Godfrey has messed up since arriving on campus in the summer of 2010. The thing is, we still don't know what Godfrey did back in February to be suspended for three games.
I'm only reading between the lines here, but Hoiberg must not have had any choice but to cut Godfrey loose.
Now onto the obvious question that everybody is asking…
Why is fellow freshman big man Jordan Railey, who has had two run ins with the law over the same period of time, still on the roster? (For more on that, CLICK HERE to read a blog by the Des Moines Register's Randy Peterson).
I don't have an answer to that. I'll go this direction though. There is likely more at stake here than what we currently know. These are two separate cases that I'm positive Hoiberg has agonized over.
As far as calling this a double-standard goes, well that doesn't really make sense. You didn't have to be Jay Bilas to see that Godfrey was a better player for Iowa State and as a whole is more valuable to the program than Railey as a freshman. I'd be scratching my head if this was flip-flopped, with Godfrey staying on the roster and Railey getting the boot.
But once again, it all comes back to why Godfrey was suspended in February?
Godfrey averaged 5.7 points and 5.4 rebounds as a freshman, compared to Railey's 2.0 and 1.5. If you're going get shady with double-standards, it only makes sense to keep the better player of the two.
Common sense tells me that if we all knew the entire story, this entire situation would make a lot more sense.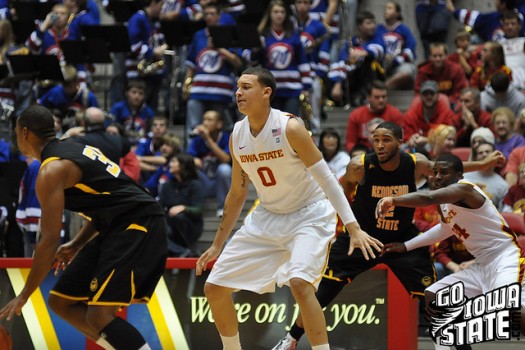 KEEP IN MIND: That the players Hoiberg has taken the most grief over adding to his program (the transfers) have stayed clean since arriving in Ames.
By no means am I attempting to throw Greg McDermott under the bus here, but Railey committed to the current Creighton head coach in December of 2009. Godfrey was being courted by Iowa State before McDermott jetted in April of 2010.
At the end of the day though, they play FOR Fred Hoiberg. Not Greg McDermott.
And I don't count John Lamb as an Iowa State mess up. He is a former walk-on who never played a minute for Iowa State. If a student manager or former grad assistant gets arrested, is that big news?
From here, Iowa State now has two open scholarships for the spring of 2011.
Adding former Dayton signee Percy Gibsonis a massive priority. Gibson, a 6-foot-7, 200-pound power forward is a similar player to Godfrey. This is where new assistant coach (formerly of Dayton) Cornell Mann can somewhat redeem himself, after being charged with an OWI in April.
Gibson's recruitment has been in stealth mode for the last two weeks. Getting in touch with the Detroit prospect has been nearly impossible, so acquiring information about the process has been difficult. There's no doubt that Mann and Iowa State are hot on his heels, but who else is in the mix? Is an official visit to Ames on the horizon? Stay tuned.
TAVON SLEDGE HONORED: Monday wasn't all filled with doom and gloom on the men's basketball front. Here is some good news. Future Cyclone Tavon Sledge has been invited to play in the Mary Kline Classic, a charity basketball game that features some of the best high school players in the Mid-Atlantic Region. Sledge averaged 25.3 points and 5.2 assists per game last season for Half Hollow Hills West in Spring Valley, N.Y.
MCGEE RANKED 14TH: Here's more good news for you hoops junkies. JUCOJunction.com released its final 2011 recruiting rankings on Monday and future Cyclone Tyrus McGee made the list at No. 14. In comparison, future Hawkeye Anthony Hubbard (I only use this comparison because he is an in-state JUCO who's gotten a lot of pub) wasn't ranked.
TEXAS A&M NOW OPEN: I mused (is that a word?) about this on Monday and it came true. Mark Turgeon left his job as the head basketball coach at Texas A&M on Monday night to replace Gary Williams at Maryland.
Yesterday morning, a rock solid Big 12 source of mine told me that Marquette head coach Buzz Williams would be A&M's first target, should Turgeon move on to the ACC. I posted that on my Twitter account yesterday morning and sure enough, multiple reports are stating that to be true today. Also, keep Memphis' Josh Pastner in the back of your mind. Both of these men have strong Texas ties and would be great hires for our friends in College Station.
For the record, earlier today, the Sporting News reported that Pastner has no interest in the job.
Texas A&M has been a sleeping giant in college basketball for some time now and to be honest, I fear a Big 12 program led by Josh Pastner more than I do Turgeon. Pastner is a fierce recruiter, as is Williams for that matter.
While we still have no clue if Williams will take the job, I am pretty confident about one thing. When a guy's name pops up for every decent job in America over the course of three months (and during an NCAA Tournament run), he must not be too happy where he is at. Along with Williams, Minnesota's Tubby Smith immediately comes to my mind.
Other names being mentioned for the A&M job are: Nebraska's Doc Sadler, Colorado's Tad Boyle and Wichita State's Gregg Marshall.
LINKS GALORE
– The city of Dubuque is gearing up for Paul Rhoads' upcoming stop on the tailgate tour. Details here.
– Some interesting tidbits on Fred Hoiberg's thoughts regarding offseason workouts from Bobby La Gesse of the Ames Tribune.
– Kirk Haaland from enCYCLONEpedia on attrition and the Iowa State men's basketball program.
– HE'S ALIVE! Former Kansas football coach Mark Mangino breaks his silence. Here's a recap from ESPN.com.
– Did you know: That you can literally watch workers build and install Iowa State's new football scoreboard around the clock?
– Tyler Gabbert (Blaine's younger brother) has announced that he is transferring away from Missouri. According to the Sporting News, he's now looking into 'taking his talents' to Iowa, Arizona and Oregon among other schools. By the way, Gabbert never actually said "taking my talents." It is just a fun expression to throw into blogs from time to time.
– More on Gabbert. Dave Matter of the Columbia Daily Tribune says that this shouldn't surprise anybody.