By Chris Williams, CycloneFanatic.com Publisher
It took the Cyclones a while, but they eventually woke up and literally survived what turned out to be a meat-grinder of a day.
Without the services of Scott Christopherson and Jordan Railey, Iowa State ended the non-conference portion of its schedule with a sloppy 72-63 win over Northern Illinois on Monday night.
The win improves Iowa State's record to 13-2, with a road trip to Nebraska slated for Saturday night that will tip off Big 12 Conference play.
LISTEN: ISU's post game press conference
BOX SCORE: Iowa State 72, Northern Illinois 63
Scott Christopherson injury update
Iowa State's second leading scorer, junior Scott Christopherson didn't play on Monday night due to an elbow injury that he suffered in last Thursday's win at Virginia. Luckily for Iowa State, it appears that sitting Christopherson was a precautionary move by Fred Hoiberg.
"The last two days of practice, he was very sore. He has gotten better each day." Hoiberg said after the game. "He wanted to go out and give it a try tonight. He said 'Coach, if you need me to go out and give you five or 10 minutes, just let me know and I can do it.' I did not want him to go out there and aggravate that thing. He has had things like last year with the mono. Early in the year he had his back problem. I just wanted to make sure that these aren't nagging things that are going to last for the rest of the year."
At this point, Hoiberg expects Christopherson to be ready for Saturday's game in Lincoln.
"From talking to our medical staff, they feel that with a couple more days of treatment, he should be ready to go on Saturday."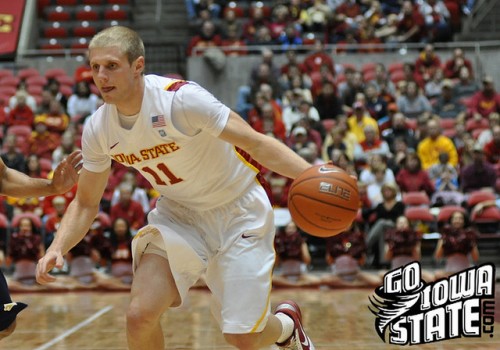 Jordan Railey suspension update
Below is a quote from Fred Hoiberg regarding true freshman post Jordan Railey's recent suspension.
"We suspended Jordan for a violation of team rules. We are still gathering information on everything that went down. We felt that it was appropriate to give him a suspension tonight. Hopefully we will continue to gather information. I am not going to talk a lot about it. I can't. I just can't do it right now with all of the stuff that is still out there. Until I gather all of the information, it is not something that I am going to comment on, but I will in due time."
CF PLAYER OF THE GAME
Jake Anderson – Did you really expect anybody else to take home the hardware? The 16 points that Jake Anderson scored against his former teammates were nice. The defense that Anderson played on Northern Illinois' standout Xavier Silas is why he's my player of the game.
"He did about as good of a job as you can do on that kid," said Hoiberg. "That kid is a heck of a player. I think he's a pro."
Silas scored 18 points in the game, a number that is six below his season average.
And don't worry. It was just a cramp.
The entire Cyclone Nation freaked out at once when Anderson went down with an apparent left leg injury in the second half.  It looked worse than it was.
"He cramped up at the end and told me that he wanted to go back in there to finish out the game," Hoiberg said.
Anderson is now averaging 11.4 points and 8.3 rebounds per game this season.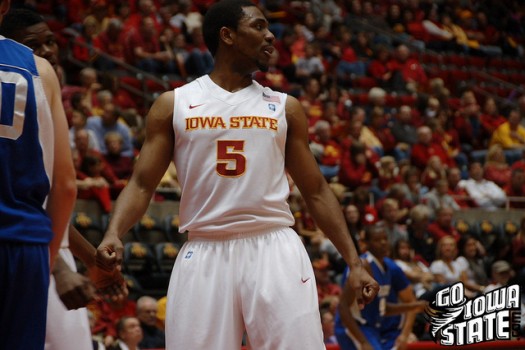 THREE UP
Got the win – It wasn't a fun day for the Iowa State men's basketball program. With news of Jordan Railey's suspension, Scott Christopherson's injury and two football players joining the roster all breaking at once, focusing on the game itself had to be next to impossible. And that showed throughout the first 30 minutes of this basketball game (I'll get to that in Three Down). But the team came together and took care of business. Now, Iowa State has 13 wins. Last year's team won 15 games in the entire season.
Turnovers – Northern Illinois 19, Iowa State 9 – Need I say more?
JVB's defense – Jamie Vanderbeken was 4-of-13 from the floor on Monday night. Not great right? JVB made up for it on the other end of the floor though. Vanderbeken recorded a career-high six blocks in the win to give him 35 on the season. JVB now has 65 career blocks, which ranks 12th in Iowa State basketball history.
THREE DOWN
Rebounding – This Fred Hoiberg quote should put things in perspective for you regarding Iowa State's feeble rebounding effort on Monday night.
"We are playing against grown men now," Hoiberg said alluding to the upcoming Big 12 schedule. "Each and every night. We have to do a much better job."
Northern Illinois out-rebounded the Cyclones 51-41.
"I would love to do toughness drills in practice but with our limited bodies, it is hard to do," Hoiberg said. "You just try to prepare them mentally and save their legs as much as you can."
On a positive note, Iowa State's two freshmen frontcourt players led the team in rebounding. Melvin Ejim cleaned the glass 11 times, while Calvin Godfrey had nine of his own.
First half shooting – It was as ugly of a first half as I've seen in a long, long time. The Cyclones went an abysmal 10-of-40 from the field, while Northern Illinois hit 11-of-36 of their shots. That 25 percent first half shooting performance was Iowa State's worst of the season.
"I thought that we were taking too quick of shots. They were good shots but when they don't go in like that, you need to get some movement," Hoiberg said about his team's first half performance. "The big adjustment that we made was moving the screen-and-roll down. We were setting it up too high. It was allowing them to slide underneath it. We were shooting 20-footers when we could have been shooting 10-footers."
NIU coach Ricardo Patton – I don't personally have a problem with the guy. The thing is, I've never heard anybody say anything positive about the man. What's up with that?
NOTEBOOK
–       Despite only going 1-of-6 from the field and picking up three personal fouls, Melvin Ejim bounced back to have a pretty decent game for the Cyclones. The freshman scored 11 points and grabbed 11 rebounds, while going 8-for-10 from the free throw line. Ejim leads Iowa State in free throws on the season (42-of-60). Ejim now has had three double-digit rebounding games this season.
–       Diante Garrett made his 79th career start on Monday night. Garrett led Iowa State in scoring with 22 points, while dishing out four assists in the win. Garrett also had four steals in the win, which mores him into a tie for 12th on Iowa State's career list. It was the fourth 20-point game of Garrett's career.
–       Iowa State has won seven games in a row for the first time since 2004-05.
–       Fred Hoiberg is the second coach in Iowa State history to start his career with a 13-2 record. Tim Floyd was the other back in 1994-95, with a 17-2 mark.