By Chris Williams, CycloneFanatic.com Publisher
I've never been so happy to see another man lose his job. Rich Rodriguez recently got canned (not fired) at Michigan and because of that, Iowa State has landed what potentially could be the highlight of Paul Rhoads' 2011 recruiting class. That's not to say that Rhoads wouldn't have pulled this one off had Rodriguez not been let go. But it certainly didn't hurt Iowa State's chances.
Welcome to Iowa State's stable of talented running backs DeVondrick Nealy.
On Thursday night, Nealy chose Iowa State over schools like Michigan, Arkansas, Alabama and Auburn, just to name a few. Yes, Iowa State beat out some of the top schools in college football. The even better news is that this positive recruiting news might not be over.
Iowa State will host four prospects on official visits this weekend.
CLICK HERE to read about those men and watch their highlight videos.
If things go well, it is possible that Rhoads could wrap up his 2011 class by Monday, Jan. 17 or even earlier. That is unheard of in Ames.
Iowa State had 15 known commitments before Halloween 2010. Because the core to the class was already put together, it allowed Rhoads' staff to get out and aggressively target upper-tier prospects like Nealy and others.
RUNNING BACKS GALORE!
Running backs…You can't have too many good ones. Just ask our neighbors to the east. Here's a look at what Iowa State's running back scholarship chart will look like as of Sept. 2011 and some quick thoughts on each of the players as well.
True Freshmen
DeVondrick Nealy – I'll be surprised if he's not on the field in some way as a true freshman, especially when you consider Iowa State's recent issues at wide receiver (he could play the slot). It is possible that Nealy could play some defensive back too, but much like Shontrelle Johnson last year, I'd put my money on Iowa State trying to get the ball in his hands.
Robert Standard – During his prep career in St. Louis (Chaminade), Standard tallied 7,799 yards and 98 touchdowns and no, that's not a misprint. Standard scored a touchdown in 35 consecutive high school games.
Note: I would imagine that one of the above men will redshirt, in order to break up the classes just a tad.
RS Freshmen
Duran Hollis (below) – Don't forget about the man they call "Duck." I've heard that he's just as good as Shontrelle Johnson, in a different way. At 214-pounds, Hollis packs a little bit more punch than Johnson and the two true freshmen (who are both under 180-pounds). Like Johnson, Hollis is excels at making people miss and has a nice burst. He needs to work on being a better receiver out of the backfield though.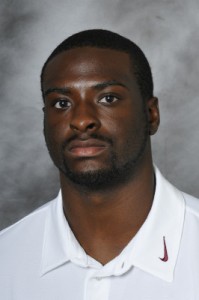 Sophomores
Shontrelle Johnson – "The Rabbit" did not disappoint during his freshman campaign, accounting for 228 yards and two touchdowns. Those stats won't sock you sideways, but a few of the moves we saw him make on the field will.
Jeff Woody – Here's the guy who everybody likes to doubt. Woody ran for 192 yards and a touchdown during his redshirt freshman season. Despite the one fumble he had against Nebraska, you can trust Jeff Woody when he has the football. He's one of the hardest working guys on the team. He's smart. He's a leader. Jeff Woody is everything that you want in a football player. He's the perfect change of pace running back and he'll have a great career in Ames, even if he isn't always the feature guy.
James White (below) – Nobody ever talks about this guy but I've been told that there's nothing wrong with James White. Iowa State's 2009 offensive scout team player of the year is one impressive offseason away from being right back in the mix.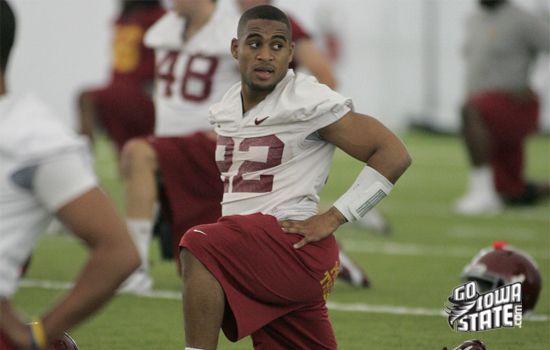 Quick overall thoughts: None of these men have proven that they're capable of being a clear-cut feature running back in the Big 12. To be fair, none of them have had the chance. Johnson, Nealy, Standard and White are all small backs, who might not be able to carry the load for an entire season (right now). While Hollis weighs 214-pounds, he's only 5-foot-8. That is what makes acquiring this depth so important. Throw them all together and you've got one hell of a collection of talent.
With the depth of young offensive line prospects already in the program, the future of Iowa State's running game looks very bright.