By Chris Williams, CycloneFanatic.com Publisher
I know what you're thinking.
"What in the world is the Cyclone slant?"
I'm not really sure. I'm just trying something new here at CF. I want to keep things fresh. To be brutally honest with you, I am actually stealing this concept from a column that I read on another website earlier this week. I'm going to shoot for writing this column once a week. That could change though, depending on games, breaking news, etc. Don't expect this bad boy on a specific day.
The point is to reflect on those big "water cooler" types of stories surrounding the world of Cyclone athletics and the Big 12. I'll also drop tidbits on rumors I am hearing, possibly some recruiting information, interesting links, etc. It will be kind of a one stop shop type of column.
Ready to roll?
Let's give this thing a shot.
QB controversy? Not so much
"You better kiss me. Cause you're gonna miss me when I'm gone."
That's a classic country music line right there my friends. It is from the legendary duo Brooks and Dunn's song entitled "You're Gonna Miss me When I'm Gone."
Will Cyclone fans be thinking that way in terms of Austen Arnaud next fall? Let's hope not. But the fact that Iowa State's coaching staff brought in JUCO quarterback Steele Jantz (who signed this week) tells me that they aren't overly confident in Jerome Tiller. I don't think that it is fair to lump James Capello or Jared Barnett into this conversation. Really, is it fair to expect either of them to be ready to go next season? The same goes for Sam Richardson and Ja'Quarius Daniels (freshmen QB's in the 2011 class). It would be great if one of those four could step up to be "the man," but nobody should expect it.
This isn't a quarterback controversy. It is a competition. None of the men competing for this job are proven winners at the Big 12 level. That sucks any sort of controversy out of the equation.
Who is the front-runner? You tell me, cause I have no idea. I highly doubt that Paul Rhoads or Tom Herman do either. The way I see it, this thing is wide open.
Gun to my head, I'd put Tiller at the top right now, but that is by default. Unlike anybody else in the race, he has at least a little bit of experience at this level. That playing time is half of Tiller's uphill battle too. We've all see Tiller play and he hasn't done much with those opportunities. With everybody else in the mix, fans can play the "what if" card. As Tiller has learned over the past two years, the backup quarterback is always the most popular guy in town. With Arnaud out of the way, Jantz, Capello and Barnett will step into those shoes.
Here is a quick look at Tiller's career statistics. As a redshirt freshman (which I somewhat give him a pass for), Tiller was 41-of-73 (56 percent) with one touchdown and four interceptions. As a sophomore, Tiller was 39-for-82 (48 percent) with one touchdown and zero interceptions. Those numbers aren't enough to make anybody feel comfortable with him back there. I'll be fair here. Like Austen Arnaud, a lot of those negative numbers aren't Tiller's fault. Iowa State's wide receivers were atrocious against Missouri in the final game of last season. That wasn't Tiller's fault.
The best-case scenario for Iowa State is if Tiller has a remarkable offseason and wins this job outright. This will be his third year in the offense. The coaches and players are familiar with him. Tiller taking the bull by the horns and winning the job would be fantastic. But when I factor how limited the offense appeared to be when we've seen Tiller in the past makes me nervous.
As for the coolest name in college football Steele Jantz, it is obviously huge that he'll be in town for spring football. How fast can this guy pick up the offense? That's a major question. An even larger point to ponder is how good of a player Jantz actually is. He has a lovely highlight video. So did Bo Williams. What can Steele Jantz do at this level on a team that will be limited at wide receiver? The hype machine is in full effect with Steele. I warn you about falling into that trap. Right now, we just don't know how good this guy is. A cool first name only gets you so far. This is where you just close your eyes and trust the coaching staff. They wouldn't have brought this guy in if they thought he'd ride the pine for two years.
Brandon Wegher to ISU?
When reports surfaced that former Iowa running back Brandon Wegher had officially left the program last Friday, naturally, it was only a matter of time before rumors of him possibly heading to Ames surfaced. I'm being told that there is no chance of this happening. Take it for what it is worth.
Big week for Phillips, bench
Time to touch on some hoops. After Iowa State's 65-54 win over Texas Southern last Sunday, Fred Hoiberg mentioned that he wanted to work on developing his bench.
This week is huge for guys like DeMarcus Phillips, Jordan Railey, Bubu Palo and Eric McKnight. Due to Iowa State's unique situation with literally having no depth at all, practices have been short so far this season in Ames. With Diante Garrett, Scott Christopherson and Jake Anderson playing 35 minutes or more in every game, if Hoiberg wants to continue playing up-tempo ball deep into Big 12 play, he needs to save their legs. This lack of practice time has made it difficult for guys like Phillips, Palo and Railey to earn the coaching staff's trust. If Iowa State gets out to big leads on Dartmouth and Chicago State (which they should, those teams are terrible) in the next week, look to see Hoiberg go to the bench much earlier than we've seen so far.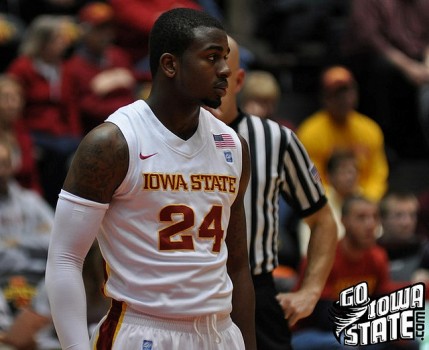 Marcus Paige offers
Linn-Mar junior Marcus Paige had a big week. Paige, who Rivals.com ranks as the fifth best point guard in the class of 2012, picked up offers from North Carolina and UCLA over the last five days. Paige also holds an offer from Kansas and numerous other high-major schools, including Iowa State.
If Hoiberg and Co. were to some how pull this one off, it would be a monumental upset. A few months ago, Paige told me that he wasn't going to be pressed by anybody. That could be exactly what North Carolina is doing here.
CLICK HERE to read my theory on that.
Elgin Cook breaks his wrist
Milwaukee-Hamilton forward Elgin Cook signed with Iowa State back in November. Earlier this week, Cook broke his wrist early in a Hamilton victory. It gets worse too. Cook was playing in only his second game of his senior season after having to sit first few out due to some academic issues. CLICK HERE for the complete story.
CF/Wilson Toyota Post Game Show
I'm excited to announce to you all that after every Iowa State conference basketball game this season, I'll once again be live on 1460 KXNO to break down the game and take your calls. We've changed things up a little bit for 2010-11 though.
Tron Smith from Wilson Toyota of Ames will be my co-host all season long. We'll be broadcasting live from three different locations this season, those being Wilson Toyota, Es Tas Bar and Grill in Ames and the Keg Stand in West Des Moines. I'll have more details for you in the near future.