This Cyclone basketball preview is brought to you by our good friends at the Iowa Energy. CLICK HERE to check out the Energy's upcoming home schedule.
By Chris Williams, CycloneFanatic.com Publisher
Iowa State (10-2) vs. Chicago State (3-10)
Tuesday, Dec. 21 * Hilton Coliseum, 7 p.m.
Mediacom – Cyclone Radio Network
BREAKING DOWN THE CYCLONES
Iowa State's probable starters
G: Diante Garrett, 6-4 Sr. – 17.2 PPG, 5.8 APG
G: Scott Christopherson, 6-3 Jr. – 15.7 PPG, 3.2 RPG
G: Jake Anderson, 6-2 Sr. 11.3 PPG, 8.7 RPG
F: Melvin Ejim, 6-6 Fr. – 12.7 PPG
F: Jamie Vanderbeken, 6-11 Sr. – 9.9 PPG, 5.5 RPG
As long as the Cyclones can avoid completely sleep walking through 40 straight minutes of basketball just a few nights before Christmas, you shouldn't see much of a game at Hilton Coliseum tonight. Not only are the Chicago State Cougars 3-10, they have to be both physically and mentally exhausted. Chicago State has played 10 of their 13 games on the road so far this season and they're just getting back from Hawaii, where the Rainbows pounded them 86-57 on Friday night. We'll touch more on the Cougars here in a minute.
Iowa State's 71-42 rout of Dartmouth on Sunday was expected. The Cyclones made you sweat for about 22 minutes, but then the shots started falling and Iowa State now sits 10-2, which ties for the 10th best start in school history. The last time a Cyclone basketball team started a season 11-2 or better was back in 2000-01, with a 13-2 mark.
In my Dartmouth breakdown (that was posted last Friday), I wrote about the importance of Fred Hoiberg finding some depth over this two-game stretch.
Bubu Palo must have gotten the message. Palo, a walk-on redshirt freshman out of Ames, scored a career-high 11 points in the Cyclone victory, while going 3-of-3 from 3-point range. To me, that's not the big story that came out of Sunday though. We all knew that Palo could be a factor against low-major competition.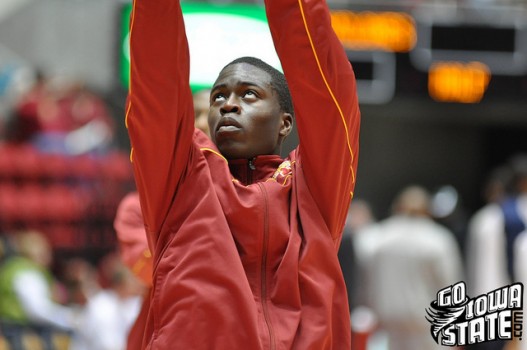 While looking at the box score, what stood out to me (I could not attend the game due to a family Christmas) was the fact that junior DeMarcus Phillips only saw eight minutes of action. During that time, the Marshalltown C.C. transfer scored two points and grabbed three rebounds. When you compare that stat line to Palo's, it is easy to see whom the staff trusts as the backcourt's primary backup. Scott Christopherson, Diante Garrett and Jake Anderson all played 28 minutes or more on Sunday. If Iowa State gets a big lead on Chicago State early (like I think they will), hopefully we'll not only get a better look at Phillips, but see if Palo can parlay his recent success with another big night.
BREAKING DOWN THE COUGARS
Chicago State's probable starters
G: Antonio Lofton, 6-5 Sr. – 10.2 PPG, 3.9 RPG
G: Jonathon Montgomery, 6-4 Sr. – 7.8 PPG, 2.6 RPG
G: Ardarius Simmons, 5-10 Jr. – 3.5 PPG, 2.4 APG
F: Hajji Martin, 6-9 Sr. – 8.0 PPG, 5.9 RPG
F: Carl Montgomery, 6-7 Sr. – 12.8 PPG, 7.2 RPG
Five Chicago natives make up Chicago State's starting lineup. As expected, it has been a rough start to 2010-11 for first year head coach Tracy Didly and the Cougars. Chicago State's three wins have come against Concordia University (Chicago), Georgia Southern and Trinity International.
The Cougars are used to going up against quality competition. They've already played the likes of DePaul, Notre Dame, BYU, St. Mary's, Wichita State, Southern Illinois and that recent road trip to Maui.
You might remember that this same basketball team traveled to Hilton Coliseum last season, as the Cyclones recorded a 72-50 victory in that affair. Keep an eye on the name Carl Montgomery. The 6-foot-7 senior was a second-team all-Great West pick in 2010. He's averaging 12.8 points and 7.2 rebounds per game this season. Montgomery had 16 points and eight rebounds in Chicago State's recent loss to Hawaii.
A former UNI Panther is on Chicago State's roster. That name that you might recognize is Jonathon Montgomery, a 6-foot-4 senior originally out of Chicago.
NOTEBOOK
–       Jamie Vanderbeken has quietly had an outstanding start to 2010 as far as blocking shots goes. He's now third in the Big 12 in that category, averaging 2.1 blocks per game. Vanderbeken how has 55 blocks in his Cyclone career, which is 17th best in school history.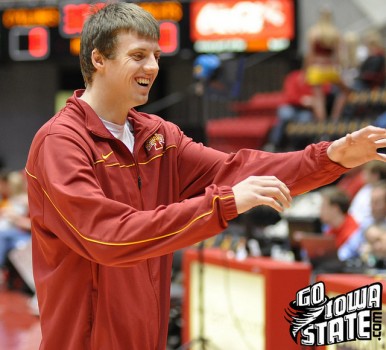 –       Iowa State's hot shooting streak continued, at least in the second half against Dartmouth. The Cyclones went 12-of-24 from downtown. Iowa State currently leads the Big 12 in 3-pointers made per game (9.1) and are 14th nationally.
–       Speaking of 3-pointers, Scott Christopherson hit two of them against Dartmouth. He's made a trey in 15 straight games.
–       Jake Anderson has sneakily become the Big 12's third best rebounder, averaging 8.7 per game.
PREDICTION
I predict this one to be a lot like the Dartmouth game, without the sloppy first half. The only thing that could keep it somewhat close if Hoiberg goes to the bench extremely early and some of the reserves struggle.
THE PICK
Iowa State 78, Chicago State 48