By Chris Williams, CycloneFanatic.com Publisher
Iowa State (6-0) @ Northern Iowa (2-2)
Wednesday, Dec. 1* 7 p.m. – McLeod Center in Cedar Falls, Iowa
Panther Sports Network – Affiliates: KCIW (Des Moines)/KWWL (Waterloo)/ESPN3/Full Court
BREAKING DOWN THE CYCLONES
Iowa State's probable starters
G: Diante Garrett, 6-4 Sr. – 17.5 PPG, 6.5 APG
G: Scott Christopherson, 6-3 Jr. – 14.7 PPG, 3.2 APG
G: Jake Anderson, 6-2 Sr. – 12.5 PPG, 9.3 RPG
F: Melvin Ejim, 6-6 Fr. – 15.7 PPG, 6.3 RPG
F: Jamie Vanderbeken, 6-11 Sr. – 12.0 PPG, 5.0 RPG
In case you didn't see it, I posted a massive basketball blog yesterday, where I revealed many of my thoughts on Iowa State's 6-0 start to the basketball season. CLICK HERE if you'd like to read it. I'll try to keep those thoughts separate from what I put in this piece.
Also, for a 45 minute breakdown of Iowa State's men's basketball season so far, CLICK HERE for the latest CycloneFanatic.com podcast.
How in the world will this team react to its first true road test? That's the big question for Iowa State tonight. Will the baskets still look like wells or are they all of the sudden thimbles due to the travel down Highway 20?
Northern Iowa currently has the nation's sixth-longest home winning streak at 17 games. Ignore this team's 2-2 record fanatics. Tonight will be a tough one for Fred Hoiberg's Cyclones.
"They will have that place rocking," Hoiberg said. "It will be a great atmosphere and I am excited about it. So are our guys. This is the first real road test that we are going to have. We had a lot of our fans against Creighton down at Wells Fargo. But that is nothing like we are going to experience Wednesday."
Tempo will be the big key to the winner of this basketball game. The Cyclones like to run and gun. The Panthers aren't too fond of it. I'm not expecting Iowa State to drop 90 on the Northern Iowa tonight, like we've seen so many times this year. The Ben Jacobson factor is why.
"We are going to go out and play our style of basketball," Hoiberg said. "I think that Ben Jacobson is as good of a defensive coach as there is in college basketball. He does such a good job of preparing his team. It is going to be tough to score a ton of points against this team, just because of the way that they pack it in and force you to beat them from long range. We are going to go out and try to play the same way. We're going to try to push the basketball up the floor, try to score in transition, try to get some easy baskets and continue to space the floor, penetrate, kick and try to make the right plays."
What makes this Cyclone team different?
Iowa State was 6-0 last year. Remember all of the Sweet 16 talk? Then the wheels fell off. Balance is the difference between last year's team and the Iowa State roster that will play in Cedar Falls tonight. Five Cyclones are averaging 12 points per game or more.
"These guys just continue to share the ball," Hoiberg said. "The great thing about this group is that they don't care who leads the team in scoring. All they are concerned about is getting the win. When you have a group of guys like that, it is an easy group to coach and a fun group to coach."
Last year, you knew what you were getting with Iowa State. Craig Brackins was the chief. Marquis Gilstrap was explosive but terrible with the ball in his hands.  Lucca Staiger (before he quit) was the shooter and Diante Garrett was the one who dribbled around the 3-piont line until there were five seconds left on the shot clock.
With Melvin Ejim playing the four, Iowa State's lack of size seems to be creating defensive mismatches for the opposition. Who is Northern Iowa going to put on Ejim? Is Jake Koch going to chase him around all night? Will Lucas O'Rear follow Jamie Vanderbeken around the perimeter? Who knows?
Questions like these make tonight's game so intriguing.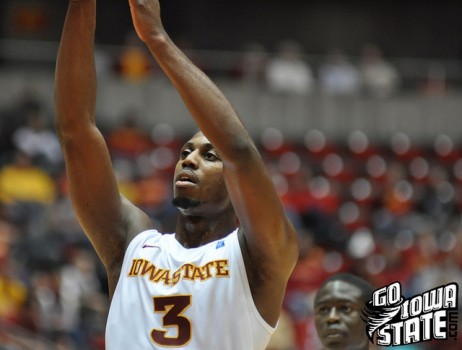 BREAKING DOWN THE PANTHERS
UNI's probable starters
G: Kwadzo Ahelegbe, 6-2 Sr. – 9.5 PPG, 3.0 RPG
G: Anthony James, 6-0 So. – 12.5 PPG, 2.8 RPG
G: Johnny Moran, 6-1 Jr. – 8.8 PPG, 3.8 RPG
F: Jake Koch, 6-9 So. – 10.0 PPG, 3.5 RPG
F: Lucas O'Rear, 6-6 Sr. – 8.3 PPG, 4.5 RPG
I'm very confident that one through five, Iowa State has better personnel than this Panther team. Should Northern Iowa win the battle of tempo though, their frontcourt could provide an issue for the Cyclones. For instance, Jake Koch, a sophomore, scored 20 in Saturday's 65-52 win over North Dakota.
"He did it in a variety of ways," said Hoiberg. "He can knock down the three. He is similar to McDermott, the way he is slithery in the post. He can get some offensive rebound put backs."
Then there's senior Lucas O'Rear, who weighs 260-pounds
"O'Rear is the glue to that team," said Hoiberg. "He is their defensive anchor. He does a good job of trapping the ball and getting the ball out of the best players' hands. He does a great job of setting screens and doing the little things. I have a ton of respect for that kid because of how hard he plays."
Northern Iowa's two wins came against North Dakota and Coe. Their two losses were to Syracuse and a very average UW-Milwaukee team. It is noteworthy that both of those games were on the road.
"I think that the team that controls the tempo is going to have a pretty good chance of winning," Hoiberg said. "We thought that Creighton was going to try to slow it down and they scored 88 against us. We know that Northern Iowa has very capable shooters. We need to do a much better job of transition defense than we did against Creighton."
NOTEBOOK
–       Northern Iowa's senior guard Kwadzo Ahelegbe was a preseason all-Missouri Valley selection. He scored 18 points against Iowa State in each of the last two times these teams have played.
–       Iowa State hasn't won the "mythical Iowa state championship" since the 2005-06 season.
–       As a team, Iowa State ranks ninth nationally in 3-point percentage, knocking down 57-of-129 trey balls on the young season. That equals 44.2 percent.
–       Iowa State leads the all-time series vs. UNI at 35-10. The Cyclones are 11-6 in games played in Cedar Falls.
PREDICTION
Get ready for a nail biter.
THE PICK
Iowa State 71, Northern Iowa 69