By Chris Williams, CycloneFanatic.com Publisher
I am ready for this rivalry to be relevant again.
Take a trip down memory lane and remember when Iowa State vs. Iowa was a huge deal on the hardwood. People would plan Christmas parties around it.  If it wasn't for an Adam Haluska transfer here or a Pierre Pierce run in with the law (or two) there, for the most part, this competition has been as vanilla as they come over the past decade.
To my basketball junkie friends out there, I come with good news today.
Both programs are in the midst of a fresh start. In Iowa City, the Hawkeyes are in the process of returning to the run and gun style of play that Tom Davis built that once proud program on under head coach Fran McCaffrey.
And in Ames, we all know what is going down. The most beloved player in Cyclone history, Fred Hoiberg, is attempting to lead Iowa State back to the promise land.
Be honest with yourself fanatic. Lately, this has been a lifeless game between two limp programs.
It is time to take things up a notch. While neither team has a realistic NCAA Tournament shot this season, there's still no better time to start rebuilding this once great game than tonight.
Let's break it down.
BREAKING DOWN THE CYCLONES
Iowa State's probable starters
G: Diante Garrett, 6-4 Sr. – 17.0 PPG, 6.0 APG
G: Jake Anderson, 6-2 Sr. – 13.2 PPG, 8.4 RPG
G: Scott Christopherson, 6-3 Jr. – 15.1 PPG, 2.9 RPG
F: Melvin Ejim, 6-6 Fr. – 12.7 PPG, 6.7 RPG
F: Jamie Vanderbeken, 6-11 Sr. – 10.0 PPG, 4.9 RPG
I think that Iowa State's guards are better than Iowa's. It's what could potentially happen in the paint that scares me with this game from an Iowa State perspective. As impressive as Jake Anderson's average of 8.4 rebounds per game have been for Iowa State, it generally isn't a positive thing when your best rebounder is 6-foot-2. Iowa's starting lineup consists of four players who are 6-foot-5 or taller.
"Our guards need to get in there and help out with the rebounding," Fred Hoiberg said on Thursday. "Diante and Scott are going to have to get in there. Everybody who goes in has to have that mindset that they are going to help. We are going to have to do a good job of getting a body on their big guys and also (Eric) May and (Matt) Gatens. Those are two strong, wing players."
Iowa is outrebounding its opponents by a +6.8 margin this season.
Where's JVB?
Ever since he hit that game winning buzzer beater against Creighton, Jamie Vanderbeken's senior season has been on a downward slide.
Foul trouble and poor shooting has hindered Vanderbeken the last four times out, as he's gone 11-of-30 from the field, while scoring 10, three, seven and seven points.
Hoiberg isn't down on his 6-foot-11 senior though. He actually sympathizes with the big man.
"I can relate to him," Hoiberg said. "I was a guy who wore my emotions on my sleeve when I wasn't shooting the ball well. At times, I wanted to punt that ball into the stands. You can't do it and you can't let it affect your game."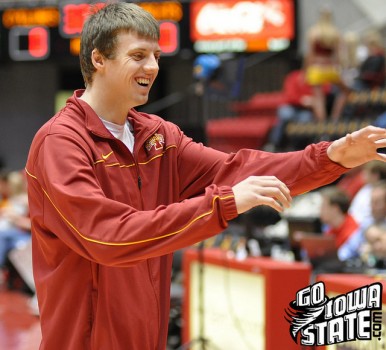 Responding to pressure
Expect the Hawkeyes to press Iowa State tonight in a variety of ways. After all, that is Fran McCaffrey basketball. That's somewhat Cyclone basketball too. There's no doubt that Iowa State would do the same thing if depth wasn't such an issue this season. But it will still be interesting to see how the Cyclones respond to this for really the first time this season.
"We've seen stretches of it but nothing like we will see on Friday," Hoiberg said. "Fran does a great job of changing up his defenses. I was impressed with the way he did that early in the second half (vs. UNI). He'll change from the 2-3 to the 3-2. They did a 1-2-2 three-quarter court trap. They played solid man-to-man defense all night. We just need to be prepared for anything. We practice every day our zone offense and our press offense."
BREAKING DOWN THE HAWKEYES
G: Bryce Cartwright, 6-1 Jr. – 10.2 PPG, 4.1 APG
G: Matt Gatens, 6-6 Jr. – 8.7 PPG, 3.1 RPG
F: Eric May, 6-5 So. – 13.0 PPG, 4.3 RPG
F: Melsahn Basabe, 6-7 Fr. – 8.2 PPG, 6.0 RPG
C: Jarryd Cole, 6-7 Sr. – 6.6 PPG, 5.7 RPG
On Tuesday night, Fran McCaffrey's Hawkeyes did something that Iowa State couldn't do earlier this year. They beat Northern Iowa in an ugly, 51-39 game.
Iowa's version of Melvin Ejim, freshman Melsahn Basabe had 14 points and seven rebounds in the win. When asked about it on Wednesday, here's how Fred Hoiberg scouted Tuesday night's Hawkeye victory.
"I thought that they played terrific. They did what they had to do to go out and win that game. They are very physical. Those big guys, Jarryd Cole especially, dominated the paint. He got some extra rebounds for them and did a great job inside. I've been very impressed with the young kid (Melsahn) Basabe. He is a guy who goes out there and battles. He's very tough. He has a big, strong physical build for a freshman. We are going to have to be tough. We are going to have to be physical. We are going to have to go in and battle those guys in order for us to stay in the game."
Dubuque native Eric May leads Iowa in scoring at 13.0 points per game. At 250-pounds, senior Jarryd Cole is a whole lot of man that the Cyclones will be forced to deal with down low.
NOTEBOOK
–       The home team has won the last six games in this series. Iowa leads the all-time series vs. the Cyclones 42-21, although it is tied at 14 since 1984.
–       The last time Iowa State won a game in Carver Hawkeye Arena was in 2002 (73-69).
–       Diante Garrett currently ranks second in the Big 12 in assists at 6.0 per game. He's led Iowa State in assists every game this season and is currently fifth all-time in school history with 470.
–       Melvin Ejim is currently the Big 12's top freshman scorer at 13.7 points per game.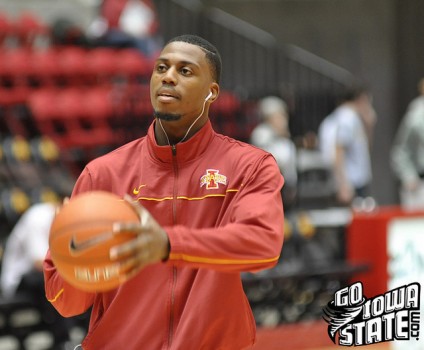 –       Scott Christopherson still leads the Big 12 in 3-point percentage at 59.6 percent. He's ranked third nationally.
PREDICTION
I actually hope that Iowa tries to press, pressure and run with the Cyclones tonight. Yes, Iowa State is severely lacking depth but in my opinion, tired legs are better than attempting to play in the half court if you're Iowa State.
If the Cyclones win this game, they'll have to get off to a fast start, shoot lights out from beyond the arc, and at the very, least keep it close on the boards. Oh yeah, Jamie Vanderbeken will need to wake up too.
If all of those things happen, it could be a fun trip back from Iowa City tonight because Iowa doesn't have more talent than the Cyclones.
Another angle to consider is which Iowa team shows up tonight. Will it be the one that lost to South Dakota State or the squad that beat Northern Iowa? Flip a coin.
Unfortunately for Iowa State, the Hawkeyes are playing with confidence right now. With the recent trend we've seen in home team domination in this series, the smart money is on the Hawkeyes tonight.
THE PICK
Iowa 75, Iowa State 72