By Chris Williams, CycloneFanatic.com Publisher
That's what I call a "TCB" game. The Cyclones took care of business. It wasn't flashy. It didn't blow anybody away. Unless you have super-human memory, you probably won't remember that game in 15 years. But Iowa State fought back from a two-point halftime deficit to earn workmanlike, 28-16 victory against an undermanned Kansas team. Now, here we are on ere are on All Hallows Eve, with Iowa State one game away from bowl eligibility and actually controlling its own destiny in the Big 12 North.
Yes, that is a long shot and no, you probably shouldn't expect this team to win out. But it is darn nice to be in the conversation at this point in time isn't it? Enjoy it.
Let's get to my weekly Cyclone awards after the Kansas win. Feel free to post your own on our forums page.
GAME BALL
Josh Lenz – The only other Cyclone who I seriously considered for my game ball this week was Jake Knott. But in what was a very vanilla first half, one Cyclone gave the 48,000 fans inside of Jack Trice Stadium a reason to stand up and cheer. That was sophomore wide receiver Josh Lenz. with this 62-yard punt return for a touchdown, in very Seneca-like fashion. It was Iowa State's first punt return for a touchdown since Ryan Baum did it against Northern Iowa back in 2006. It was only a matter of time before Lenz, who I believe is one of Iowa State's most consistent football players, took one to the house. He is "steady Eddie" back there for the Cyclones. Lenz was involved in another interesting play on Saturday, when he let Alonso Rojas' (KU's punter) 77-yard kick go over his head to pin Iowa State back deep in their own territory. Many were critical of Lenz for that. I'm going the other way on this one. That bomb of a punt came out of nowhere. Had Lenz attempted to catch that thing, the chances of him fumbling that football would have skyrocketed. Lenz went the safe route and that was the right call. Josh Lenz kept us all awake in the first half with outstanding individual effort and for that, he is the recipient of this week's Cyclone Fanatic game ball.
HELMET STICKERS
Jake Knott – Without question, sophomore linebacker Jake Knott was Iowa State's defensive MVP yesterday. Knott recorded 13 tackles, a sack and his fourth interception of the season. In adding up season statistics through nine games, Knott has 92 tackles on the season, just one behind fellow sophomore A.J. Klein, who has 93.
Leonard Johnson – Besides Jacob Lattimer, is there a more improved Cyclone from the first game of the season until now? In the Kansas win, Iowa State's junior cornerback recorded five tackles, while two of them for a loss. Throw the stats out the window though. Numbers don't really describe what Johnson is doing differently. He's active now. He's more physical. Much like David Sims (who I will get to in Three Up), Johnson finally looks like the player we hoped he would be at the beginning of the season. Really, I should be giving this helmet sticker to every member of Iowa State's defensive line. It is amazing what a pass rush can do for members of the secondary. Nonetheless, Johnson looks like a different player right now. Enjoy this helmet sticker young man.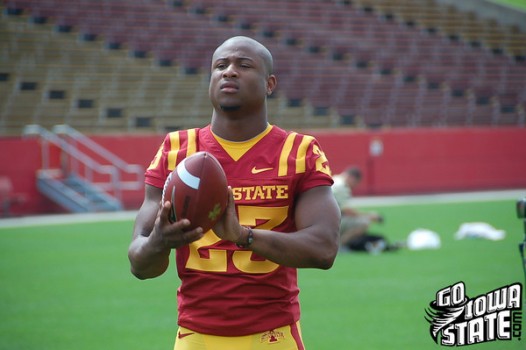 Alexander Robinson – With his 52-yard run in the second quarter of yesterday's game, senior running back Alexander Robinson passed Mike Strachan to become Iowa State's fourth all-time leading rusher, with 3,088 yards. For the record, 117 of those and a touchdown came in yesterday's win. For you history buffs out there, Robinson is fourth behind Troy Davis (4,382), Darren Davis (3,763) and Dexter Green (3,437). If Robinson keeps up this pace, he can surpass Green for that third spot by the end of the season.
Shontrelle Johnson – Kansas safety Lubbock Smith just called. He'd like his jock strap back please. Check out yesterday's 37-yard touchdown run by Iowa State's true freshman, Shontrelle Johnson.
What are we doing here kid? Playing Playstation? Seriously Shontrelle. Moves like that are flat out disgusting. Runs like that make me downright giddy. Helmet sticker? How about like four of them for "the rabbit," for that one ridiculous move. You can't teach stuff like that.
Jeff Woody – Don't worry. Nobody here is forgetting about redshirt freshman running back Jeff Woody. The Southeast Polk product ran for his first career Cyclone touchdown in yesterday's win. I'll touch more on this in Three Up.
Austen Arnaud – Iowa State's senior quarterback is taking care of the football. Arnaud went 16-of-26 for 168 yards yesterday but most importantly, he didn't turn the football over, while working under a new center with sloppy wide receiver play. He managed the game and didn't deliver any gifts to the Jayhawks. Props to number four.
Rashawn Parker  – Senior defensive end Rashawn Parker bounced back from missing the Texas win with his best game of the season. Parker recorded six tackles yesterday and was more active than I remember him being at any point this season.
THREE UP
Exceeding expectations – I just glanced at all of the preseason football annuals that I bought back in June. Athlon had Iowa State finishing last in the North, while going 1-7 in league play. Phil Steele pegged the Cyclones last in the North. Meanwhile, the Sporting News had Iowa State at fifth, while they had Kansas as the 31st best team in America. Oh yeah…The Big 12's media poll picked Iowa State last in the North as well. This all goes back to my intro. It is nice to be in the conversation right now isn't it?
Three headed monster – It was great to see all three Iowa State running backs score touchdowns yesterday. Alexander Robinson typically gets the headlines, but Jeff Woody and Shontrelle Johnson have helped A-Rob out a lot this year. The coaching staff has done a nice job of keeping his mileage down, which is a heck of a lot easier when Jeremiah Schwartz isn't your only backup. Johnson and Woody have both proven themselves to be Big 12 players and together, this three-headed monster is a very formidable combination. I was happy to see Woody and Johnson awarded with scores in yesterday's win.
Halftime adjustments – Kansas ran the football for 92 yards in the first half. They ran for 28 yards in the second half. Iowa State totaled 122 total yards in the first half. The Cyclones went off for 278 yards in the second half. Reports indicate that the mood was light inside of Iowa State's locker room during halftime yesterday. Nobody panicked. There weren't any Dan Hawkins or Mike Gundy moments. Frankly, I don't really care what went down. It worked. For the first time in the Paul Rhoads era, Iowa State won a football game while trailing at the half. That is encouraging for the future.
Non-conference opponents – How about we go four up today? Northern Illinois improved to 7-2 with a 28-21 win over Western Michigan yesterday. Utah stayed undefeated and in the national title hunt with a 28-23 road win over Air Force. Note that Utah will go head-to-head with TCU next week in a Mountain West showdown. Go Utes! Meanwhile, Iowa blew out fifth-ranked Michigan State at home. Iowa State's non-conference schedule is looking better by the week.
THREE DOWN
Wide receiver play – With the exception of Jake Williams and Collin Franklin, Iowa State's group of wide receivers did not have a good day against the Jayhawks. Darius Darks dropped multiple passes. Darius Reynolds fumbled the football twice. It was a sloppy outing by this group as a whole. Clean it up fellas.
Baylor over Texas – I don't know about you, but I was rooting like crazy for Texas to come back and beat Baylor last night. Say what you want, but the fact that Texas has lost three home games in a row does take away from Iowa State's upset last week. Don't get me wrong. It was still a great accomplishment for this program. But I was hoping that Texas would win out from here to make it look that much better. The Horns are now 4-4, with games against Kansas State, Oklahoma State, Florida Atlantic and Texas A&M on the horizon. I will add this though. Baylor is a really good football team and they belong in the top 25.
The Kansas State loss – Looking back, how much could Iowa State use that Kansas State (who has dropped two straight (5-3) after yesterday's loss to Oklahoma State) game right now? Think about it. If the Clones had beaten the Wildcats in Kansas City, Iowa State would be sitting at 6-3. Let's just conservatively say that Iowa State will win one of the next three games. A 7-5 season sounds pretty good with this schedule doesn't it? Just thinking out loud here. There are obviously a lot of "would of, should of, could of's" in college football. Every team in America could look back and do this all day.
FINAL THOUGHTS
–       Can somebody explain to me why Turner Gill didn't try to go for a touchdown at the end of the first half yesterday? Kansas had a first and 10 on Iowa State's 21-yard line with 30 seconds to play. Instead of taking at least a couple shots to the end zone, Gill elected to let time run off the clock to kick a field goal. I understand wanting the lead going into halftime on the road. But at what point does conservative play calling turn into telling your team that you essentially have no confidence in them at all? Prior to that sequence, Gill had elected to go for it on fourth down in Iowa State's territory twice. But he couldn't take two shots to the end zone? I don't get it.
–       Iowa State's next opponent, Nebraska defeated Missouri 31-17 yesterday. In that game, Nebraska's redshirt freshman quarterback Taylor Martinez went out with a leg injury. Zac Lee stepped in and helped close the game for Nebraska, but he really didn't have to do much. That was because Roy Helu went off for 307 yards and three touchdowns, while averaging a ridiculous 11.0 yards per game.
–       A few injury questions need to be asked during Paul Rhoads' weekly press conference. The first is obviously about the status of senior center Ben Lamaak. My guess is that he'll be day-to-day all week long. I doubt that Rhoads shows his cards on this one. The second is to how much we can expect to see from junior linebacker Matt Tau'fo'ou on Saturday against the Huskers? Will he start? Is he now 100 percent?