By Chris Williams, CycloneFanatic.com Publisher
Fall camp is now over. That means that the 2010 Cyclone football season has officially begun.
Iowa State wrapped up camp on Saturday morning with their third and final scrimmage. With the number one offense going head-to-head with the second-string defense, the outcome was what one should have expected heading into the day. Austen Arnaud and company looked sharp and the team is now set to start preparing for Northern Illinois.
"I would have been a bit nervous had we not played well against our two-defense," said offensive coordinator Tom Herman. "We made some strides. We continued to throw the ball better. I thought that our two-offense played well against our one-defense which was encouraging."
Arnaud went as far to say that there is a "night and day" difference in Iowa State's offense this year, compared to the same time a season ago.
"I feel like it is night and day," Arnaud said. "We are all on the same page. With repetition, we keep getting better and better."
"I think that the biggest thing is his play," Herman said. "He is playing with confidence right now. He is playing with a little bit of a swagger. He is calmer. He is playing with better mechanics. When you factor in that some of our receivers are playing a lot better and then the run game where we are fairly confident in. That is what will put us over the top. We were able to run the football last year during spring practice. That was evident from the start. The fact that we are able to throw the football with a little more efficiency right now has put us as Austen would say 'light years' ahead of where we were last year at this time."
A healthy team
Possibly the best news that has come out of Iowa State's 2010 camp is the health of the football team. As of Aug. 21, the Cyclones have escaped practice without any serious injuries.
"We have been healthy. It is luck and it is a credit to their summer training methods," said head coach Paul Rhoads. "You can tell when kids don't train like they need to in the summertime to last and get through camp. Our kids are very strong. That is a big factor in it and luck has been a big factor too."
Redshirt decisions
Now that camp is over, expect some decisions to start being made regarding Iowa State's 2010 roster and who will or will not be redshirting. In fact, serious discussions regarding this topic will start as soon as Sunday.
"At this point, you have a pretty good idea as to who is ready and who is not," Rhoads said. "There are two or three guys who we need to make some hard decisions on, whether we want to save that year or get them out there contributing to the football team right now."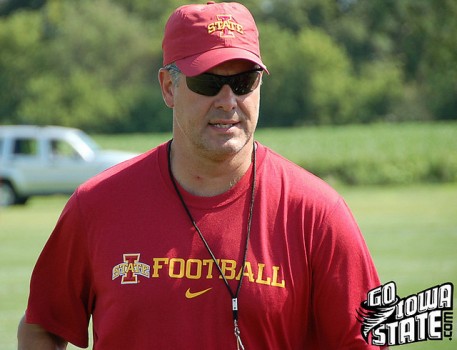 The defensive standout
While I'd put Sedrick Johnson down as my vote for Iowa State's offensive player who had the best camp, nose guard Stephen Ruempolhamer is that guy on the opposite side of the football. Just ask defensive coordinator Wally Burnham.
"He can be a dominating football player for us inside," Burnham said. "He has dominated most days. He has made tackles in the backfield, which we haven't done here in a long time."
Paul Rhoads agreed. In fact, the Cyclone head coach went as far as to compare Ruempolhamer to a Cheese Nip in one of the most hilarious quotes I have ever typed.
"He is a different player than he was a year ago. Development takes places at different times. Maturity takes place at different times. Both have happened for him at the same time. He is leaner. He is faster. He is stronger. He understands the game better and how to work at the game," Rhoads said. "You know that Cheese Nip commercial or whatever when the guy interviews a piece of cheese and he says, 'no, he's not ready yet?' That's where he was a year ago. He has shown that he is ready. He knows how to practice. He knows how to work. He knows his responsibility. The game on the line of scrimmage is a tough, violent, physical game."
Defense much better on Saturday
Defensive coordinator Wally Burnham was one dejected football coach after Wednesday's scrimmage. Cyclone fans will be happy to read that Burnham was in a much better mood on Saturday, saying that his defense played "100 percent" better than what he witnessed mid-week.
"We got better every day, except one day during fall camp," Burnham said. "Our kids have been in the system now for a year, two springs and a season. Our first group understands what we are trying to get done. We have made more progress because of experience in the system. Our kids seem to be playing harder. We have had great leadership."
On a side note, Burnham was asked who the inspirational leader is on Iowa State's defense. Burnham told reporters that defensive end Rashawn Parker is that guy.
Woody now on scholarship
Shontrelle Johnson and Duran Hollis have been hot topics on message boards like ours over the past few weeks but redshirt freshman running back Jeff Woody has really impacted this Iowa State program. Earlier this week, Woody earned himself a scholarship at Iowa State.
"He has earned the respect of his teammates with his work ethic and for a young guy to have the knowledge of this offense that he has at this time is phenomenal," Herman said. "He is a tremendously smart football player and he runs really hard. Those guys do not like tackling him. Because he is so smart, he can play a number of positions for us."
Paul Rhoads told reporters that at this point in time, Woody is Iowa State's second-string running back.
Shontrelle Johnson's new nickname
It took Iowa State freshman running back Shontrelle Johnson less than a week to earn a new nickname. Alexander Robinson is the guy who started calling Johnson "the rabbit." Now, we'll see if it sticks.
"I nicknamed Shontrelle "the rabbit" the way he jumps around and makes cuts," Robinson said. "He has the quickest feet I have ever seen in person. If he sees a hole, he is going to hit it."
I wanted to get Johnson's take on this new nickname but he was not available for comment, nor was Duran "Duck" Hollis.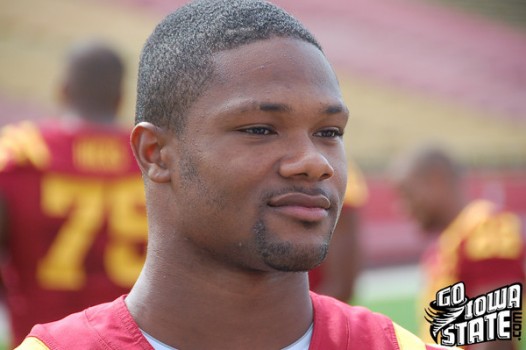 Punting battle to go to the wire
Don't expect to know who Iowa State's punter will be in the season opener for at least another week. Rhoads told reporters that it is still a toss up between senior Daniel Kuehl and true freshman Kirby Van Der Kamp.
"It has been a very heated race all throughout camp," Rhoads said. "Dan Kuehl is much improved to create that. I don't know if I will make that final call until Tuesday or Wednesday before we play Northern Illinois. Dan Kuehl has probably been more consistent to this point. We do some things different than Kirby did in high school, which has created different steps and things like that. Sometimes that transition takes a little time when you are a specialist like he is."