By Chris Williams, CycloneFanatic.com Publisher
When working with the spread offense, is there such thing as having too many quality receivers? According to Iowa State's football program under offensive coordinator Tom Herman, the answer is no.
Just look at last year. Darius Reynolds went down with a broken leg, while starters Darius Darks and Sedrick Johnson were hindered by lingering injuries all season long. A little more depth could have gone a long way for Iowa State's offense that lacked explosion all season long.
During Iowa State's 2010 camp, things have been different. Depth is not a concern at wide receiver. The issue that Iowa State's coaching staff now faces is deciding who will play and in same cases, who will travel with the team. That's how much competition the staff has seen in two weeks.
"Every day during practice, somebody is probably going to drop a football," said wide receivers coach Luke Wells. "You are repping 14 or 15 wide outs. I'm not going to play that many wide outs in a game. You will probably see three or four and if they are dropping that many, you probably won't see them after that."
An abundance of dropped passes was one of the big stories that came out of last Saturday's scrimmage. According to Wells, things were much better on Monday.
"Saturday was so disappointing. We lost our focus. We had too many guys feeling sorry about themselves. We had too many dropped passes. That is something that shouldn't happen again," Wells said. "Those guys can catch the football or they wouldn't be playing wide receiver in the Big 12."
JOIN CYCLONE FANATIC ON FACEBOOK
The newcomers
Wells told me that at this point, the staff hasn't made a decision on redshirting any of Iowa State's three newcomers at the position. As of now, Albert Gary, Chris Young and Jarvis West are still in the mix to play this fall. Gary is not a redshirt candidate as he only has four eligible years remaining.
"They have all looked good. I wouldn't say any of them right now have done great or done bad. They have all had good days," Wells said. "I have not closed the door on it yet. They are all still competing. We have another week until we make that decision. They are all very much in the mix right now."
West had six catches without a drop during Saturday's scrimmage. Young didn't play so well in the contest. Wells said that he dropped a handful of passes.
"Then he (Young) came out this morning and had three really big plays down the field. He just has to be more consistent," Wells said.
"Albert Gary will end up being a guy who helps this team too."
The competition
In order to see the field, one man that all three newcomers would have to pass on the depth chart is redshirt freshman Keith Blanton. Blanton was credited with an awesome spring and the staff is trying to get him on the field more. They've done this by moving him to the inside.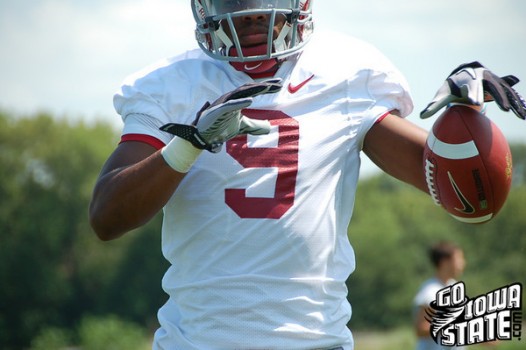 Above: Keith Blanton
"He is one of those guys who is competing with those newcomers," Wells said. "We moved Keith in from an outside position to an inside position just to get him more reps. It took him a little while but he is starting to get it and he is starting to respond a little bit. He is improving."
Other Cyclones in the mix on the current two-deeps are redshirt freshman Donnie Jennert, redshirt sophomore Lonzie Range and sophomore Josh Lenz. It is notable that Lenz has fully recovered from an injury that he suffered in the spring.
Hardest working receiver?
Is there a player on Iowa State's roster who had a more disappoint 2009 than junior Sedrick Johnson? This former four-star recruit out of Texas only caught seven passes for 36 yards last season but remember that a high ankle injury never allowed Johnson to really be himself.
"He is a lot better," Wells said about the now-healthy Johnson "He is catching the ball a whole lot better and he is playing with more confidence. He is running faster routes. He is competing."
Johnson's story reminds me a lot of Leonord Johnson's on the defensive side of the ball.
"Every day after practice he is catching balls. He is doing extra with Austen and Jerome. Those guys are working their tails off to improve. You can see it with Sedrick."