By Chris Williams, CycloneFanatic.com Publisher
After yesterday's news that Southern Illinois transfer Anthony Booker is heading to Ames, I immediately felt the need to update my scholarship chart. Here's what Iowa State's 2011 basketball roster will look like as of now.
Seniors
Scott Christopherson, G
DeMarcus Phillips, G
Juniors
Chris Babb, G
Anthony Booker, F
Sophomores
Melvin Ejim, F
Calvin Godfrey, F
Eric McKnight, F
Jordan Railey, C
Freshmen
Elgin Cook, F
Anthony Odunsi, G
If that list doesn't change, it means that Iowa State unofficially has three more scholarships to hand out in the 2011.
Hopefully, Cedar Rapids Jefferson forward Jarrod Uthoff will fill up one of those slots. With the graduation of Diante Garrett and Jake Anderson, help in the backcourt will more than likely be the focus for the other two, should the staff elect to use both of them, which isn't a guarantee.
Big 12 expansion?
America's fascination with expansion has officially gotten out of control. Now that we know Iowa State is safe (for a while at least), talk of adding Notre Dame and Arkansas to the Big 12 is creating headlines.
The names Houston and TCU appear to be picking up steam too.
My take? I don't really care what they do, I just don't want the move to take money away from Iowa State. If it pads Iowa State's pocket, bring it on. Adding Notre Dame and Arkansas makes sense. Those schools would add television revenue for the conference.
Adding Houston and TCU seems ludicrous to me. What do they bring to the table that the league doesn't already have from a television standpoint? You might as well bring on SMU and Rice while you're at it. I hear North Texas and Sam Houston State are available too. Bring them all on.
From what I understand, the one thing that all of the Big 12 schools love about the new 10-team format is splitting the money pie two less ways. If you add TCU and Houston, in my mind, they're just taking money away from Iowa State. They add nothing.
And let's be honest. This is all just a ton of speculation. Right now, all we can do is go off of what Jamie Pollard told us on Tuesday night. He was very clear that the conference is not looking to expand.
Was Notre Dame in the equation at that time? I have no idea. I do know that the Irish are a game changer in this realignment game. If you add Notre Dame to Texas' presence, you can assure that your league will not be affected by realignment ever again.
Draft projection update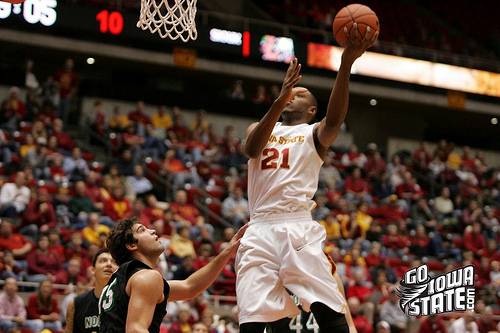 Don't look now, but former Cyclone Craig Brackins is all of the sudden getting some respect.
Draftexpress.com now has Brackins in the first round, being drafted 27th by the Nets. NBADraft.net currently has Brackins being taken at number 22 by Portland.
The 2010 NBA Draft will take place next Thursday night. We'll have plenty of coverage for you right here at CycloneFanatic.com.