By Chris Williams, CycloneFanatic.com Publisher

The Iowa State football team has to replace seven starters on defense next fall.
A tall task? Yep. But I like to consider myself as a glass half-full type of guy. So let's look at it this way.
Iowa State's football team gets to replace seven starters from a defense that ranked 99th nationally, giving up more than 415 yards per game. The 2009 Cyclone defenders ranked 102nd in pass defense and were 86th against the run.
Last year's squad fielded a group of opportunists that ranked 34th nationally in scoring defense but at the end of the day, the 2009 Cyclone defense was hardly an iron curtain.
Earlier today, we took a look at some of the top offensive storylines heading into tomorrow's spring game. Now, we focus on the defense, where the bulk of the question marks lie within this roster.
Top storyline – The linebackers
The 2010 Cyclones will feature three new starters at the linebacker position. Those men are A.J. Klein, Matt Tau'fo'ou and Jake Knott.
Klein and Knott saw some time as freshmen last season as the pair combined for 40 tackles. Tau'fo'ou (below) is a senior with limited division one experience. This is the group that most Cyclone fans will be anxious to watch tomorrow afternoon.
The word on these three this spring has been fairly consistent. They are a very athletic and talented group. I've heard numerous times that these boys like to hit and that they like to hit hard. This trio is also very raw.
How do you help out a group of inexperienced linebackers? You put pressure on the quarterback with you front four.
That is where the big problem lies in my opinion as we approach the fall.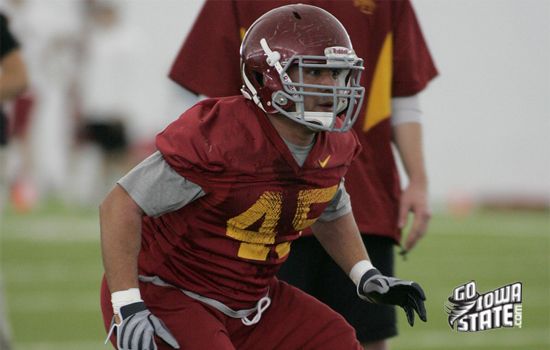 Runner up – Defensive line play
Who is going to pressure the quarterback for Iowa State next fall? Rashawn Parker will return from a knee injury last season to lead the defensive line at the right end position. The battle to line up beside him on the left side is what most will be watching for tomorrow within this unit.
While raw talent might be lacking at this position, options are not. When September rolls around, the Iowa State coaching staff will likely be deciding among three Cyclones to start at left end. Two of those players, Roosevelt Maggitt and Patrick Neal, will be going at it tomorrow.
You'll likely see a lot of that pair in the spring game as well, as Parker is still rehabbing from his surgery and will not be in competition.
Maggitt is the more talented of the two. Neal is more consistent. Which route would you go if you were Paul Rhoads?
The third piece to this puzzle is JUCO transfer Rony Nelson, who will not be on campus until this summer.
If you're into planning out the future, watch the names Aaron Moore, Cleyon Laing and Willie Scott closely tomorrow.
In the middle, Jake McDonough overtaking Austin Alburtis at the defensive tackle position came as a bit of a surprise to me this spring. It was clear to me this winter that the coaches loved McDonough and I thought that he had a shot to start this fall. I guess I am just surprised that this depth chart flip-flop happened so quickly.
The pressure is now on senior Austin Alburtis to prove himself over the summer months. A strong spring game performance could help kick start his way back into the starting lineup.
At nose guard, Bailey Johnson is back and playing after he recently recovered from a foot injury that he suffered last winter. Johnson, who started eight games last season, is currently listed ahead of junior Stephen Ruempolhamer in the depth chart.
I'm not expecting to see a lot of positives from this unit tomorrow. They are one of league's worst defensive lines going up against one of the Big 12's top offensive lines.
It's a steep challenge for an undermanned front four.
The secondary
This is the one spot that I actually feel comfortable about on Iowa State's defense.