Minister of Economy
SuperFanatic
SuperFanatic T2
Aug 10, 2011
23,277
32,868
113
Hello there.
I know this thread is normally one started in the fall a few weeks before the basketball season begins, but with so much about the roster already changing and changes coming through portal season, I thought I would start it now and lean on the Bart Torvik ("BT") preseason projections
@JStanz51
featured
here
.
The "vanilla" BT projections right now have Iowa State as the #54 team in the country next year --

I think you all would notice that roster is incomplete and thus incorrect -- Robert Jones is confirmed to be returning for his fifth season, I think CW's
article
about Tre King makes it clear he is going to be back for another season, and while we have not heard any official word, I think the rumor is Hason Ward will return.
So adding those three back gives you --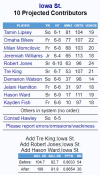 Iowa State is now projected as the #30 team in the country. The updated offensive efficiency would be tied for #59 in the country (with the College of Charleston) and the defense would be #14 in the country (slightly behind San Diego State and ahead of Arkansas). Last year was #30 overall, #122 offense, and #7 defense.
As I have mentioned before, the BT model for offense depends on the offensive rating of the players on the roster while the defense is projected as a "steady state" year-to-year. So the model thinks adding Omaha, Milan, and Williams will improve the offense while the defense is more about team culture and coaching.
Here are the teams around #30 in the country from this season. Iowa State being #30 again is a funny coincidence. All of them made the tournament save mid-major North Texas in the NIT --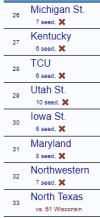 I will update this periodically if and when there is further action in the transfer portal. The team clearly needs more backcourt depth. That being said, assuming TJ and Kyle Green can coach the same fire on defense into them, the roster next year as it is right now already has the potential to be very competitive.
Much is going to depend on Omaha and Milan being "hits" pretty quickly and Williams returning to form after the injury. Lipsey is going to need to be a
dude
with that many minutes and that usage, too.