Mar 12, 2023; Kansas City, MO, USA; Iowa State Cyclones hold the ticket to the NCAA Tournament after winning the Big 12 Championship game against the Texas Longhorns at Municipal Auditorium. Mandatory Credit: William Purnell-USA TODAY Sports

During Iowa State women's basketball media day in November, coach Bill Fennelly will typically mention an X-factor; a player punching above their weight class, making plays, and showing early improvement ahead of the start of the season.
It's nearly impossible to predict before the season starts, but after 31 games this year, the answer to who this team's X-factors are is definitive:
That's Denae Fritz and Nyamer Diew.
"Oh, no question," Fennelly said. "I think especially with what happened to Steph (Soares), we needed something. You knew what you were going to get out of 'the big three.' I think you knew what you were going to get out of Mo (Morgan Kane). The X-factor within the game, and I think the last three-four weeks, those two have been a huge reason that that trophy is in my office and that we're in the NCAA Tournament."
Fritz stepped into her starting role right off the get-go, beginning the year in the starting five and staying put in every game sans senior night.
It's a tough ask for a player that was forced to sit out with an injury for nearly an entire season, but Fritz was finally starting to click during the back half of the conference season.
Beginning with the team's matchup against Texas at Hilton Coliseum, Fritz and only shot below 50% from distance once over the regular season stretch to end the year.
"I don't really know exactly when, but I think the KU game really gave me time to show myself that I'm capable of doing that," Fritz said. "(I feel) a lot more confident from three months ago – it's a long time. I hadn't played that much and sitting out kind of put a damper on my confidence… but where I'm at now is a very good place."
Against Kansas, she was a near-perfect 9-10 from the field and missed just one of her five 3-point attempts, tallying 26 points in the game.
"Denae's a great player," Diew said. "She's always going to come and bring the fight, no matter what. She always wants to be scrappy or get out there and get a rebound or drive to the basket."
Diew on the other hand has been making her presence felt in other ways.
While she comes off as an innocent, kind-hearted player off the court, the intensity she shows on the court is unmatched, especially after a big bucket.
Diew wants to give Conrad Hawley a run at his 'Chief Energy Officer' title.
The personality has been there all season and came out in an even louder feel on the big postseason stage in Kansas City.
"She brings a lot of energy and excitement to the game," Fritz said. "She had some really crucial buckets there (in Kansas City) late in the game and I think she's just someone other teams might count out. I think for us, though, we know she's going to hit that shot. She's going to rebound and do the little things, and I think that's really special."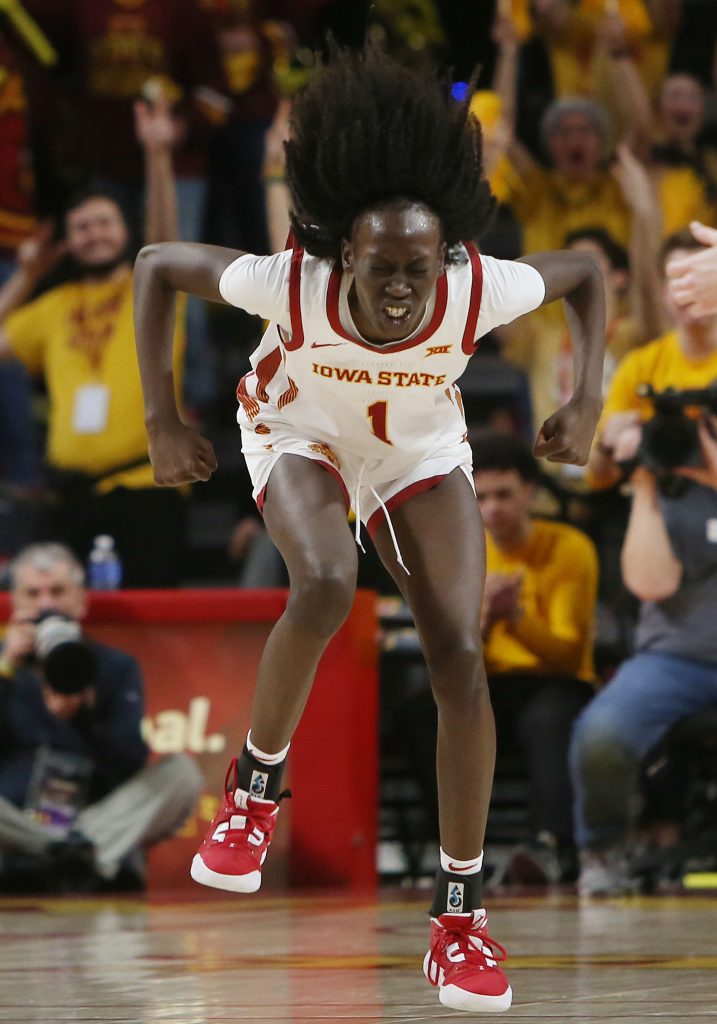 It showed for Diew in the Big 12 semifinal game against Oklahoma.
After a solid first half, Diew told the coaching staff to allow Kane to take the starting spot for the second half.
She does better when she can get a feel for the game and wanted Kane, a senior, to get that shot to play in the Big 12 tournament for the final time in her career.
"Everyone likes to call me a streaky player, but I'm also an emotional player," Diew said. "I'm going to take that and I'm going to go out there and be emotional – cheer for my teammates if they score or (celebrate) otherwise."
Diew finished the game with 19 points.
The pair buying into their roles on the team may be as big as Ashley Joens dropping 30 points in a single night.
What prevented Iowa State's group from going further in the NCAA Tournament a year ago was a lack of X-factors.
"They've grown into their roles, they've accepted their roles and they play at a really high level," Fennelly said. "That has really given us a chance the last month where we didn't know that we'd be in this situation."
Now they've got two, and it brought them the program's first Big 12 tournament championship since 2001.
"I think what it says is – and I'm happy for this team, obviously – but it shows how hard it is," Fennelly said. "There's a lot of teams – there's a lot of people that never did it… It's just one of those moments that, when you coach, you wish and pray that you get."
For Iowa State to make a run in this year's tournament, it will take that same fight from Diew and Fritz.
If either of them starts scoring in the double digits, look for the Cyclones to start putting some space between themselves and their opponent.
It's got them one big trophy already.
"To see the look on our players' faces when all of that confetti was coming down, that will be in my mind until the day I die," Fennelly said. "I'm good with that."
On Saturday against Toledo (2:30 p.m. ESPN2), they start their quest for another.