Photos by Jacqueline Cordova.
David Goggins is perhaps the most celebrated Navy Seal in history. The 47-year-old icon is best known for being one of the world's top "ultra-endurance athletes."
In Layman's terms, the hero voluntarily does crazy things (to pedestrian folks like you and me) for the sake of building his mental toughness. Goggins puts his body through hell to grow as an individual.
An example: One of Goggins' most well-known accomplishments is competing in the Badwater 135. It's known as the world's "most demanding and extreme running race." One-hundred and thirty-five miles of hell, starting at the Badwater Basin in Death Valley, which is the lowest elevation in North America. It ends at the summit of Mount Whitney, which is the highest point in the contiguous United States.
Once a Guinness Book of World Records holder for pull-ups done in 24 hours, Goggins is also the idol of Iowa State basketball walk-on Conrad Hawley.
"He started out not doing well in life," Hawley said of Goggins. "He couldn't read and write. He was overweight. He was lazy. He was unmotivated. And then he went on to do miraculous things. I like to learn about guys like that. Because for myself, I want to learn how to grow every day, how to challenge myself, how to challenge the group and do it in a good way, and always, you know, fight the negativity and remain positive."
Hawley, who Cyclone fans are starting to take notice of for his outrageous sideline demeanor, hasn't scored a point this season for the No. 12 Cyclones. But ask anyone around the program and they will tell you he is, without question, one of the most important men within T.J. Otzelberger's surging squad.
Hawley, a certifiable badass in his own right, is the most unique and motivational man in Iowa State athletics. In the half dozen or so sources I talked to for this story, every one of them referred to the former Kansas (scholarship) quarterback as the "perfect teammate," which is critical behind the scenes when preparing to play Otzelball.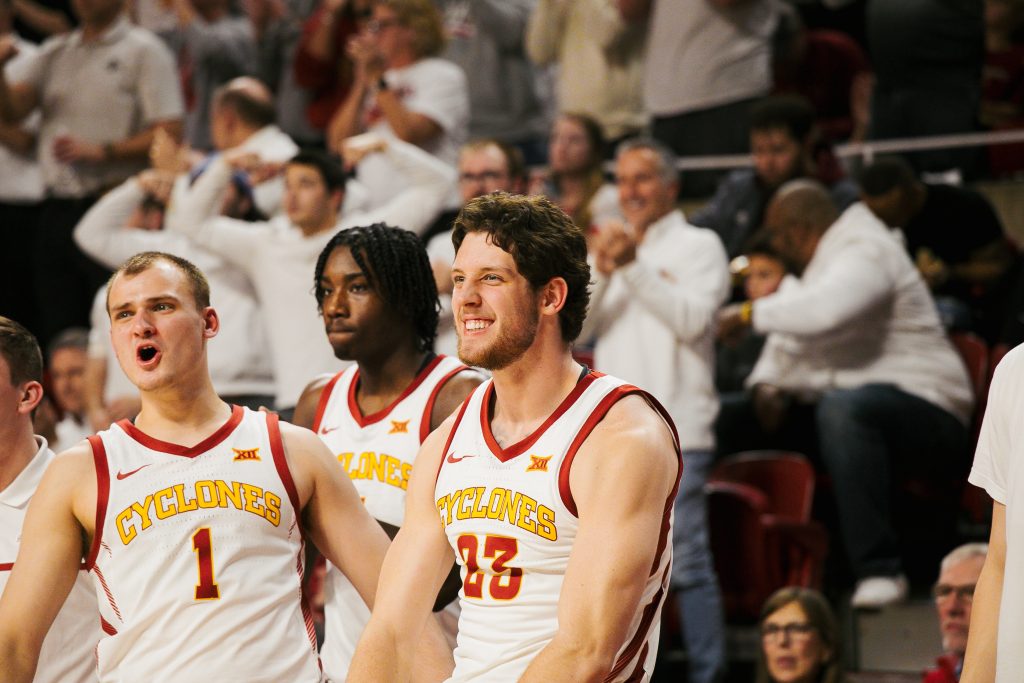 Hawley's path to Ames
Hawley grew up in suburban Kansas City (Raymore-Peculiar High School) and earned a scholarship to play quarterback at Kansas under former head coach Les Miles.
His high school football career was nothing short of legendary. Hawley's accolades include a Class 6 football state championship after he threw for nearly 3,000 yards and 26 touchdowns as a senior. That earned him the Simone Award, which goes to the best football player in the Kansas City metro. Hawley was also tabbed as the offensive player of the year in the entire state of Missouri.
So why would a promising football prospect with a scholarship to play quarterback at a Power Five school like Kansas up and leave to be a basketball walk-on at Iowa State?
Hawley's path to Iowa State is uncommon and inspiring.
"A coach that I trusted called me," said Otzelberger. "He said, 'Hey, this is gonna sound off the wall. But I know how you see things. And I know how this kid sees things, and I think this could be a really good fit."'
This was at the heart of an extra stressful transfer portal season at Iowa State. Figuring out the upcoming walk-on situation wasn't exactly at the top of Otzelberger's mind. But the second-year Iowa State head coach kept listening to hear more about the former football player.
"He's read about your program,'' the source told Otz. "He doesn't want to play football anymore and wants to be part of a team, specifically a basketball team. He's read about, you know, some of the things you guys do and how you do things."
Hawley, who has aspirations of becoming a Navy Seal, sought out Iowa State and Otzelberger.
The source told Otzelberger, "He's not going to expect playing time. He's highly disciplined. All he wants to do is bring an unbelievable spirit every single day to practice and celebrate his teammates."
It sounded too good to be true.
"I was skeptical," said Otzelberger. "So I wanted to get on the phone and talk with him and ask him a few questions. Stuff like, 'What do you want to get out of this experience?'"
"My favorite thing in life is being a part of a team," Hawley said. "That's really where everything comes from. I believe that when you give everything you have to a group, good things will happen for you. And obviously, good things will happen for the group."
When Miles was fired after Kansas' 2020 season, Hawley started to have second thoughts about his athletic career and personal future going forward.
"For some reason as a football player, it's pretty even-keeled, pretty stern," Hawley said. "And with basketball, I always had more fun. I had been loose when I played basketball. So yeah, here we are."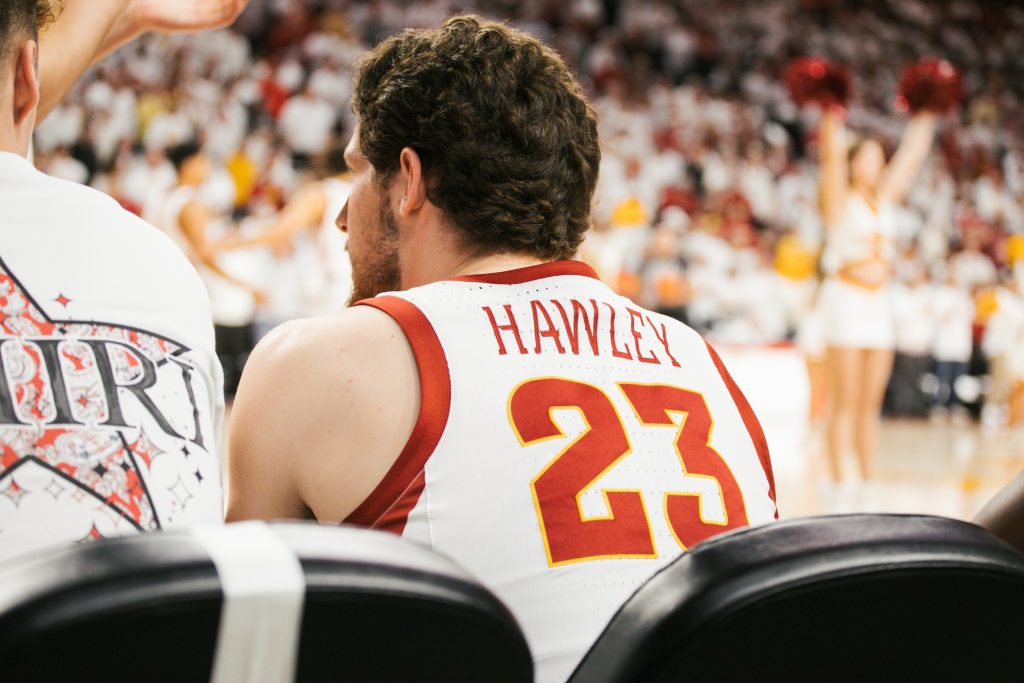 Otzelball isn't always fun …
The legend of Iowa State's offseason "practices" under Otzelberger and strength coach Pete Link is growing. We started to hear about these last year during Iowa State's run to the Sweet 16 in the NCAA Tournament when the country really started to take note of the team's suffocating defensive style.
As legend has it, on muggy summer mornings, well before the sun has risen, Ames residents can listen closely and often hear the sound of a whistle on a nearby soccer field and then see 15 Cyclones breathlessly sprinting to the command of a leader.
To play Otzelball, being in elite shape with a special sort of maniacal mentality is a necessity.
This is where a guy like Hawley – and his David Goggins style of spirit – is so valuable.
"I love it when things are hard because it's gonna suck, and then you get better," Hawley explained. "You don't learn when stuff is easy. Things get hard and times get tough. So I love the way we do it. Like in the summer, we're here very, very early in the morning. And we just bust our butts. So when it comes to the season, practice is still extremely competitive. But we are prepared and we put in the work so there are no surprises. We know what our job is."
To have that type of a leader in your locker room – a guy who expects no playing time and doesn't even take up a scholarship – is a fantasyland for basketball coaches around America. Otzelberger hit the walk-on jackpot.
That type of contagious energy spreads.
"He holds everybody accountable," said Hawley's roommate and good friend, Caleb Grill. "One time I remember I didn't have a great practice and me and him were lifting right after it. I kind of like had my head down. He just looked at me and said, 'You're not doing that now. Move on. We are lifting now. You're gonna be energetic and you're gonna bring it.'''
Hawley is essentially an extension of Otzelberger's coaching staff.
"He's not entitled to anything," Otzelberger said. "He's certainly not a taker. He's the opposite of that. He's always giving, pouring into the group. I think other guys can see that. You can have that spirit and that energy and enthusiasm. When you pour into the group, it gives the group more energy and it's uplifting everybody. As he's done that, I've seen more and more guys celebrating teammates, and more guys being happy for one another, more and more guys trying to match that enthusiasm. So I do think it's helped. A lot of the guys that are playing valuable minutes have learned from that message."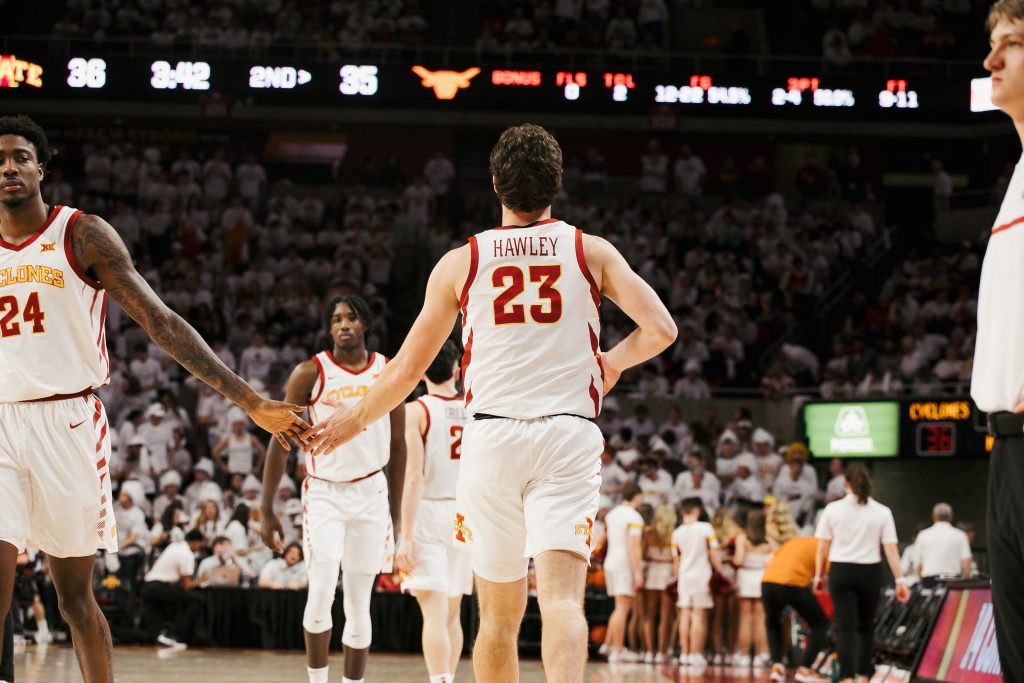 The C.E.O.
After Hawley arrived on campus, it didn't take long for Otzelberger and his staff to realize that this dude was not only for real but a spectacular human being. Hawley deserved to be rewarded for his efforts to prepare his teammates for battle, both during the offseason and every day in practice. But how?
Allow me to introduce the C.E.O., Iowa State's "Chief Energy Officer."
On the bench at Hilton Coliseum, Otzelberger has Hawley's seat marked with those letters. It is a recognition for being one of the best teammates in the history of Iowa State basketball. But it also comes with more responsibility.
Hawley's game-day job as the C.E.O. is not finished when the Cyclones tip it off in the toughest conference in college basketball. He's in charge of Iowa State's bench, positivity and energy.
"He is always getting in our opponents' heads," said Grill added. 
Hawley naturally looks like an animated professional wrestler flexing while cheering on his team during games. He gets especially amped up when the Cyclones draw charges and win those hustle types of 50-50 balls.
For reference, Iowa State has drawn 50 charges so far this season, averaging basically three per game.
"I call him passionate," Holmes lovingly said of his cherished teammate. "He is the spark plug of our team."
His eyes look maniacal at times. Borderline crazy. But do not refer to Hawley as "crazy" around Iowa State's leading scorer and senior Jaren Holmes.
The rest of the bench has followed suit in emulating their Chief Energy Officer. Most notably, freshman Eli King has adopted the role of Robin to Hawley's Batman. Watch them during a game and the pair gives off a bash brothers type of vibe.
Or take Temple transfer and senior Jeremiah Williams, who was lost for the year weeks before the season to a torn Achilles Tendon. During practice, when energy hits its highest, you'll see Williams smiling ear-to-ear, riding around on his walker with wheels, firing off a blow horn when the team needs an extra boost.
When you see this type of energy, you can't help but smile and want to be a part of it. Day-to-day, an Iowa State basketball practice is more jovial than a 10-year-old's birthday party. Positive vibes are a requirement in Otzelberger's program.
Hawley's growing role is being chiefly accountable for that. It is a major responsibility, which is exactly what he signed up for.
"His energy spreads throughout the whole bench and everybody goes along with him," Otzelberger said. "I think everybody enjoys the game from that perspective more because some people maybe when they don't play, they might not be in the best mood, but he keeps everybody engaged on the bench like they're actually playing in the game."
Leaving a legacy
Otzelberger glowingly refers to Conrad Hawley as the "perfect walk-on." His teammates admire Hawley's selflessness and leadership. It's special.
"He sees this opportunity being on this team as a blessing," Holmes said. "Just like I see being with him every single day is a blessing. The ability for me to learn from him, his mindset and the way he thinks and the way he instills and pushes passion in other beings is second to none. The guy is truly selfless. Conrad doesn't play at all and he comes every single day to get us better and make us better leaders."
Conrad Hawley is unapologetically nuts, and certifiably passionate. He has changed the game for this group of Cyclones and every member of Otzelberger's program from here on out.
The best news is that the C.E.O. is just getting started. He is only a sophomore and the best is yet to come.