ARLINGTON, Texas — You can't win big games unless you play in them.
It wasn't very long ago Iowa State rarely participated in contests important enough for anybody outside the city of Ames or its growing alumni base to truly care.
The now very relevant Cyclones just dug too big of a hole early in Saturday's 27-21 Big 12 Championship Game loss to Oklahoma.
Unfortunately, Lincoln Riley's Sooners are not Baylor. Iowa State fell two minutes and about 30 yards short of making more history.
Join me to dissect it all in this week's Three Up, Three Down.
THREE UP
1 — A gritty group — There isn't a lot more I can add that hasn't already been stated by many.
This program is way beyond the point of playing the moral victory card and nobody left AT&T Stadium happy about a loss. But it is impossible to not be impressed by the fight that the Cyclones showed storming back from a 17-point deficit in the second half against a very good football team (as outlined by my colleague Jared Stansbury here).
I'll leave it at that.
Hell of an effort. Super gritty, and we will talk more about all of that in the coming days.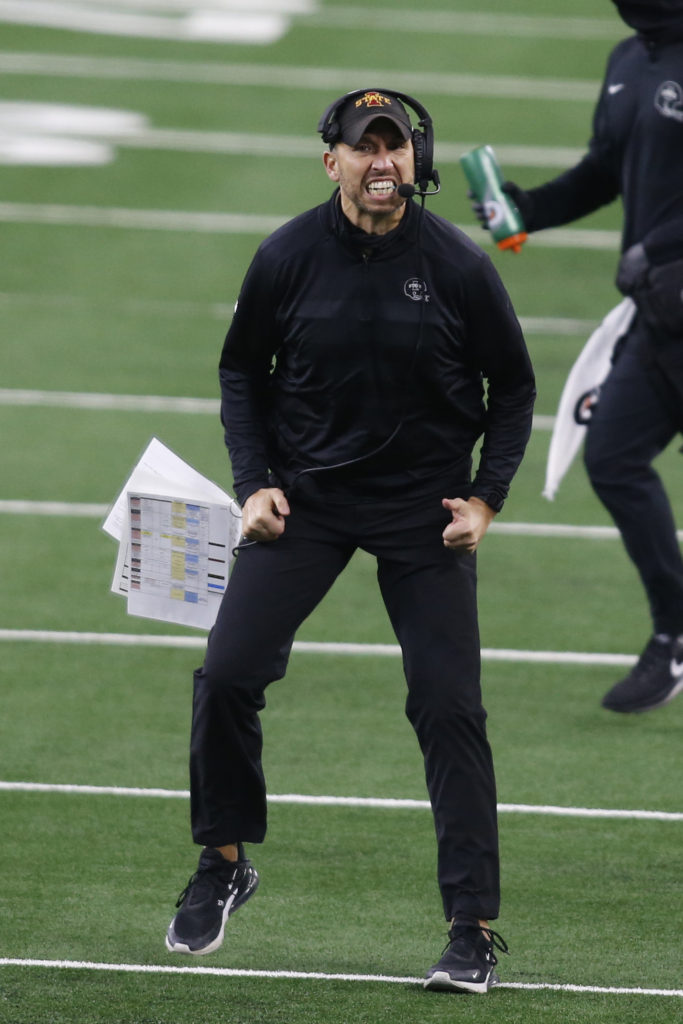 2 — The experience — The most difficult part of leaving that stadium was knowing that the better team perhaps didn't win. I don't know that for a fact because Oklahoma is very good. That's the best defense Oklahoma has had in probably the last decade. Iowa State didn't do certain things well though and did leave some things on the table, which I'll get to in Three Down.
I don't believe that this is the end of the road for this group. While it isn't a Big 12 championship, Iowa State still might be going to play in a New Year's Six bowl for the first time in program history, with the Alamo Bowl seeming like a worst-case scenario. That's nothing to sneeze at.
I'm already thinking about next year. If the offseason goes as planned, the Cyclones could very well be a preseason top 10 team in the country heading into 2021. If that is the case, all expectations will be to win a Big 12 championship next season.
Albeit in a loss, being here in 2020 will pay dividends in the future if/when that indeed occurs. 
3 — The defense — It kept Iowa State in this game and gave the offense a chance to go win it late.

The casual viewer probably wouldn't have guessed that Iowa State out-gained Oklahoma 435-392. The Cyclones were better in yards per play while the Sooners averaged only 3.9 yards per carry on the ground.
Iowa State held Oklahoma to 1-of-11 on third down.
A valiant effort by Jon Heacock's group, despite facing some major adversity early in the game.
THREE DOWN
1 — The offensive line — This group has been so much better in 2020 than it was in previous Campbell seasons. The improvement is obvious and it is a young unit that will continue to grow. But as was my big worry coming into this game, Oklahoma's elite defensive front beat Iowa State's offensive line.
The Cyclones weren't bad in this game. They held their own. But as was apparent by Breece Hall's modest 3.4 yards per carry and problems protecting Brock Purdy, the Cyclone offensive line definitely met its match – and then some – vs. OU on Saturday.

— The two false starts on the last offensive series were devastating. However, it seemed like the entire offense was out of sorts down the stretch. It appeared that the Cyclones were even struggling to get plays in on time.
— Regarding Brock Purdy's three-interception day … Listen, that was far from the best game Purdy has played in an Iowa State uniform. BUT, I can also make an argument that Iowa State wouldn't have been in that game without No. 15's ability to extend plays. That was vital in out-lasting the Sooners' initial push in this game.
2 — Isheem Young's ejection — For a handful of reasons…
First of all, it was such a blow to the defense – on the second play (!!!) of the game. I could argue that Young is one of the 3-4 most valuable players on the entire defense. It took Iowa State two quarters to settle in without him.
Secondly, it sucks for Isheem on a personal level. This was the biggest game of his life and it was essentially robbed from him by a terrible rule.
Finally, it set the tone poorly for the day. Minutes in, there was a reason for negativity to start creeping into the minds of players and fans alike.
I give Iowa State's defense a ton of credit for bouncing back the way that it did.
The whole situation just really sucked.
3 — The kicking game — I can only go by my own feelings when I watch the Cyclones play. Every time a kickoff occurs, I hold my breath.
At the 1:34 to go mark in the second quarter, Iowa State kicked off to the Sooners only down 10. It resulted in a 43 yard Sooner return that set Oklahoma for a last-second score before the half.
As I alluded to above … Oklahoma is not Baylor.
That single play didn't lose Iowa State the football game but it dug that hole extra deep.
The big thing is that this has been an ongoing problem all year. Matt Campbell isn't an idiot. I'm sure they are going to be aggressive on the recruiting trail for a grad transfer kicker and in the preferred walk-on market as well. 
Conclusion
That's it for now. Be all over Cyclone Fanatic and our social media platforms Saturday for complete bowl selection coverage, men's basketball and more.