Iowa State is 2-0 in Big 12 play and in many ways, lounging in the preverbal "driver's seat" when it comes to reaching its first-ever conference championship game.
I truly don't believe that the Cyclones will fall asleep at the wheel on Saturday vs. Texas Tech though.
They can't.
For one, it's too early.
Most importantly, while the Red Raiders are 0-2 in league play, it is a strong 0-2. This is a good football team that the Cyclones will meet at 2:30 p.m. on ABC.
So let's get after it with five thoughts on this matchup specifically, my weekly Big 12 power rankings and picks for the weekend.
Five thoughts on the Texas Tech matchup
1 – Iowa State's slower tempo: Perhaps it is too early in the season to come to a conclusion, but Iowa State is playing slower football this season offensively compared to the last two years. The Cyclones averaged 68.8 plays per game in 2019. That number is all the way down at 60.7 per in 2020, making Iowa State the fourth slowest tempo team in the country thus far.
For what it's worth, Iowa State averaged 65.6 plays per game in 2018.
The Cyclones have never been an up-tempo team compared to the rest of the country, but this slowdown seems to be by design.
Iowa State knows it is stronger up front offensively than in the past. The Cyclones know what they have in Breece Hall. Last season, Iowa State also was shown the importance of keeping Brock Purdy healthy.
On the other side of the football, what was the biggest weakness for the defense last season?
Third downs, where the Cyclones ranked 86th nationally giving up 41.9 percent of third down conversion attempts. The defense often tired out at the end of drives, which could explain why Iowa State ranked a lowly 113th nationally in takeaways (1.1 per game) too.
Slowing things down makes sense this year. Utilize the running game and keeping your stud quarterback fresh, which also allows the defense to thrive.
2 – Fear the backup: There is a decent chance that Iowa State will see Texas Tech's backup quarterback in this one. Sophomore Alan Bowman left the Kansas State game with a leg injury and is "day-to-day," according to Matt Wells. 
Backup quarterbacks absolutely terrify me.
Enter Henry Columbi, a Utah State transfer who followed Wells to Lubbock, into the conversation. Colombi, a true dual-threat option, impressively completed 71 percent of his passes in his debut last week as a Red Raider in relief of Bowman, who is a very solid player when healthy.
Perhaps I am just paranoid due to Iowa State's unpleasant history with backup quarterbacks but given his impressive versatility, I'm not positive Tech isn't more dangerous with Colombi calling the shots.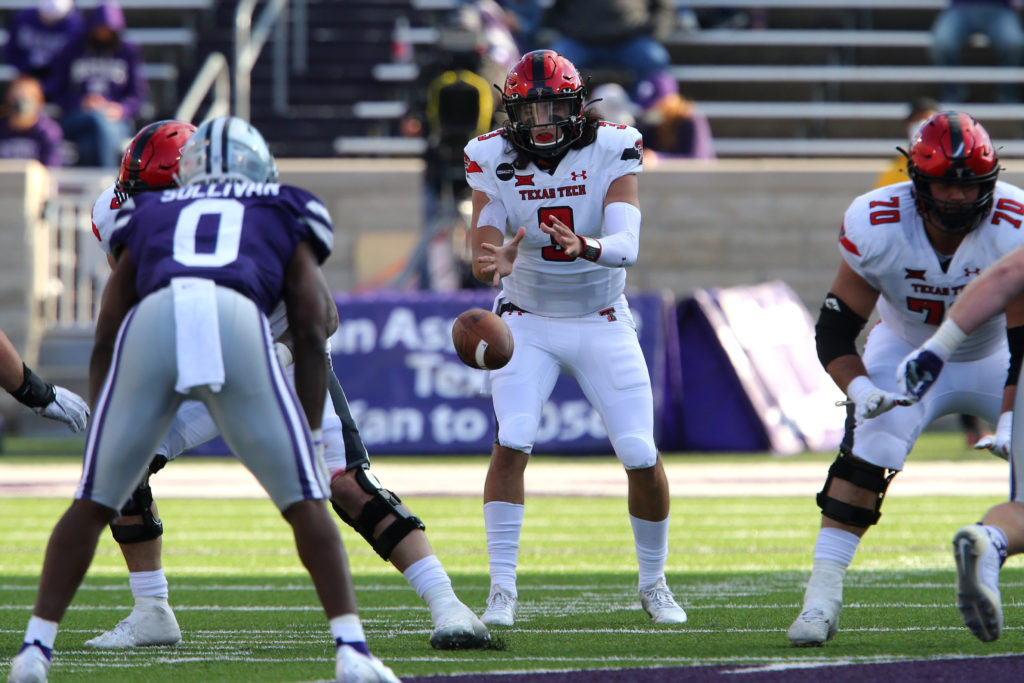 3 – A new Tech running back: If I am a Texas Tech fan, I am encouraged by a sophomore running back Xavier White, who averaged 9.4 yards per carry (!!!) last week in Manhattan. White, a Lubbock native, former walk-on, wide receiver and JUCO transfer, split carries evenly with fellow sophomore Sarodorick Thompson in the loss.
The Thompson (210 pounds)/White (190 pounds) combo is an interesting matchup for Iowa State's three-man defensive front, especially if Columbi, who ran for 40 yards last week, gets the start. 
I fully expect Tech to try to get the running game going early in this one. The Red Raiders averaged an impressive 6.0 yards per carry in last week's loss to K-State.
4 – Matt Campbell vs. Texas Tech: Campbell is not only 4-0 against Texas Tech during his Iowa State tenure, but he's also 4-0 against the spread.
5 – Final commentary: I believe Texas Tech is a much better opponent than most Iowa State fans probably think. They remind me of the beginning of year two of the Campbell era. Losing close games, but eventually, it will click. Hopefully, it isn't this week. 
Williams' weekly Big 12 Power Rankings
1 – Iowa State, 2-1 (2-0) – Not a homer pick. After the Louisiana loss, no program in the Big 12 has two better wins than the Cyclones.
2 – Oklahoma State, 3-0 (2-0) – Believe it or not, it's been Oklahoma State's defense leading the way to a 3-0 start. The Cowboys are giving up only 4.04 yards per play, the fifth-best mark in college football. Only behind the Cyclones due to the fact that Big 12 wins were against lowly Kansas and a bottom-half West Virginia team. 
3 – Kansas State, 2-1 (2-0) – The win at Oklahoma as a 28-point underdog was stunning and impressive. Winning this week at TCU would immediately put K-State atop the rankings next week.
4 – TCU, 1-1 (1-1) – The Horned Frogs are now 6-2 straight up vs. Texas since joining the Big 12.
5 – Texas, 2-1 (1-1) – Tom Herman is 26-17 as a head coach since arriving in Austin, but 16-4 against the spread as an underdog.
6 – Oklahoma, 1-2 (0-2) – No way these guys can start 0-3 in league play, right?
7 – West Virginia, 2-1 (1-1) – Nice win vs. Baylor last week, but how good is Baylor?
8 – Texas Tech, 1-2 (0-2) – More impressive in two losses than Baylor thus far.
9 – Baylor, 1-1 (1-1) – With an average of 4.4 yards per play, Baylor's offense is currently the third-worst in college football two games in under Dave Aranda. That number is especially tough to swallow considering Charlie Brewer is back at QB and they've played Kansas/West Virginia.
10 – Kansas, 0-3 (0-2) – Perhaps the worst Kansas team in the last decade, which is really saying something. 
Big 12 picks for the weekend
Iowa State 34, Texas Tech 24 – Both teams will try to run the ball if they can, especially early. Two good defenses. Tech doesn't get blown out often. Should be a fun one.
Oklahoma 41, Texas 34 – We're calling this the Desperation Bowl. I wouldn't bet Blum's paycheck on this game.
TCU 31, Kansas State 17 – Quarterback Skylar Thompson is questionable for K-State, which is a problem. Plus, TCU is really good.