Former Cyclone star Marquis Gilstrap playing against Texas in the 2009-10 season. (Photo courtesy ISU Athletics Communications).

[Author's note: During these many sports-less weeks because of the COVID-19 pandemic, Cyclone Fanatic has been re-running many of my "Where Are They Now" features. Typically, we like to include an update at the end of these reissued articles, but that's not always possible. Fortunately, I was able to catch up with the great Marquis Gilstrap recently, so please find an updated story on how he's handling self-quarantine at the bottom of this "Where Are They Now" piece. —RG, April 9, 2020]
AMES — Two years. Three jobs. A life devoid of basketball.
A torn left patellar tendon cast rising JUCO hoops star Marquis Gilstrap adrift in December, 2005.
So the future Iowa State one-year standout left West Palm Beach (Fla.) State College to come home to Covington, Georgia, a tight-knit community about 30 miles from Atlanta.
Good move? Bad move? Gilstrap simply had to continue to move in order to teach himself how to properly walk again. Running and jumping were out of the question.
"I just came home and worked for like two years," said Gilstrap, whose former team kicks off its 2016-17 season at 6 p.m. Sunday (Cyclones.tv) in an exhibition game against Sioux Falls College at Hilton Coliseum. "I didn't play any basketball. I only rehabbed my leg good enough just to walk, so after I learned how to walk I quit going to rehab."
So Gilstrap — the subject of this month's Cyclone Fanatic "Where Are The Now" feature — found himself lost in a familiar wilderness. Being home comforted him, but endless work served as a numbing agent.
His mother was a general manager at a Pizza Inn, so Gilstrap got a job delivering pizzas.
His then-girlfriend and current wife, Cecily, was pregnant with their first child, daughter Marlaysia, so he took on additional jobs at a gas station and on a factory assembly line.
The hope of eventually playing Division I basketball seemed a wistful and distant dream as he inspected empty glass bottles that eventually would house cologne. As each hollow vessel crawled up a conveyor belt in front of his eyes, the future — outside of impending fatherhood — appeared bleak.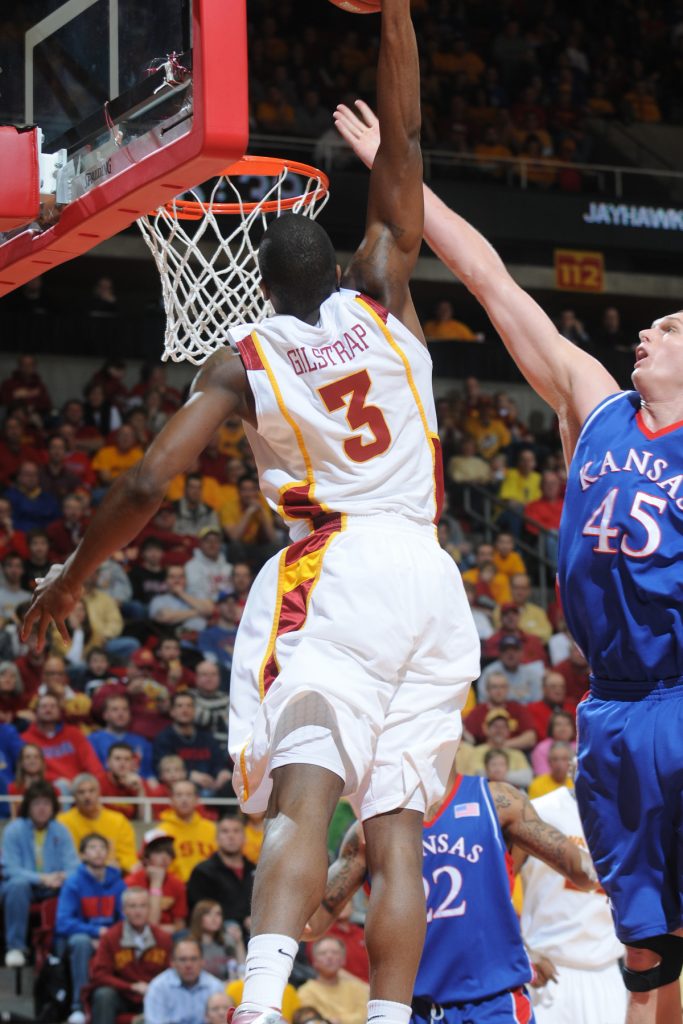 So a little bit of "Why me?" syndrome seeped in. How could it not for the former East Side High School star?
"It did," said Gilstrap, who amazingly averaged a double-double (15.3 points, 10.3 rebounds) in Big 12 play for the Greg McDermott-coached 2009-10 Cyclones. "It did, but as I get older I understand why and I know why. At that time when I was injured, I was in college but I wasn't focused like I should be — like my parents had raised me. I wasn't going to class like I was supposed to. I think it was just one of those things where God got my attention."
Gilstrap returned to the court. His leg still bothered him, but he caught on at Gulf Coast (Fla.) Community College. That's where ISU assistant coaches Daniyal Robinson and T.J. Otzelberger found him, with an assist from another Covington-based Cyclone connection.
"I saw him in July and T.J. was close to his JUCO coach because he had been recruiting a kid from there previously and I went and saw him, saw the kid, and then we just recruited him from there, got to know him," recalled Robinson. "Then come to find out he's close with Kantrail Horton, who had played here before."
****
Horton — a captain and key contributor on ISU's 2000-01 Elite Eight team — raved about Ames. And he most definitely knew Gilstrap. Only problem: Gilstrap didn't think he'd ever impressed his mentor much.
"I used to go in there every day to make him tell me I was good but he never would," Gilstrap said. "He never would."
But when Gilstrap was fully ready for the next step, Horton sprang into action behind the scenes.
"Man, this kid's really good," Horton recalled telling Robinson.
The former Cyclone star's glowing assessment of the largely overlooked 6-7, but raw JUCO talent with the still-bum leg intrigued Robinson. An offer came quickly. Gilstrap gratefully accepted — and his wife and daughter accompanied him to Ames.
"He's a perfect example of taking advantage of the opportunity that was afforded to him," Robinson said of Gilstrap, whom after a brief injury-riddled pro career overseas is now a paraprofessional educator and assistant basketball coach at East Side. "He didn't have the resources or anything but Marquis has done a phenomenal job and it does speak to his character. He's just that type of person. He's a people person and he cares about people. He's always trying to learn. When he first got into coaching I sent him a packet of plays — a book I had. He's always looking for ways to learn. He's truly in it for the right reasons. He wants to help all those kinds in the neighborhood to get out and make it like he did."
Horton — who enjoyed a more lengthy overseas career — blazed the path Gilstrap now follows. He's an educator and coach, as well. And he couldn't be prouder of Gilstrap's pain-filled, but heartfelt journey through basketball, life and education.
"If he would have had the proper rehab, he could have really tore (the Big 12) up," said Horton, who (little known fact) played a team-high 34.7 minutes per game during that Elite Eight season. "He could really have tore it up — being his size and being able to shoot the ball the way he does and then with the aggressiveness and rebounding. For him to go and do what he did is just flat-out amazing."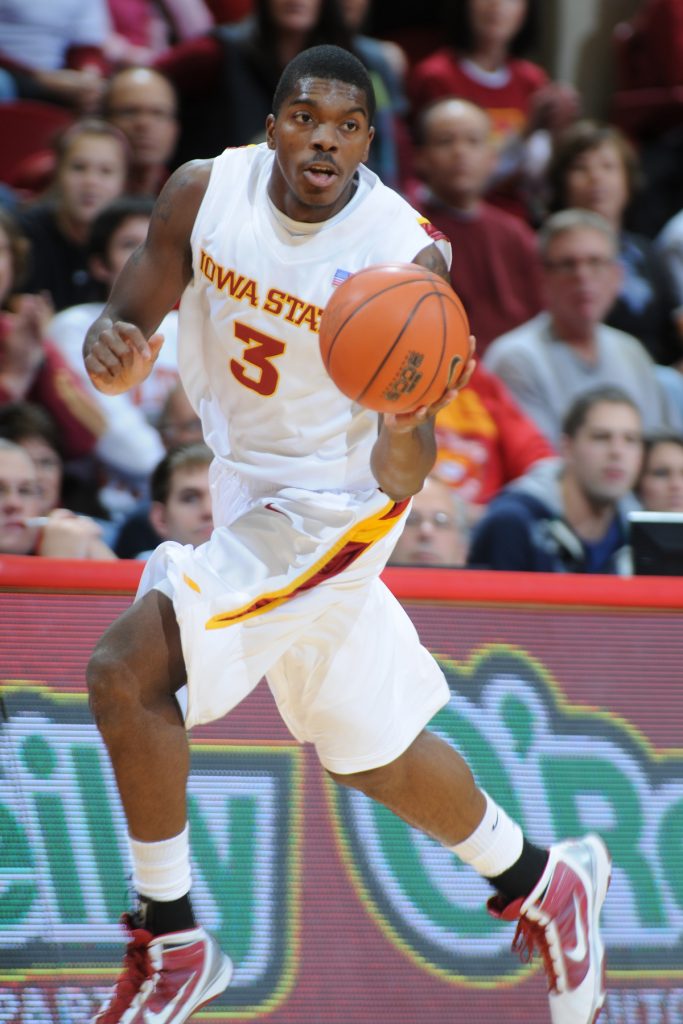 ****
Gilstrap's partially-healed left leg had not been prepared for the grind of Big 12 play. Self-rehab rarely ensures full recovery and once he arrived on campus in Ames, he met with medical staff.
"When he got here that August, he got with (head athletic trainer) Vic (Miller) and we got his leg operating up to about 65 percent," Robinson said. "He probably played on a leg that was 65 percent full strength and he averaged a double-double and he was just such a versatile player, where you didn't have to run offense for him. He just kind of made offense where he could get a long rebound, he could bring it, he could make an open 3, he could post up a little bit. He was so good at going and getting rebounds and he could defend a bigger guy. He was so athletic."
There were other pressing and potentially bone-chilling concerns. Gilstrap did not enjoy Iowa's winter. Robinson remembers him frequently inquiring about the team-issued parkas before the first snowfall. Once a blanket of billowy flakes finally covered the campus, Gilstrap holed up. It's what people did around Atlanta when snow managed to pierce its almost sub-tropical clime, so he assumed the stop-everything approach held up north, too.
"I was ready for the snow to come, because where I come from in Georgia, when snow comes they cancel school," Gilstrap said. "So I remember the first time it snowed, I missed practice and class. Coach McDermott actually drove to my apartment to pick me up for practice. … He was like, 'Quis, why didn't you go to class?' I was like, 'That's not what I was used to. I don't know about driving in this snow.' So he came. I heard a horn like 10 minutes later and look outside and it was him. He'd come to pick me up for practice."
Alongside the funny moments, dominant ones stood out.
One of the enduring highlights of Gilstrap's one and only season at ISU is commemorated on a YouTube video. Gilstrap soared to dunk twice on Kansas star big Cole Aldrich — and on one truly good leg.
"If you find that video where he had those two dunks against Kansas, those are unbelievable highlights for a kid that virtually was an unknown," Robinson said. "For a virtually unknown kid to go and average a double-double in the Big 12, that's unreal. And he wasn't our No. 1 option."
Nope.
That Cyclones team also featured Craig Brackins, Diante Garrett and Justin Hamilton, to name a few.
It's a wonder they went a disappointing 15-17. They. Were. Good. Gilstrap still scratches his head about what could have been that season.
"I do all the time," said Gilstrap, who also is the father of two sons, Marquis Jr. and Markius. A lot of our games we used to lose them close, down the stretch. We used to lose them at the end and I think maybe — I know Craig and Diante had been playing together for awhile, but that was my first year there with them. We jelled right away so it still puzzles me from time to time, because it wasn't like we didn't get along. All of us got along. We enjoyed playing together, it was just a missed shot here down the stretch or a turnover there that cost us close games."
Horton said the haphazard rehab of Gilstrap's initial junior college injury, coupled with future knee issues, doomed what could have been a much more promising pro career.
Gilstrap would play parts of seasons abroad in Turkey and Slovakia, but had to hang up his shoes far too early.
"If his knee was healthy he could have been a 10-year (NBA) guy because if you look at the way the game was going then, he fits perfectly," Horton said. "Six-(foot) seven. Can stretch the floor. Can just flat-out shoot the three. He can put the ball on the floor. He fits what the NBA is (like) now so I think he could have had a great career."
****
Four years. Two jobs. A life filled with basketball.
Marquis Gilstrap is living a dream as a teacher, whether counseling youth on making good choices, or teaching them the finer points of jump shooting, dunking or grabbing boards.
It's November of 2016 and the 29-year-old man's role as a mentor for others commands his full attention.
Horton said he saw coaching in Gilstrap's future, even as the player he would champion was lurching along, beaten down by a broken down leg.
"Some guys are just basketball guys — and I think he's just one of those guys," Horton said. "Where if he's not playing a game, he's somewhere around the game, with the same deal I have. We had to figure out after basketball what we'd like to do. It would always take you back to kids. I enjoy working with kids and he's the same way. He loves working with kids and what better way to connect to kids than through basketball?"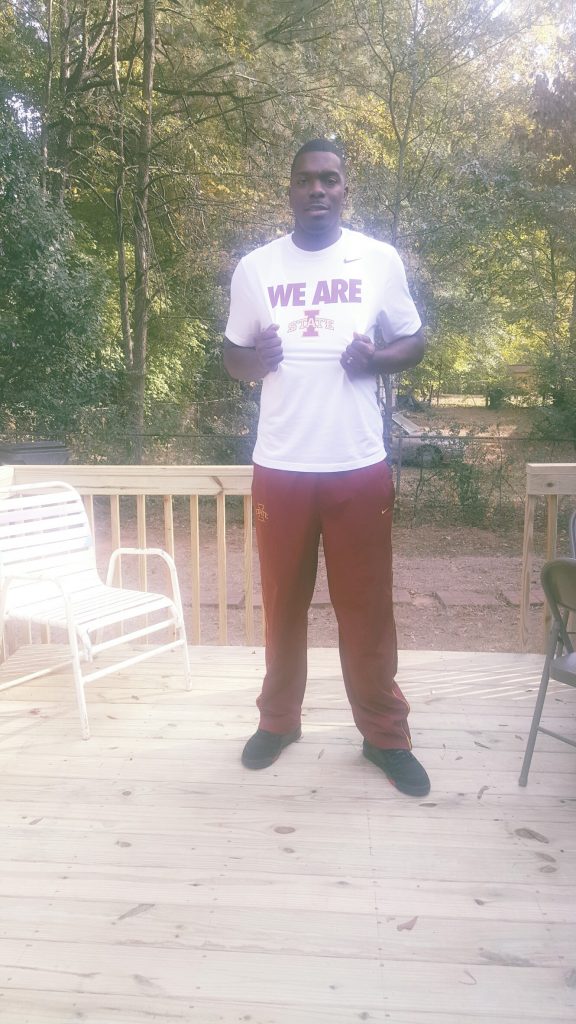 Robinson wasn't so sure Gilstrap would become a coach, but he knew the player who Horton had once praised had always been a good man.
"I didn't necessarily see him as being a coach, but I knew he was a caring person," Robinson said. "I knew he had really good character and he was always respectful."
As for the man himself — the former pizza delivery driver, gas station attendant and empty cologne bottle czar, the path ahead, then as now, is as clear as glass.
"I was just working little odd jobs around the community and my middle school basketball coach was actually the AD and assistant principal at my high school," Gilstrap said. "So he kept bugging me about trying to do it and I was just like, No, I don't want to. Eventually, I met a kid that played for East Side and I started training him. And then finally by me training him, I finally talked to the coach at East Side and they brought me on. I've been there, now, four years, five years."
And with that, Gilstrap came full circle. His mentor, Horton, smiled knowingly. Making a difference — on the court and off of it — defines each of them. Being Cyclones thoroughly bonds them, deepening an iron-clad commitment to grit as men, fathers and educators.
Their roads started together, diverged, and twice since have met. They're now fully interlocked, doing the same deeds, enriching the same minds, but thoughts often still drift back toward sometimes-snowy Ames.
"I just enjoyed my time there, I really did," Gilstrap said. "Some of the nicest people I've ever met are from Ames, Iowa. It felt like home. I enjoyed my one year there. I really did. I wish we could have won more games, but I still enjoyed it."
*****UPDATE STORY BELOW*****
Former Iowa State standout Marquis Gilstrap marveled at his team's skill level.
Fellow former Cyclone Kantrail Horton's son, Kaiden, ran the point. His oldest son, Marquis, Jr., thrived virtually everywhere on the floor, from one through five.
The duo — both age nine — helped win a highly competitive 10U league title last season in Covington, Ga.
And man, can they play.
"I wish you could see them play," Gilstrap, who like all of us is adjusting to life amid the COVID-19 pandemic, told me last week. "To see them play at their age and some of the stuff they can do? They know how to play. It's not like they're just better than everyone else, they actually know how to play."
Gilstrap is a teacher's assistant in physical education in the school district he grew up in — Newton County.
 He also founded an AAU program called "Team Strap," which was poised to commence its third season last weekend. Now whether there will be any season has slipped into the highly doubtful category since Georgia Gov. Brian Kemp extended a statewide stay-at-home order until the end of the month.
Gilstrap fully understands why, but that doesn't alleviate the hurt he feels for his program's seniors that he's coached and mentored since they were eight or nine-years-old.
"Those kids worked so hard to have a graduation, to have a prom," said Gilstrap, who estimates he's sent around 90 percent of his program graduates to college. "I'm still in disbelief right now."
Gilstrap had also planned to get back to Ames for the first time in a while for Steve Prohm's annual hoops reunion, which typically occurs in early August.
Gilstrap's school district began classes Aug. 1 last year, so he made special arrangements with his principal to make time for a possible trip back to Iowa this summer.
Whether that can even happen, for now, is shrouded in doubt — but there's no uncertainty when it comes to Gilstrap's enduring love of Ames.
"It's Cyclone for life," said Gilstrap, who remarkably averaged a double-double in Big 12 play in the 2009-10 season. "I always speak to the kids in my AAU program and just people (in general) about my experience there at Iowa State. It's still, to this day, I remember like it was yesterday. I came into the team and the players, the coaches, the fans — they all just welcomed me with open arms. It was one of the best experiences of my life. I enjoyed it. People ask me if I didn't live in Covington, where would I be? I would live in Ames. Only thing I don't like about Ames is the weather. That's the only bad experience I had. Other than that, everything, I love it."
There's no doubt he will return at some point. If not this summer, then maybe the next one. And despite the current challenges, Gilstrap said he and his family are doing well — as is Horton's.
Their sons will be teammates again and both former Cyclones can nod approvingly and smile as they dominate the court together.
"Those kids, they totally enjoy playing together," Gilstrap said. "They train together. They love it."