Kantrail Horton, in action for ISU. Horton helped ISU to back-to-back Big 12 titles and an Elite Eight appearance. (Photo courtesy ISU Athletics Communications)
[Author's note: During these many sports-less weeks because of the COVID-19 pandemic, Cyclone Fanatic has been re-running  many of my "Where Are They Now" features. Typically, we like to include an update at the end of these reissued articles, but that's not always possible. Fortunately, I was able to catch up with the great Kantrail Horton  recently, so please find an updated story on how he's handling self-quarantine at the bottom of this "Where Are They Now" piece. —RG, April 14, 2020]

Enjoy catching up with former Cyclones? Here are links to our other WATN pieces.
*Jared Homan
*Ellis Hobbs
*Austin Flynn
*Marquis Gilstrap
*JJ Moses
A patch of weathered blacktop gathers heat — and now dust — amid houses and apartments and a bit of green space in Covington, Ga.
A ramshackle fence encircles the time-worn surface, as if framing the mostly-forgotten shrine at its center that stretches toward the sky like a spire. A backboard adorns it. A steel rim crowns it. And no amount of neglect can dim the inspirational light it continues to beam into former Iowa State great Kantrail Horton.
"We called it The Gate," Horton said reverently.
Within its confines, hoops dreams sizzled or fizzled. When that school bell rang, nine and ten-year-olds such as Horton darted out of class and sprinted toward its closely-guarded, but open secrets.
It was the place to play, learn, grow. And to get elbowed, edged out, and taunted.
You rose up to meet The Gate. It never lowered itself. You earned your place on that chain-linked patch, or you went home. Sometimes, you came back. Horton always did.
"We would be there playing and after the older guys would get off work, they'd show up at the court," said Horton, who never lost a home game as a Cyclone and played a pivotal part in back-to-back Big 12 titles as well as an Elite Eight appearance. "I always kind of had a reputation, but I worked for it. When they'd come you would kind of sit and watch and watch the older guys that were really good and kind of take stuff from them."
The word "grit" gets tossed around a lot these days. Horton exemplifies it. He absorbed every Gate-based lesson as he got older and moved toward high school age. Then finally, opportunity knocked on that rickety backboard.
"That's what you're sitting there and waiting for, for them to ask you to fill in for somebody," Horton said. "Then once you get that opportunity to kind of fill in, it's your turn to earn stripes; to earn their trust to be able to play more. And I remember, after I go in and make a few things happen, they start to trust you and the next time they come, they're asking you to play. So it's kind of like earning your stripes, waiting your turn."
Once called upon, Horton didn't sit back down — at The Gate, or at Iowa State.
"At the end of the day I look at myself and say, "OK, look at your resources that you grew up with,'" Horton said. "I had limited resources. I didn't come form a well-off family. So at the end of the day, at the end of my basketball career, I had to ask myself, 'Were you successful? Did you maximize every opportunity you had? Did you maximize yourself? Did I use every ounce of energy that I had in my body to maximize my basketball ability?' And at the end of the day, I can say I did."
******
Horton committed to Larry Eustachy before he even know much (if anything) about Iowa State. Eustachy and his staff at Utah State developed a strong relationship early on and Horton, then at Middle Georgia College, expected to be heading West. Until one morning when he turned on ESPN's SportsCenter. Scrolling across the bottom were the words: "Eustachy heading to Iowa State." Horton, one of the nation's most prolific JUCO scorers, did a nervous double take.
"So I'm looking at it and, 'Uh-oh, what's gonna happen now?'" Horton remembers thinking.
No worries. Eustachy still wanted him, but Horton needed to leave Georgia to finish up his community college credits. The destination: Lassen Community College, located in picturesque, but — to Horton — remote Susanville, Calif.
Another gate?
"It was," said Horton, who averaged 9.6 points while doing a little bit of everything, particularly on defense, in two seasons as a Cyclone. "Even in California it was tough. The junior college that I went to was in the mountains, so there was nothing around it. It was almost like a boot camp. It was really tough. And I spent four months there before I could get to Iowa State. So that four months, it helped me grow into a man."
Once Horton arrived in Ames, he immediately impresses his teammates with an array of skills and an uncompromising commitment to peak performance.
"He was a great competitor and a great defender," said former Cyclone and longtime Cyclone Radio Network commentator Eric Heft. "Obviously a very tough guy. He wouldn't take no for an answer, put it hat way."
He had an air about him. It didn't hurt that at 6-1, 225 pounds, Horton resembled a linebacker more than a guard.
"I think it was early in (the 1999-2000 season) and he broke his finger," said talented teammate Stevie Johnson, who eventually became a Cyclone linebacker himself. "He came out of the game and I was sitting on the bench. He came and sat next to me and was kind of tugging on it. He said, 'I broke my finger.' But he didn't want to say anything to anybody. He didn't want the trainers to know because he wanted to keep playing. That's just one of the stories about him that I'll never forget because that shows his toughness and his willingness to fight through anything just to be out there and help the team win."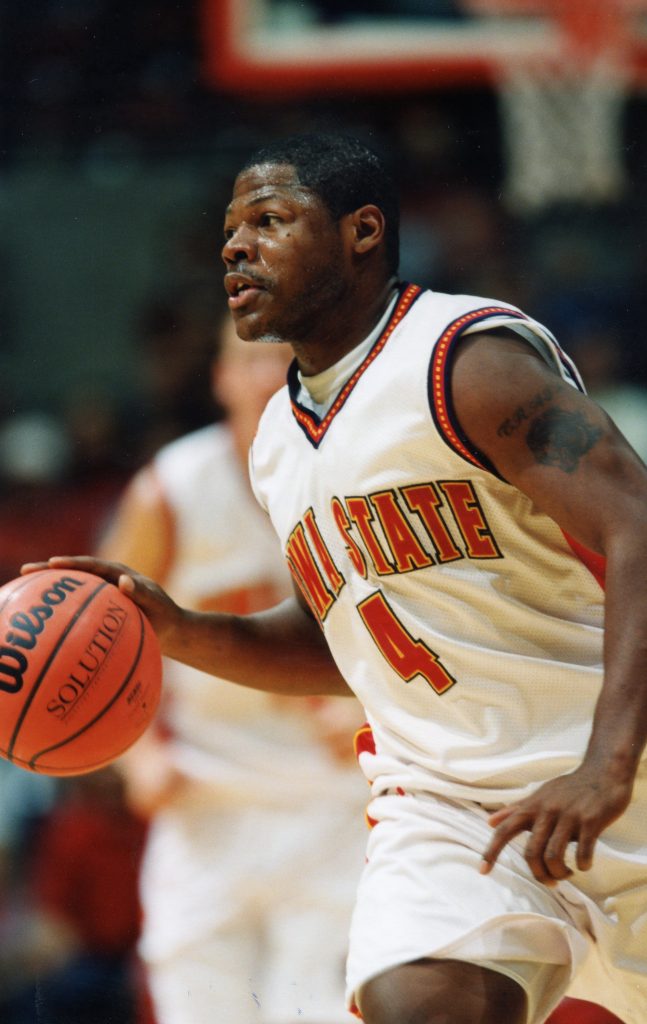 ******
No one outside the Iowa State facilities expected much from the Cyclones in Horton's first season.
ISU had finished ninth and 11th in the Big 12 in the previous two seasons and even though touted newcomers such as Marcus Fizer and Jamaal Tinsley were poised to join the program, the media yawned at any hint of heightened expectations.
They picked the Cyclones to finish seventh in the league.
Fizer and Tinsley, of course, would become All-Americans (Fizer, first team in 2000, Tinsley, second team in 2001). And ISU would make school history that season, rolling up a 32-5 record, securing a Big 12 title and an eventual Elite Eight appearance against mighty Michigan State.
"No one," Horton said, "expected us to be there."
That's part of what made the confluence of those sweeping events infinitely sweeter.
"That's arguably, and probably not even that arguably, Iowa State's best team — the 2000 team," said Heft. "32-5. Elite Eight. One of the great things about that season is you didn't have the high expectations coming in, so those years where you overachieve versus what your predictions were, those are the most fun. But when you do it to the extent that you're a top-five team in the country, that's off the charts."
It started in practice. Horton and Johnson served as so-called "role players" but they were vital cogs for the Cyclones' staggering machine-like march toward national prominence.
Horton, in particular, took on any task with panache. Defend? Me, me. Facilitate? Me, me, again. Score? Sure, that's the easy part.
"For him to be able to do the things he did, that gave (sharpshooter) Mike (Nurse) an opportunity to do a little bit more," Johnson said. "Jamaal maybe didn't have to guard somebody to take him away from his offensive game. So him being so versatile, it definitely helped us tremendously. And seeing him — I always knew I could guard bigger, stronger players, but it helped me, like, 'Ok, fine. If I've got to guard a 5 that's fine,' because we all sacrificed and I don't think anybody sacrificed more on that team than he did. He was a teammate. A great teammate. A great leader and a great friend. He's a really good guy."
******
The 1999-2000 season began with a thud. The Cyclones stood 3-2 just after Thanksgiving, stung by road and neutral-court losses to Drake and Cincinnati. Then the chemistry kicked in and performance spiked. ISU reeled off 13 straight wins and rolled to a 4-0 start in conference play. An overtime loss at Oklahoma interrupted the seismic surge, but only one more regulation setback (at Colorado, also in overtime) would blemish the Cyclones' pre-NCAA Tournament resume.
"I remember at the beginning of the year (Eustachy) was, 'All right you guys, just buy in.'" Horton recalled. "He was just saying, 'Buy in, buy in.' And we bought in. All of us bought in and it took us to the Elite Eight game with a shot to win the national championship. That's what I think about. I appreciate the opportunity. That's the most important thing now. I guess as you get older you kind of just look at it and say, 'Man I just appreciate the opportunity of playing in the Elite Eight game.'"
And what a game. The top-seeded Spartans got to play the second-seeded Cyclones in their vacation "house" — the Palace of Auburn Hills in suburban Detroit.
"It was their house," Johnson said.
The teams traded punches in one of the most well-executed tournament games you'll ever see. ISU began to inch ahead. Horton drilled both ends of a 1-and-1 with 6:14 to go to put the Cyclones up 66-61.
Deep breaths followed. Insanity soon ensued. Cyclone star forward Paul Shirley drove the lane and contact was made. He converted a basket that would have put ISU up three points with 3:43 to go, but bafflingly, officials huddled and called a double foul — a charge and a block, thus negating his bucket.
Both Eustachy and Michigan State coach Tom Izzo stood at midcourt among the officials, scratching thier heads. Fans were either blissfully bemused (Spartans faithful) or rightfully incensed (Cyclones devotees).
Michigan State slowly pulled away after that, winning what Izzo later described as the biggest game in the Spartans' title run. They eventually blew out Florida in the national championship game.
"You think about it," Horton said. "I don't have any, like, awful flashbacks from it or whatever. But I do constantly think about that — everything was lined up for us to win the national championship. And what keeps popping back in my head sometimes is just the whole double foul call when Paul Shirley went to the basket and they called a double foul. I've just never seen that in basketball before. Out of all the years I played I'd never seen that call made. At the time, that changed the whole momentum of the game."
******
Horton never lost to Kansas. Not once. A perfect 4-0, with a 2-0 mark at storied Allen Fieldhouse.
He doesn't brag about it, but he'll laugh briefly when it's brought up.
"I work with a lot of kids now and I don't even tell them about my playing career," said Horton, who founded The Horton Project, which mentors youth in Forsyth County, Ga., in both life and basketball "I try not to talk about my playing career, but, you know, they find out anyway. Then they'll ask me about Kansas — 'How was it playing at Kansas?' And then you can kind of go back and let them know that I never lost at Kansas."
He was the key to a win at the Phog his senior season. Horton scored a game-high 19 points while converting all four of his 3-point shots.
His most daring dart from distance came from nearly 30 feet out — silencing the often deafening denizens of Allen Fieldhouse, who shuffled out of the ageless arena shaking their heads after a 79-77 ISU triumph.
"I think what it goes back to, to be honest with you, is what I was speaking to you about in the beginning: The love of the game of basketball," Horton said of his tour de force effort that game. "I think the basketball gods were just on my side. I think the dues. I think the time on the court when I was younger and just developing that love for the game, I think that shot was more like an, 'OK you've paid your dues. This is one of the rewards for your work.'"
Shotmaking, again, is the easy part. Horton relished his role as defensive stopper. He'd guard point guards and small forwards. He takes particular pride in one performance against future NBA slam dunk champ Desmond Mason, who then showcased his skills at Oklahoma State.
Mason scored eight points — almost 11 below his average — on 2-for-11 shooting, but Horton deflected some of the credit for bottling him up in a winning effort.
"Now I hate to say that I held him to (eight) points because our defense was designed where we're working all as one," Horton said. "So there were times when Desmond would kind of get by me and I would have help rotating over and then I would recover and then I'm there defending. But that effort was one of the shining moments defensively for me."
******
Humility frames Horton's approach to hoops and life. Yes, he worked hard to attain all of his goals. Yes, he was athletically gifted. But giving, then and now, is the most prominent part of his game.
Horton played seven seasons overseas, but didn't enjoy the basketball in Europe much. Why? Americans were looked to for instant offense and often benchmarks were in place that encouraged selfish play. Not part of his make-up. He was never cut, but winning trumped prima donna displays in his code of ethics.
"The best part for me was experiencing the different cultures and living in the different countries," Horton said.
Horton returned to the states several years ago. Work as well as a sense of mission drew him back to Georgia — in this case, Atlanta. A friend and mentor, Scott Braco, played an integral part in helping him craft his post-basketball career and remains a valued confidant. One thing Horton knew once his playing days ended: He wanted to remain around the game. Hence "The Horton Project."
"Great parents," he said. "Great group of kids and what you find is, you mentor them, you start out with basketball development and then it comes into mentoring in every aspect of life that they have to go through."
Horton also earned a Master's Degree in Special Education and works with second-graders at Chestnut Elementary in Dunwoody, Ga.
"I'm appreciating all of it and it is like another gate," Horton said of his role as an educator. "It's nonstop."
******
Horton met his wife, Holly, in Atlanta. "Which is weird," he added. Why? Their paths nearly crossed at Iowa State, but she was arriving for graduate school around the time he was graduating and preparing to play in Italy.
They met at an LA Fitness gym. She wore an Iowa State shirt. Horton arched an eyebrow and approached her.
"That kind of sparked the conversation," he said. "We just kind of hit it off and (we've) been together ever since, I guess."
The couple has two children, son, Kaiden (just turned 6), and daughter, Kennedy (1).
Becoming a parent, Horton said, humbled him and challenged him to be the best man possible.
So far, so good, by all accounts.
"I've always loved kids," Horton said. "I've always loved working with kids, I've always loved being around kids. But when you start a family and you see your kids, it really defines your purpose, I guess. Having my own kids it really defined my purpose. Now you see why you get up and you work as hard as you do. You see why you want to walk around and do things the right way. You want to model things the right way, just because your kids are watching."
The tables have turned for Horton. He is now his own Gate — one that serves others.
Instead of blacktop, he draws up plays on a chalkboard. Life lessons dance on its surface, traced by cosmic chalk that points to larger truths, greater gifts.
Recently, he drove by his old Gate. Emotions hit, but he didn't stop. That Gate is now closed. But another one filled with glistening possibilities remains open, wider than ever.
"I do drive by it," Horton said. "I make it my business. It's funny, just last week I was riding by that court just kind of like, it's weird to look at it now because it seems like no one is out there. But the time that I was growing, it was always packed. And then just to look at that court and, looking at it now, man, this was the beginning of everything that I've built now. Looking back on it, it's like this was where everything started. Basically my whole life. And then I'm constantly thinking, 'Man, this is the court. I used to come here all the time and spend so much time here,' and at the time, you don't realize what you're building. But what I built was my life on that court."
*****UPDATED STORY BELOW*****
 Former Iowa State standout guard Kantrail Horton's weekday routine rarely changes.
 He starts working at 7 a.m. as a second grade special education teacher at Chestnut Elementary Charter School in Dunwoody, Ga. His school day ends around 3 p.m. and by 4 he's in the gym training, teaching local youths the game of basketball until 9 or 10.
 It's both a grind and a source of joy. Horton relishes it. But ever since the COVID-19 pandemic hit and his school shut down after March 13, that routine — for the foreseeable future — has become a thing of the past.
"This is the longest span I've been away from basketball," said Horton, who played a key role on the Cyclones' tough and talented 1999-2000 team that reached the Elite Eight.
 Horton — who helped steer fellow former Cyclone Marquis Gilstrap to Iowa State — nonetheless manages to find a silver lining in the "new normal."
 "That's pretty much how my days go and it's what I love doing," Horton said about his usual routine. "So I don't know when I would have found the time to just stop. I would have never just stopped. So that's why I say when the universe speaks we must listen. This forced us to stay at home and what it does, really, is I have really enjoyed the time at home, because (nine-year-old son) Kaiden's with me a lot. I teach at his school. He does a lot of his basketball training with me. 
 "But my daughter, (four-year-old) Kennedy, I see her every day, but I don't get to actually spend that time with her, because a lot of times when I get home at night she's in bed. Just having this time to spend with her and to actually learn who she is, what she enjoys, exploring her personality — it's been a blessing in disguise. It really has."
  Horton's wife, Holly,  works at a hospital in the Emory Healthcare system on a two-weeks-on, two-weeks-off basis.
 She's been off lately, but will soon be back on again. The Horton family's been enjoying the home schooling, home cooking — every meal, every day — and watching movies.
 It's a new routine that's brought them even closer together.
"I know when this is lifted, I'm going back in the gym, but I will always remember this time," Horton said. "Just because of the opportunity you have to spend with your family and kids."
 Horton said his school's principal, Veronica Williams, is "one of the top five people" he's even met. She's been making sure their Chestnut students have access to knowledge at home and anything else they might need. 
 "So influential, so helpful," Horton said. "She's actually made it so every student in our school has access to a computer, or iPad or something to make sure they get their work done. She really goes above and beyond her duties as a principal to make sure all students, every student, is taken care of and have what they need."
 Horton, meanwhile, has used some of his recent down time to formulate ways to make a broader impact with his basketball program, "The Horton Project."
 He, Kaiden, and his other pupils obviously can't be in the gym now, but the work continues.
 "I've been doing a lot of studying on it and I've figured out how I can get it done to the point that I really want to reach out to some kids in Iowa," said Horton, who enjoyed watching Kaiden team with Gilstrap's nine-year-old son, Marquis Jr., on a 10-and-under team that won a championship this season. "I want to branch out to Iowa. I've kind of brainstormed and wrote out workouts, different plans on how I want to get it done, but I want to reach kids in Iowa — all over."
 Stay tuned on that front. In the meantime, Horton will continue enjoying time spent with family, while still missing time apart from his students.
 "I'm an energy guy and the reason why I got into the school system anyway was just to be around kids — just to be around them," Horton said. "I always say that kids don't bring you their problems a lot of times and especially at the elementary school. They're excited to begin school, so with their excitement of being in school, I usually feed off of that energy. So now it's really tough because it's almost like you're giving work and you're giving it to them but you don't really have that interaction every day, so it is very tough. Very tough."