(Photo courtesy ISU Athletics Communications)
[Author's note: During these many sports-less weeks because of the COVID-19 pandemic, Cyclone Fanatic has been re-running  many of my "Where Are They Now" features. Typically, we like to include an update at the end of these reissued articles, but that's not always possible. Fortunately, I was able to catch up with the great J.J. Moses recently, so please find an updated story on how he's handling self-quarantine at the bottom of this "Where Are They Now" piece. —RG, April 16, 2020]
All J.J. Moses noticed was his breath.
The former Iowa State great was speeding toward the end zone on a reverse during a red-letter day for the Cyclones 16 years ago in Iowa City, but the magnitude — and cacophony — of the moment didn't hit him until he crossed the goal line.
"Instantly, I don't hear any noise from Kinnick Stadium," said Moses, whose touchdown to start that game at Iowa fueled a 24-14 win. "I was in such a zone. I blocked all the noise out and all I could hear was myself breathing."
Moses, who went on to play five years in the NFL, has always been comfortable in his own skin — even as many outsiders questioned his abilities for one simple reason:
The former Waterloo East star stands just 5-foot 9-inches tall — and he's three inches taller now then he was then.
That's the full story. It's why Moses didn't expect to play major college football until Cyclones coach Dan McCarney swooped in with a scholarship offer during his senior season as a Trojan.
"They were the only school as far as Division I, to recruit me," said Moses, who amassed 775 of his 1,226 career receiving yards during a school-record 9-3 senior season. "I didn't even get recruited, I think, by any Division II schools at the time. It was one school and that was it."
It was the right school. J.J.'s father, Jerry, played at ISU. His brother, Milan, eventually made his way to Ames, too.
Still, serendipity and deeper school ties played a hefty part in J.J.'s personal recruiting story.
Then-Cyclones assistant Mike Woodley (now the head coach at Grand View) starred at Waterloo East alongside Jerry Moses. They'd kept in touch. Woodley had seen the younger Moses play — and "measurables" be damned, he spoke to McCarney about the undersized, but uber-talented eastern Iowan.
"Mike had kept an eye out for me," Moses said.
That became more difficult as the speedy Cyclone swiftly shifted into a fast-paced role in the rebuilding program.
ISU went 1-10 his freshman season, then 3-8 and 4-7. The Cyclones lost three games by seven points or fewer his junior season, but all the narrow misses led to the landmark achievements of 2000.
We were always a few games away from having a winning season and it was frustrating," Moses recalled. "I saw players leaving the program. I saw players quitting. The list goes on and on. …  Luckily, coach McCarney, he stayed persistent and he had a great coaching staff and he put together, I believe, some incredible pieces in order for us to turn that corner around (in 2000)."
With Sage Rosenfels at quarterback and defensive end Reggie Hayward pummeling opposing playcallers, ISU rolled to a 4-0 start that included the Moses-led 24-14 triumph in Iowa City.
But the Cyclones lost three of their next five games and seemed to be dropping off the cliff.
A 56-10 loss at No. 19 Kansas State led to a team meeting and some extra fiery exchanges.
"I think across the board we were not really engaged into that game," Moses said. "Once we came together as team, I think we all met together and said, 'Look. We started the season fast. Let's make sure we finish off on a strong note.'"
That's the spark the Cyclones required — but a tough, snow-swept game at Colorado stood in the way of the revival and adversity hit early.
ISU's offensive coordinator Steve Loney dialed up another successful reverse early, but a penalty negated the big gain.
The Cyclones overcame it, plowing through for a 35-27 win that ended a 16-game losing skid against the Buffaloes.
"We were in attack mode," Moses said. "Everybody kind of had a great game. Sage played phenomenal. Reggie Hayward played phenomenal. But we had a big field goal kick by our kicker, Carl Gomez, who really played an excellent game."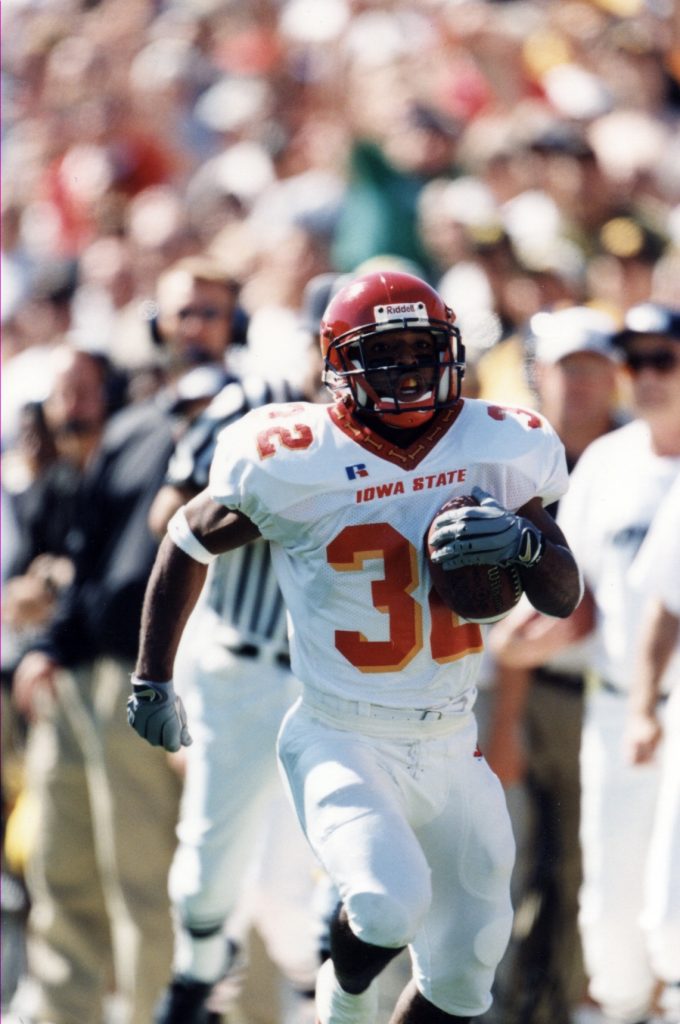 A steamrolling of Kansas followed before Christmas in Phoenix beckoned in the insight.com Bowl. It would be ISU's first bowl appearance in 22 years — and part of a string of five postseason trips in six seasons. A culture had changed and Moses had helped shape the seismic shift.
"It was a beautiful atmosphere in terms of cardinal gold down there to support the Cyclones," Moses said. "And it was the fist time for me as a player where I actually saw ESPN cameras all the way around the football field. It was like the game day type of setting, which I was like, 'Wow. This is what it actually looks like!' Just an incredible moment and experience that I will never forget."
The Cyclones beat Pittsburgh, 37-29. As stirring as it was, Moses faced another "too short" crossroads. This time, with the National Football League.
"Height was, and would always be the Achilles (heel) in terms of what people saw in me," Moses said.
But Moses showed up. He didn't throw his hands up and feel sorry for himself. Then, fate took a hand.
"It was a Wednesday morning and Sage called," Moses said. "He said, 'Hey J.J., can you come catch some footballs for me? I've got the Kansas City Chiefs coming to work me out Saturday morning.' I said, 'Sage, I would love to come out and catch some footballs and anything I can do to actually help you, I'm willing to (do).' So Saturday morning rolls around and I'm catching footballs in front of the Kansas City Chiefs for Sage and Sage is doing a phenomenal job. He's throwing the football with accuracy and making the plays and I'm just trying my best to not make Sage look bad. So I'm diving for the football, I'm catching the football — and you know how Forrest Gump runs in the movies? That's kind of how I would run. I just continued to run and coach Dick Vermeil and his staff said, 'Hey, Moses, come back here, come back!'"
He came back. Then, he stood out.
"I saw coach Dick Vermeil do something really interesting," Moses said. "He pulled out a yellow notebook pad and he started taking down notes. I started hearing these words as he was watching Sage but he kind of started watching me: 'Hey, Moses! That's the way to catch the football!'
By the days end, two NFL careers had been launched. Rosenfels enjoyed a 12-year pro career. Moses played five — and now is a motivational speaker who's shared a stage with Oprah Winfrey.
The lesson Moses learned while playing catch with Rosenfels simply reaffirmed the previous ones. It's something that he thinks the current Cyclones engaged in a rebuilding job can harness, as well.
"You never know when your defining moments will come," Moses said. "Sometimes it can come in practice when a player goes down and you're forced to take over and get into that position. You really have to be prepared for your opportunities because you never know when your number will be called; how somebody's always watching you and you can control the course of your career."
Moses resides in Houston with his wife, Sarah, and two girls, Zoe and Noelle. The 5-9, yet larger than life figure spreads his inspirational, faith-based messages via motivational speaking engagements and his website, jjmoses.com.
"I've learned just throughout the course of my life that I can relate my story and really share it with others and in turn inspire others because I'm always for the underdog," Moses said. "I was always the underdog. And I think my message that I've learned has been a message for the underdogs — for people that have been given the least likely chances of succeeding in whatever profession your in, and how you can make the most out of it."
Even this chapter of his career was oddly foreshadowed.
Moses remembers a high school counselor pulling him aside during the Waterloo East football banquet following his sophomore season. He implored Moses to speak to the parents, coaches and fellow players assembled. He said it would serve him well.
"I don't know how this counselor knew this, but he spoke those words to me and for some reason I've always held onto those words," Moses said. "It's funny that 20-some odd years later, here I am living out exactly what this counselor told me."
And living it out well. Here's what McCarney had to say about Moses, via text message:
"J.J. was an incredible competitor," McCarney said. "Fabulous example that your height doesn't define your skills or your worth to a team. He had cat-like quickness and the heart of a champion, which is the norm in the Moses family. He constantly inspired everyone around him with his attitude, tenacity and performance. A true joy to coach."
*****UPDATE STORY BELOW*****
Every coo, yell or groan is a source of delight.
 Each diaper change — OK, maybe not every one — coaxes out a smile.
 Yes, being a parent is both a joyful experience and a deep responsibility — as former Iowa State great J.J. Moses is re-learning again on a daily basis.
 Moses and his wife, Sarah, welcomed their third child, son Jace, into the world on March 23.
 It is, of course, a chaotic time as the COVID-19 pandemic rages on. For some, it's been marked by the tragic loss of a loved one, or loved ones. For the Moses family, new life represents fresh, blissful hope.
 "I finally got a boy," Moses said, chuckling. "So we're celebrating our son and that's been just really the highlight during this time where we can kind of just focus on little Jace and being great parents."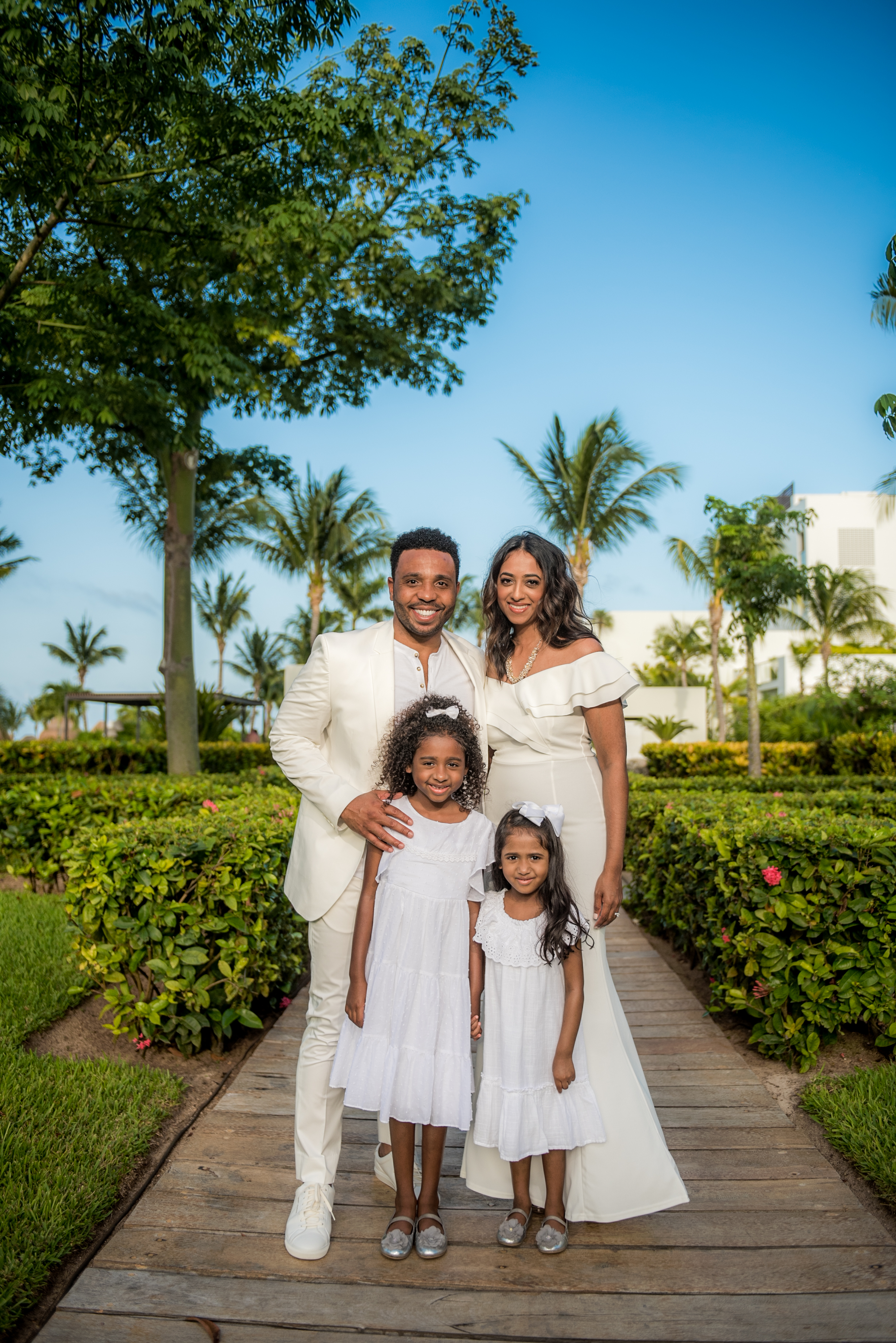 J.J. and Sarah Moses also have two daughters: Zoe (7) and Noelle (4).
 Zoe's a first-grader and recently J.J. was able to share one of childhood's life-changing experiences with her.
 "Just recently our oldest daughter, she was on training wheels and I was there to kind of help her take off her training wheels and she rode her bicycle without training wheels for the first time just this week," said Moses, a star receiver and return man for the Cyclones in their landmark 2000 season. "And I was able to be there, present, and really just appreciate those defining moments that (otherwise) you'll sit back later on in life and say, 'Wow, I wish I would have been there to see that.'"
 He's not just seeing, of course. He's doing. He knows how fortunate his family is to be in a celebratory mode when so many others are suffering. He's relishing every moment.
 "Those little things, you really start thinking, 'Man, I really do appreciate them depending on me,'" Moses said. "So to have this newborn, Jace, during this time it, again, it makes me appreciate just being able to have kids. It's one of those things where you see yourself in them and you'll do anything you can to be there for them, to protect them and give them great advice once they need it. My wife and I really have had a chance just to be blessed to be parents. To have three kids that we can help raise in this world and this society, I think the biggest thing is just helping these kids realize to stay humble. To be a good person. Keep your faith in the midst of adversity and treat people with respect. I think when you live in that standard no matter what happens in life, you can bounce back, because you have a solid foundation that was instilled in you by your parents and that's how we kind of look at this."
 Moses — an in-demand public speaker and, until, late January, the Houston Texans' director of player development/engagement — has always known how to deftly "bounce back."
 Because he was 5-9, Iowa State was his only high-major offer.
 He made up for the lack of height with speed, skill, tenacity and perseverance.
 Those attributes and many more will serve him well as he retools his professional life since the Texans relieved him of his duties just a couple months ago despite the NFL ranking him No. 1 at his job.
 "They wanted to go in a new direction," Moses said. "But to realize that I was rated the No. 1 department in the whole National Football League based on developing players and helping them to become pros on and off the football field, that allowed me to embrace and be excited about what this next chapter can (become). I've learned a lot. Dealt with a lot of players."
 Moses helped build a winning culture. He's done that a lot, including at ISU. Now he'll do it again — on his own terms. 
"My purpose in life is to really help and to inspire others," Moses said. "To be that vessel to help others reach their purpose, or their destiny, or to help them get to their opportunities. … That's where my niche is in life."