Former Iowa State star defensive lineman Brent Curvey in action against Iowa. (Photo courtesy Iowa State athletics communications)
[Author's note: We're re-running many of my "Where Are They Now" stories during the coming days/weeks/months and whenever possible, I'm including a brief "update" story just below the original article, which ran on Feb. 5, 2018. Please find an update on how Brent Curvey and his family are keeping their business, Coaches Kolaches, going in these uncertain times — with expansion plans coming eventually, as well. —RG]
CLIVE — The sun conquered the horizon. Fingers reached, fumbled and curled around curtains. An orchestrated, but impromptu cadence of thump, thump, thump began to echo in the neighborhood and everyone knew the fun would soon start.
"The days literally started somewhere between 8:30 and 9 o'clock," former Iowa State star defensive lineman Brent Curvey said of summer life in hometown Houston in the early 1990s. "Guys wake up, eat some cereal and then we'd all slowly kind of walk outside, or everybody's peeking outside to see who's the first one to walk out and then once that first one comes out, when somebody would bring their basketball out and start in their driveway — once that starts, here comes another door open and he comes running out. Then we're all outside before 10 o'clock."
Thump. Thump. Thump.
Curfew arrived when the street lights flickered on, buzzing, blazing, finally fully lit.
Another long day had ended. Another dream had been kindled, maintained, or amplified.
"Chasing all the kids and riding bicycles all day," Curvey recalled, "all around the neighborhood until the sun went down."
Back then, Curvey — who would acquire an appropriate monicker many years later as an Iowa State Cyclone — loved basketball.
It was his first love, but by no means his last.
Curvey maxed out at around six-feet tall, so eventually, he set his sights on less lofty targets.
Eventually, he affixed his gaze to football's treacherous trenches; the twists, turns, pulls and nastiness that define life on the defensive front.
Excelling on the field literally took him places — from a short-lived career in the Canadian Football League that yielded a Grey Cup, to a recurring role as a bodyguard for MTV's "Jersey Shore."
And now he's back in his second (and current) home: Metro Des Moines, as co-owner, with his wife Patrice, of the popular Coaches' Kolaches eatery in Clive.
"He's just one of those guys," former ISU coach Dan McCarney said. "Whenever I think of Brent Curvey it puts a smile on my face."
*****
Curvey — who is second all-time at ISU in career sacks with 13.5 — received an early baptism into the rites of football at an early age.
His brother, Nathan, competed in true "Friday Night Lights" territory, against Carter High School in Dallas.
Curvey was maybe five at the time, but as the stanchions shouldered floodlights, his eyes widened.
"I just remember watching my brother being like my superhero," said Curvey, who spent some time in an NFL training camp with Carolina before playing two seasons with the Saskatchewan Rough Riders after standing out for the Cyclones. "Big dude. They all wore the little cut off shirts back then. Just watching how huge they looked on the field and how awesome it was then I just knew, back then, it was something I wanted to do. It was Friday Night Lights. It was legit Friday Night. Those huge bright stadium lights and these guys with these big bulky shoulder pads, I knew that was me next."
Football it was.
But mom, Audrey, didn't always like the reports pertaining to her son's attitude.
"If I didn't really care to do it I just wouldn't do it," Curvey said. "I could apply myself and it would be awesome, but I couldn't care less sometimes and my mom had that no-pass, no-play in her head before it was even out. So I might have gotten a bad grade or had some kind of stuff in school and my mom would yank me out of sports altogether. So I'd be at home grounded all the time so I missed out a lot on Pee Wee football back then because of that."
Curvey quickly corrected any aberrant behavior.
He played three sports growing up: basketball, tennis and football.
Wait.
Tennis?
"I was a lot quicker than a lot of guys. I could move laterally a lot quicker and I could react a lot quicker because you've got a ball flying at your face 60 or 70 miles an hour, you're going to find a way to move out of the way or hit it back," Curvey said. "So that helped me out a ton and I tried to tell my (11-year-old) son (Malachi) about it and he's like, 'Play tennis?' I was like, 'Listen. It helps you out a lot more than you know.'"
Curvey played middle linebacker his sophomore year at Westfield High School until coaches determined he'd be better suited to playing up front.
He'd made the varsity squad — something of a rarity there, given the wealth of Division I prospects that always dotted the roster — so despite some skepticism, he eagerly took on the new challenge.
"They told me to put my hand down and I'm like, 'Why?' I'm 240 and you want me to put my hand down?'" Curvey said. "And these guys are legit 290, 300 pounds. They're going to (Texas) A&M. They're going to Texas. They were like, 'Listen. When you play this game, you want to find a way to beat your opponent. So, you're quicker than a lot of these guys, so don't get touched. They can't touch you, you'll win every time.' So, 'All right. We'll see.'"
They saw, all right. Word spread — eventually to the extent that Iowa State came calling his junior season.
"He was the real deal now," McCarney said. "Again, it gets back to the evaluation process. Matt (Campbell) is doing such a great job of that now at Iowa State, obviously, but what are your needs? What are you looking for? What kind of guy fits into your system? And Mike Nelson, I give him all kinds of credit, because he really did a great job and he was banging the table and he didn't have to talk John Skledany and me into it, but when a guy's not as tall as you want — but I remember once on his high school tape and he kept saying, 'This guy is so athletic, God bless him, I love his athleticism, love his quickness. He's tough. He can learn.' And so you watch him on tape and you say, 'No question.'"
So Brent Curvey chose to become an Iowa State Cyclone, even though his once meager offer list bulged to about 40 schools by the time he'd earned a slew of accolades.
"Iowa State was always first and they were loyal," Curvey said. "McCarney just seemed like a straight shooter and so was coach Nellie. Mike Nelson. That was my guy. Those two really came at me (and said), 'You've got a chance to play and I'll show you why.'"
*****
Curvey played mostly defensive end his first season, in 2003. He'd been recruited to play right away and he did to some extent, in part because future Carolina Panther Jordan Carstens got hurt.
But Curvey truly began to shine as a sophomore, when the Cyclones needed him the most.
ISU stood 2-4 entering an Oct. 23 game at Baylor. Then fate took a hand.
The Bears led, 16-14, early in the fourth quarter and somehow, someway a far-fetched, recently-pitched plan reached fruition in the form of a 65-yard fumble recovery for a touchdown.
"I just so happened to be in the right place at the right time for a lot of my career, in all honesty," Curvey said. "Gosh, man, that whole Baylor fumble, me and Tyson Smith were roommates and we talked about it before it happened. It was so crazy. It was like having a premonition. We got stuck in an elevator. And we were all pissed — 'Oh, they messed us up, we're stuck in the elevator.' Really mad or whatever. And I go, 'Look, you get to the QB' — because we had a nice little defensive scheme and it was guaranteed to get us a sack. Sure enough, Tyson flew off the edge and I was like, 'You get a sack and you smack that ball out I'm gone.' And he was like, 'All right, all right.' And it happened in the game. It literally happened just like that in the game and I tell Tyson to this day, 'Its all because of you, man. All the success I had was because of you.'"
Partly.
ISU improved to 3-4 and faced Kansas on the road the following Saturday.
Cue Curvey, who scooped up a Shawn Moorehead-forced fumble for a 30-yard score that helped key a 13-7 road triumph, which fueled a winning season that ended in an Independence Bowl win over Miami of Ohio.
"How many defensive linemen get to ever do that one time, much less three times, but that's what he was," McCarney said. "And Mike Nelson, God bless him, who's gone now, did a fabulous job of evaluating him, recruiting him and coaching him. He was just one of those guys who was a little bit under the radar because of his height. Everybody's looking for the 6-2 to 6-5 defensive lineman and he was, whatever we listed him at height-wise, he was never that tall, but he was stout and he was physical and he was athletic and he was quick and he was tenacious. … That's why he ended up being a really, really good Big 12 player and we don't accomplish a lot of the things we did without the way he played. He made a major contribution in his years at Iowa State, no doubt about it."
Oh, three times?
Curvey's most memorable touchdown, of course, came in the 2005 "tornado game" against Colorado.
He'd already been bestowed with the "Big Play" monicker by then-ISU sports information director Tom Kroeschell, but the best, arguably, came that day in Ames.
The game was delayed 45 minutes because of a near-miss tornado. The Cyclones were vying for a seventh win and a second straight bowl berth — as the No. 22 Buffaloes held out hope for a trip to the conference title game.
Enter Curvey, who picked off a fourth-quarter pass and sealed the 30-16 win, huffing and puffing 66 yards to the end zone.
"I always wanted one of those plays," Curvey said. "So I just kind of sniffed it out. I just backed up in the throwing lane. (The late Jason) Berryman pressured him and he threw it in the air, so I tipped it on the air, brought it back down with one hand and (66) yards later, that's where everybody else remembering me as Big Play kind of came into play."
Curvey was not only strong and swift, but crafty, too.
One of his godfathers, he said, had previously shown him how there's a short delay — maybe spanning a mere 1-2 seconds — even on live video feeds.
"I tell you that to say I was looking at the screen when I was running," Curvey said. "So in that interception, if you ever see me, I'm kind of looking up at the screen and then I make a small move to the right. It's because I saw Hugh Charles coming in the screen and as soon as I saw him I knew there'd be about a second, so I moved over just enough so when he dove to get me I broke the tackle. I was just able to break it because if I had just stayed straight, he probably would have tackled me, but I moved over just enough that it made him miss the tackle and it helped me get home."
ISU played TCU in the 2005 Houston Bowl, but lost, 27-24.
Some homecoming, but Houston natives Curvey and Berryman played well in the close setback.
"In 2005, our defense was phenomenal," he said. "We were top 10 in the nation in all categories pretty much. So that year, I think, was the one I'm the most proud of because that defense, I don't think there's a better defense that has come through since, anyway. Last year was pretty close, but statistically, we were just off the charts. Leading the nation in turnovers. I remember just seeing ESPN and it was us and Miami and us and — it was us and Miami and us and someone else and it was just nuts to see in the top three or five in every category and it was nuts to see little old Iowa State, you know what I mean, but it was a band of brothers that found a way to get to that ball."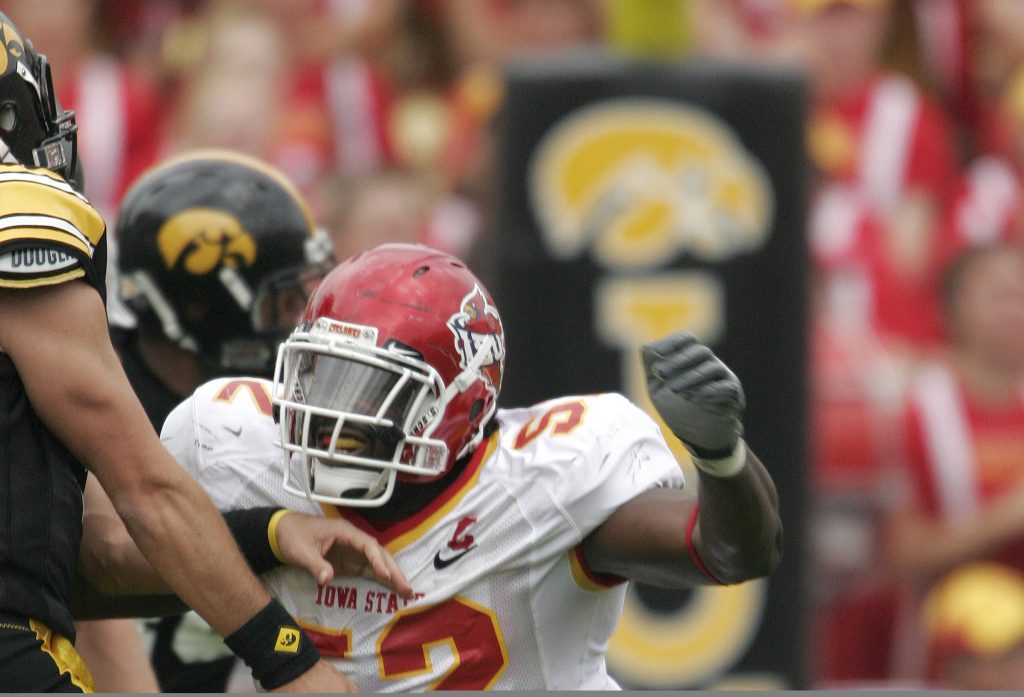 *****
Besides his forays into Canada, and then with the Iowa Barnstormers, Curvey eventually cut ties with football.
Not entirely willingly. Few do that. But he's at peace with where he's at — chasing a dream born in a bakery and a yearning for a taste for home.
He met Patrice in 2009 while playing for the Barnstormers and it was a "love at first sight (or line)" type of rendezvous.
"He was just giving me this heck of a line — and it worked," said Patrice, a 2000 Hoover High School graduate. "He even said it at our wedding, too."
The line sprang from a popular song of the time: "Ice Cream Paint Job" by Texas-based hip-hop artist, Dorrough.
"That song was in my head, so when I saw her, she had this big pretty smile, so I was like, 'What's your favorite ice cream?" said Curvey, who also spent some time coaching for Grand View and the Barnstormers. "She just kind of looked me over and said, 'Chocolate.' It's like, 'You don't need a cup or scoops for me, I got you.' So, you know."
But Brent's life in the spotlight wasn't over.
He became a professional bodyguard for the "Jersey Shore" crew and its spinoff shows.
That life was alluring but ultimately drew out hard truths — about growing up and about life.
"Out there was a lot of travel and uncertainty and a lot of, too much, living," Curvey said. "Did a lot of living."
Until up seemed down and his second home began calling back.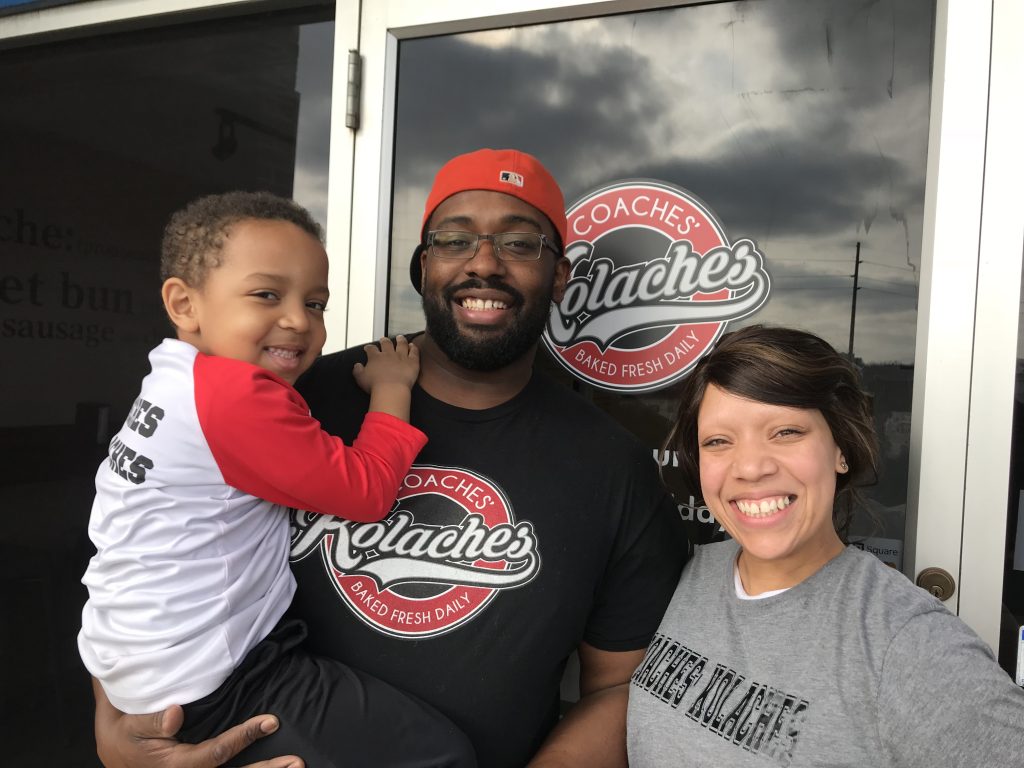 Curvey married Patrice on March 22, 2013, at Reiman Gardens, which pops with blooms each spring, summer and fall in the shadow of Jack Trice Stadium.
A perfect setting. A fitting ending. A locale where the only thump, thump, thump emanated from his heart, so far away from where he grew up, but so near the site where his shared dream with Patrice would sprout.
"Beautiful place," said Patrice, who has two children, Jeremiah (17) and Mariah (12), from a previous relationship. "I loved it."
Brent smiled.
"I figured that's where everything started for me, so it only made sense to finish it all off so to speak in Ames," Curvey said.
That finish turned into a new beginning. Brent and Patrice are fledgling entrepreneurs. They opened a storefront for Coaches' Kolaches last fall and it has earned rave reviews from patrons ever since [full disclosure: I bought and ate two jalapeño and sausage kolaches — delicious].
Different sacks form the basis of Curvey's stat sheets now. The only hits he and his wife (and their four-year-old son, Brice) care about come from their customers.
"This is our baby," Curvey said. "We put a lot of time, effort, money — it's crazy to see. You never realize what it takes to start your own business until you do it."
Thump. Thump, Thump.
Business is good. A good-faith struggle, but a true original rooted in a down-home tradition — and that shared forward-looking dream.
"It still hasn't set in that you have your own place and you're cooking," Patrice Curvey said. "It still hasn't hit 100 percent yet, but I love it. I wouldn't want to be anywhere else for 12 hours a day."
Nor would her husband, who's taken something from his childhood and made it a viable enterprise.
"Make a recipe," Brent said. "Try to find one that's yours, not borrowed, none of that stuff."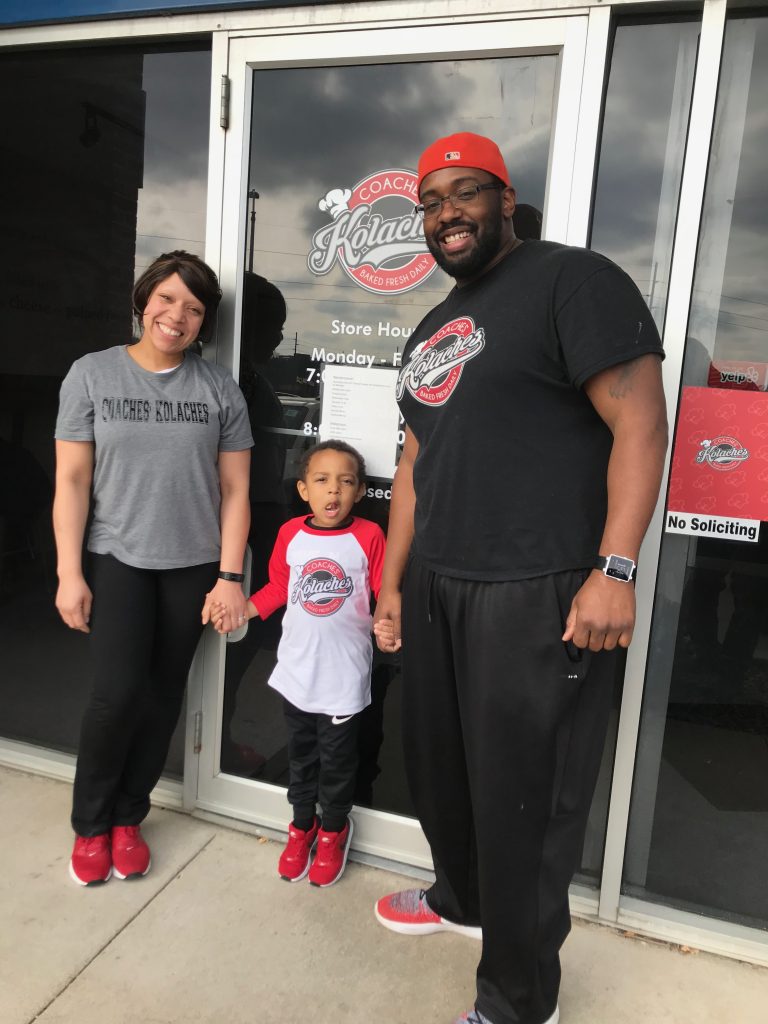 **UPDATE** BELOW:
Brent Curvey acquired his "Big Play" nickname because of his exploits on the football field.
But the former Iowa State football standout's been making big moves off the field, as well.
The Texas native — who co-owns Coaches Kolaches in Clive with his wife, Patrice — has a second location slated to open in Des Moines' Drake neighborhood and is also set to open a barbecue restaurant with fellow former Cyclone DeAndre Jackson soon.
How soon? The COVID-19 pandemic has complicated those well-plotted plans.
"At this point, it's just a matter of when," said Curvey, who scored three defensive touchdowns in his ISU career.
Curvey's original Coaches Kolaches location in Clive remains open (as of March 24) for curbside pickup and delivery from 8 a.m. to noon, Wednesday through Sunday.
He's grateful the business has done well to this point, but looks forward to emerging from the uncertainly that's currently clouding his expansion efforts.
Curvey's accustomed to facing adversity, however.
"I've always said I've been an underdog my whole life, so working has kind of like second nature to me," the former defensive lineman said. "I feel like that's what's helping me and the family out; talking to my wife, just telling her, 'This is gonna pass, as all adversities do.' We've just got to do the best we can. Stay diligent. Be precautious, but keep going. That way, once this is over, we wouldn't have missed a beat."
Curvey tackled tough times on the football field much the same way.
"In order to be prepared, you have to be willing to work, no matter the circumstance," he said.
The entirely new barbecue-based venture with Jackson — who also hails from Texas — will rely on the same can-do approach. It will be based in West Des Moines and will reflect both of their Lone Star State roots as well as deep Iowa ties.
"We just kind of wanted to bring something together that kind of outlines who we are, what our mindset was and had to be, while still remaining humble," Curvey said.