Aug 31, 2019; Ames, IA, USA; Iowa State Cyclones wide receiver La'Michael Pettway (7) celebrates after scoring a touchdown against the Northern Iowa Panthers at Jack Trice Stadium. The Cyclones won 29-26 in three overtimes. Mandatory Credit: Reese Strickland-USA TODAY Sports
I'm not sure I have ever been more relieved after a sporting event than I was following Iowa State's 29-26 triple overtime win over Northern Iowa.
Relieved for a handful of reasons. 
First things first, because of the obvious. Leading up to Saturday, this was the most anticipated football season in Iowa State history. More season tickets have been sold than ever. For the first time since perhaps 2005 – or maybe you even have to go back to 2002 – Iowa State fans truly believe that their program can be a force in the big daddy sport of football.
Full disclosure: I am doubtful that 2002 or 2005 equal anything close to the feeling that Matt Campbell has brought to Ames about being good not only for a year or two, but the long haul.
You guys know what I mean … A loss on Saturday would have been disastrous. 
Selfishly, I was relieved because I didn't want to live in a world where for the next two weeks leading up to the Cy-Hawk game, all of us in central Iowa had to hear about Iowa State's shortcomings and the letdown that it would have been. Going on the RVTV tour and doing daily radio following what would have been an embarrassing loss like that would have been miserable. 
But Iowa State won – a game I would add Iowa State generally loses in the past – and it is time to move on. 
Thoughts on the game after watching it a second time…
As is usually the case, it wasn't as bad as it seemed in person. The Cyclones failed to execute in key spots and crucial penalties killed momentum the way that penalties generally do. 
If not for high effort plays by Johnnie Lang (the crack back block) and Josh Knipfel (the helmet play), Iowa State could have been up 14-0 to start that football game. 
Some notes I took along the way:
*** Above all else, the biggest thing that stood out to me about the offensive performance was the lack of explosive plays. Iowa State only had two plays go for more than 15 yards – a 21 yard pass to Landen Akers in the second quarter and a 20 yard pass to Deshaunte Jones later on. That is a big time issue. It means that individuals aren't stepping up the way that David Montgomery and Hakeem Butler did a year ago. It also hurt that for one reason or another, Brock Purdy was extremely hesitant to run the football. It's also notable that Iowa State rarely attempted to push the ball down the field. Was that the game plan going in?
*** A little bit of insight on La'Michael Pettway, who caught three passes for 26 yards including two touchdowns in his Cyclone debut … He struggled at the start of fall camp greatly. Many were wondering if this was going to be a bust or even if he would make it though camp. But things clicked for the Arkansas transfer. So much so that he not only got the start on Saturday, but has established himself as Iowa State's top redzone threat thus far. It's a nice story and I am excited to see more from No. 7 as the season goes along. 
*** Sheldon Croney is obviously the running back that Matt Campbell trusts the most when it comes to pass protection. He was the Cyclone in the game when snaps mattered the most. A fascinating stat: Johnnie Lang, Sheldon Croney and Breece Hall received 14, 13 and 11 snaps respectively on Saturday. All three Cyclones averaged exactly 4.3 yards per carry. Wild.
My question to follow up on this is how long Campbell plans to split snaps nearly evenly among those three. It gets even more complicated when you measure Kene Nwangwu's strong performance (averaged 7.5 yards per carry on four carries, but left with an injury). My gut tells me that all three of these guys are going to continue to play, depending on game situations.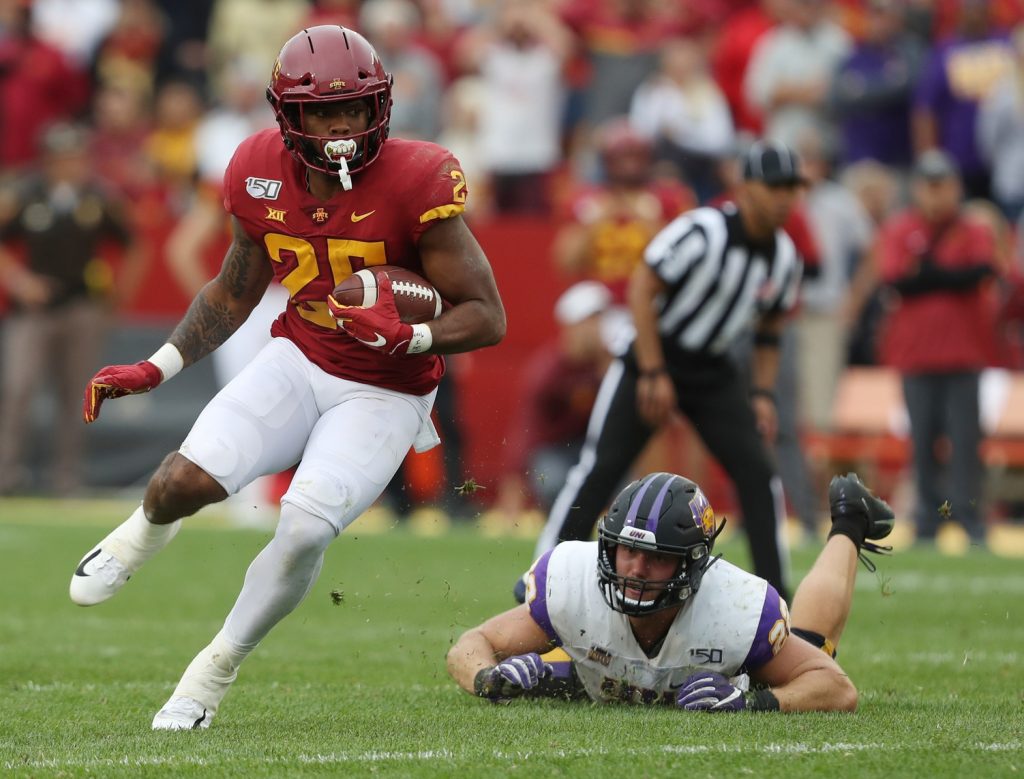 *** Matt Campbell noted on his Monday teleconference that center Collin Newell's knee injury was a sprain and not a tear, so that's great. Who knows if he can be back for Iowa in two weeks. Campbell says he is day-to-day. If he isn't back, I assume you move Julian Good-Jones back to center, where the senior has spent much of his career? Trevor Downing is ready to start at guard. Perhaps a Josh Knipfel move to tackle is in the works. That would make sense regardless considering how much Good-Jones and right tackle Bryce Meeker struggled in pass protection against the Panthers. 
*** We got a few glimpses of the three tight end look and I believe we will see a lot more of it against Iowa, especially when you consider the upgrade in the opposition's defensive line. The first play that Iowa State ran this look against UNI resulted in the 17 yard Johnnie Lang run that was called back due to Josh Knipfel's "penalty" for playing too hard. 
*** Iowa State's defensive line was as dominant as we have seen… That might come off as surprising considering how close the game was but it certainly wasn't because of the defensive front seven. UNI averaged 1.1 yards per rush and despite the superb improvisation skills of Panther freshman quarterback Will McElvain, he was constantly on the run. Ray Lima and JaQuan Bailey constantly took on two blockers. This group is what we knew it was an despite Iowa State's struggles offensively in the opener, will have the Cyclones in every game it plays this season. 
*** I had a lot of fans tweeting at me Saturday night asking about the whereabouts of Will McDonald. He played plenty in crunch time, especially when O'Rien Vance went down with a minor injury (notable that Vance came back). From what I understand, McDonald is ready to be out there and on most Iowa State teams of the past, would be starting. But Vance was so good in camp that the staff couldn't just ignore it. He proved that on Saturday to the tune of eight tackles and two sacks. You'll see McDonald's workload increase throughout the season and Iowa State will be very cognizant of putting him in spots where he has a good chance to be successful. 
Campbell is going to use this to his advantage
Iowa State was a media darling all offseason and finally, Matt Campbell has ammunition to not only beat up his team, but fire them up at the same time. 
Campbell thrives off of haters. It wouldn't surprise me if right now, administrative members of that coaching staff are printing off your tweets from over the weekend. 
This is why I really like the bye week coming in week two. It allows Iowa State to focus only on Iowa State for a week from a mental and physical standpoint. 
Really, the only thing that matters is that the Cyclones are 1-0. If Iowa State beats Iowa in two weeks or ends the season in an impressive fashion, nobody is going to talk about needing three overtimes to beat UNI.  
Early thoughts on the matchup with Iowa…
For what it's worth, the line at William Hill on this is still (-4) in favor of Iowa State.
Whatever the line ends up being, take the under. 
Iowa State will benefit from Nate Stanley being a pocket passer – albeit a good one. Many of UNI's positive plays were of the improvisation variety. Iowa is very strong up front but Iowa State will find creative ways to pressure Stanley. Iowa State will pose one of the best defenses Iowa will see all season, there isn't a doubt in my mind about that. 
It goes the same way on the other side of the ball. Raise your hand if you are confident with Iowa State's offensive line going up against Iowa's defensive line?
You shouldn't be.
It will be a strength on strength Cy-Hawk battle for sure. Despite what I saw on Saturday, my opinions on this game haven't changed much at all. I think it'll be a low scoring affair that will come down to the final five minutes.