Barry Peterson was worried.
 So was Paul Gehrke.
 The two devoted Iowa State Cyclones fans were roughly 700 miles apart, simultaneously eyeing an ESPN GameDay broadcast from Columbus, Ohio, and didn't like what the saw.
 More precisely: What they didn't see — and that would be the #CollegeAmesDay banner Gehrke had designed and printed two years ago after a successful GoFundMe campaign.
 A concerted group of Cyclones fans had offered $100 on Craigslist for someone to hoist the banner at Ohio State the same day ISU shocked No. 5 TCU 14-7 and they were starting to worry the money had been ill-spent.
 "(They) didn't get it on the TV show in the first two hours and the people that sent money in for the sign were kind of chirping, barking, getting upset — 'Oh, I just wasted x amount of dollars,'" Gehrke recalled. "It was kind of funny. I felt a lot of pressure that first week and here we are trying to tailgate for TCU and I'm calling this guy at Ohio State saying, "Move your (butt) over behind Lee (Corso), or move your (butt) here or there,' and it's raining. It was a huge debacle, I guess, the initial time."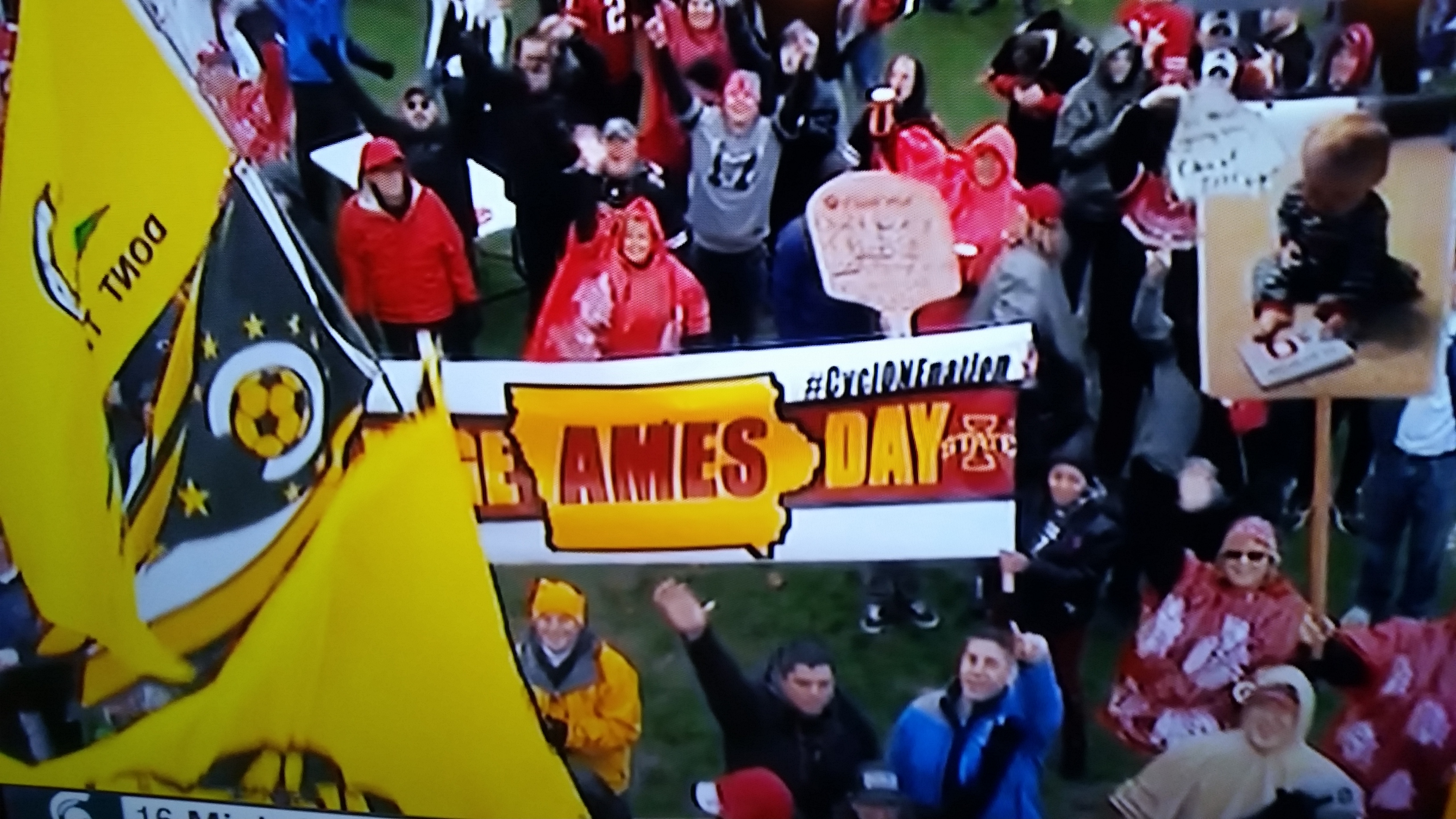 But oh so worth it.
 That formerly pie-in-the-sky #CollegeAmesDay campaign has finally borne Cardinal and Gold-hued fruit: ESPN's flagship college football show is coming to Ames for Saturday's 3 p.m. (FS1) clash between the Cyclones and No. 19 Iowa.
 Cy-Hawk. GameDay. Chills.
 "It's going to be super exciting," said huge ISU fan Josh Robinson, who started the Twitter DM group that spurred the #CollegeAmesDay campaign after the 2017 upset at Oklahoma. "I'll tell you, I'm getting closer to my forties, but I feel like a kid. … It's just something that gives you chills. It's going to be another experience. When it (ESPN college basketball GameDay) came for Fred (Hoiberg) at Hilton, I was down in there in that group with my buddies. It's just something that's cool to get national recognition. Even though we have to share it with the Hawkeyes, it's going to be good for our state and good for both programs and fan bases. It's going to be fun. Really fun. I'm going to be up early."
 Josh won't be alone.
 Cy-Hawk games are always sold out and amped up. 
 ESPN College GameDay will take that to an otherworldly level.
 "There's a lot of people that were involved with the banner itself," said Peterson, the president of the Dallas-Fort Worth Cyclone Club. "We know the campaign didn't bring GameDay to Ames. We know that. Jamie (Pollard's) letter — Jamie in general is the reason GameDay is coming to Ames, because Jamie hired Matt (Campbell) and Jamie's the one who has raised all boats in the athletic department. We're not trying to steal anybody's thunder at all. This was a rally point for fans to get behind as a social media campaign to get behind. It kind of happened organically from some super diehard Cyclone fans. … We know where we stand in this. We know we are just a small sliver of this whole thing, but you know what? It's cool and it gave everybody a hashtag and that hashtag now is a real thing, because #CollegeAmesDay came out of this."
AMESDAY IT IS!

For the first time ever, we're coming to Iowa State!

(📍 @HomeDepot) pic.twitter.com/ST9zP3fDDV

— College GameDay (@CollegeGameDay) September 8, 2019
 That first dank day in Columbus proved nettlesome for a while.
 The Craiglist ad had been answered by a man and his girlfriend. They were onsite in Columbus, but struggled to position the #CollegeAmesDay sign prominently — until late in the broadcast.
 Thankfully, it finally showed up. The cadre of Cyclones fans who organized the first-ever appearance of the banner even tipped the couple $50, because the weather in Columbus was terrible and, notably, "the girlfriend was pissed," added Peterson.
 The sign likely wouldn't even have been made except for a GoFundMe campaign that raised $400 — enough to print the banner and pay for shipping and deployment in Ohio.
 "The GoFundMe was actually advertised in a forum post on Cyclone Fanatic," Peterson said. "That's where it really took off. So it was kind of under the radar until that point."
 GameDay obviously didn't come to Ames in 2017 — despite the Cyclones achieving their first eight win season since notching a program-best nine victories in 2000. And #CollegeAmesDay organizers kept it under wraps last season, since the schedule didn't seem to set up well for marquee home games.
 But this season was different. The first two GameDay's were in Fort Worth — for Oregon versus Auburn — and Austin, for LSU-Texas.
 Peterson called up the others in the group and arranged for the banner to be shipped to Forth Worth, where the campaign really took flight in week one.
 Dallas-Fort Worth Cyclone Club vice president Brad Humphrey helped hoist the banner in Fort Worth, along with several others. The hashtag began going viral and dreams began merging with reality. Perhaps GameDay could finally come to Ames.
 "My wife and I both bleed Cardinal and Gold," Humphrey said. "We were both marching band members. It's awesome to feel like the fruits of your labor and the five hours on your feet just may have meant that we have GameDay this year. It's why we ultimately did it — to see if something happens. Just have fun. I'm just glad it paid off for the school and all the university alumni. It will be a great time. We'll get to showcase our great university and show them what Iowa State's all about."
I've been around @Big12Conference & @CycloneATH for 15 years. @CollegeGameDay is in for a treat. Trust me. https://t.co/hLQ3YKAUSN

— Fran Fraschilla (@franfraschilla) September 8, 2019
 Saturday in Austin started with uncertainty. When Austin Cyclone Club founder Matt Borgstrand showed up with several other hardy souls in the wee hours of the morning, the line to get in stretched roughly 500 feet around the block. 
 Uh oh.
 That's when Borgstrand got resourceful.
 A call from Humphrey provided a productive path forward: Go to the barricades. Skip the line. It's better for placement, anyway.
 Sure enough, Borgstrand found the barricades to be deserted — except for a security person with an ESPN badge.
 "'Yeah, we're surprised nobody's here yet,'" Borgstrand recalled the ESPN employee saying. "So that's how we ended up nice, stage centered, best we could do. I'm like, 'This should work. This should work.'"
 It did.
 By the time Maryland had blasted then-No. 21 Syracuse and Iowa had trounced Rutgers, #CollegeAmesDay appeared to be a near-lock.
 And now it's set. Thanks to fervent entreaties from Pollard and others — along with the dogged efforts of a bunch of far-flung fans, including, it turns out, former standout defensive tackle Jake McDonough.
 "I've never seen a group of fans so passionate about Iowa State athletics," McDonough said. "I learn more from them than I do looking at my Twitter. I just give my player's view on stuff from time to time."
 All those people — from the ones previously mentioned, to folks such as Mike Rouse, Kurt Behrens, Spencer Cunningham, Morgan Carstens, Eric Hessing, and Steve Troskey, among others — can take pride on Saturday that their collective goal has become a reality.
 The #CollegeAmesDay banner, of course, will be on site.
 What happens next to it is anyone's guess, but organizers hope to get it signed by the GameDay crew. They also hopes it serves as a long-standing — or flying — memorial to what determination merged with aspiration  can conjure in the real world.
 "I think we've worked the #CollegeAmesDay thing pretty well," Gehrke said. "I'm hoping Jamie Pollard will memorialize (the banner) in one of the buildings forever, I'd like to think."