Thursday is America's birthday and chances are a few of you will be reading this on Independence Day itself while you sip on an ice cold beer in a lawn chair as the smell of meat on the grill fills the air. Cheers to you and cheers to freedom, my friend.
The Mid-Week Mailbag is serving up a heavy dose of All-American answers this week. Big thanks to our loyal forum members for coming up with some great questions this go-round.
Let's get rolling.
mj4cy (forums) asks: Will the next ISU player to leave early for the pros be in football or basketball? Who will it be?
Since football season ends before basketball season, we have to take a peek at the possible candidates to leave the gridiron early first. You have to be out of high school for at least three years to qualify for the NFL Draft per the rules, so that means redshirt sophomores, juniors, and redshirt juniors are the typical early-entry guys.
Looking at the 2019 football roster (you can sort by year in school to make it really easy), a few of the names from that age range of players that stick out to me are Charlie Kolar, Tarique Milton, Greg Eisworth, Chase Allen, and Eyioma Uwazurike. The three pass-catchers in that group seem like unlikely to make the jump unless they have a huge year statistically, which leaves Eisworth and Uwazurike.
Eisworth, with another similar season to the one he had in 2018, is a prime candidate. He has solid size (6-feet, 205 pounds) for a safety and his ability to be a factor in the run game adds a dimension to his skill set that not all safeties possess. Meanwhile, Uwazurike is still a little raw with his technique, but you can't teach the size (6-foot-6, 285 pound) and potential he has and if he can stay healthy for the full season, I'd probably argue he is the most likely to leave Ames early from the football team.
In the event that no one declares for the draft early from Matt Campbell's program, then the focus would shift to Tyrese Haliburton's decision following his sophomore season in Ames. He's impressing on the international stage right now while playing for the USA's u19 FIBA team and generating more interest from NBA scouts. With a full season being one of the primary options on offense, his game could develop nicely and turn him into a great pro prospect.
Gun to my head? I'll say Haliburton is the next Cyclone to leave early for the pros, and hopefully he'll have mostly universal support in doing it from our fan base.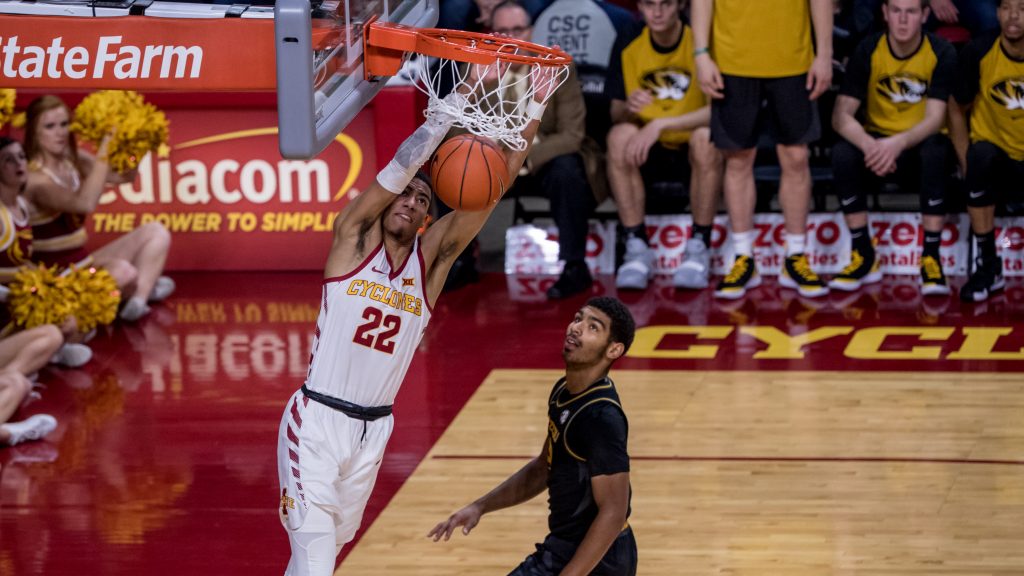 SCyclone (forums) asks: Who will take the most 3-point shots for the Cyclones next season?
Prentiss Nixon is the safe pick. He hoisted up 7.4 3-point attempts per game in his last season at Colorado State. For reference, Haliburton attempted just 3.2 per game in his freshman year and the most that recent 3-point snipers Naz Mitrou-Long, Tyrus McGee, and Matt Thomas averaged in a single season was 7.3, 5.9, and 5.9 respectively. Granted, Nixon likely shot that much out of necessity while he was with the Rams, but he'll certainly still shoot a lot in ISU's up-tempo approach.
My dark horse would be Tre Jackson. I'd guess he'll be one of the first guards of the bench early in the year and possibly force his way into the lineup during the conference slate. He has a lightning-quick release which should help him get off plenty of looks while he's on the floor.
Gunnerclone (forums) asks: What is going to be the thing that drives us crazy this football season? Usually it's the O-line but we look a little better there. Will it be penalties? Special teams? The corners? Something else?
Call it a gut feeling… I think we're going to see Iowa State's defense struggle a bit more at times this season. Not necessarily enough to hit full-on panic mode, but I think offensive coordinators throughout the conference are going to have a better idea of how to attack Jon Heacock's scheme now that there's nearly two full seasons of game film available to break down. The good news is that Heacock and Campbell have proven they can make adjustments on the fly as necessary to mitigate problems – but they may have to get more creative than ever if opponents start to crack the code of the 3-3-5 look.
Because of this, I think there will likely be a couple more games featuring the cardinal and gold that turn into traditional Big 12-style shootouts. Hopefully, the Cyclone offense will be up to the challenge if that prediction comes true.
StevieISU23 (forums) asks: Question–By the 8th Game of the Season.
Who are the 5 OL that are playing the most snaps (not necessarily starters)?
Julian Good-Jones, Trevor Downing, Colin Newell, Josh Knipfel, Joey Ramos.
cyclonpediaJoe (forums) asks: Hypothetical: Assuming Easton Dean practices well, would you CKF think about putting Re-al Mitchell in wildcat type formation plays or keep him as the backup QB as depth has always been needed at ISU.
Starting off the year, I'd keep him as the backup for sure. The only reason I'd consider a Re-al Mitchell Wildcat package would be if the offense needed a major jump-start at some point during the season.
As great as the decision to go to Brock Purdy turned out last year, trusting a true freshman at quarterback is always a risky bet. The nice thing is I'd guess transfer QB John Kolar would get his shot before Dean this upcoming season, but I'd still want Mitchell to be at 100% and ready to step in should something happen to Purdy.
CyJeans (forums) asks: A buddy of mine brought up this idea. Now that there are 3 more cyclones in the NBA that brings the total up to 8 if you include Naz. That means you can make a legit NBA team featuring an only ISU rotation. What's the over under on how many wins that team gets in a season? Follow up, who is in your starting 5?
Sorry to say, but an all-ISU team wouldn't win many games against the rest of the NBA. In fact, they'd probably be the worst team in the league pretty easily. I'd guess they'd go something like 10-72 and set themselves up nicely to get a high lottery pick so they can take Tyrese Haliburton in next year's draft. So to answer the question, I'd set the over/under at 10 wins.
My Cyclone NBA starting five for THIS SEASON: PG Monte Morris, SG Matt Thomas, SF Abdel Nader, PF Deonte Burton, C Georges Niang.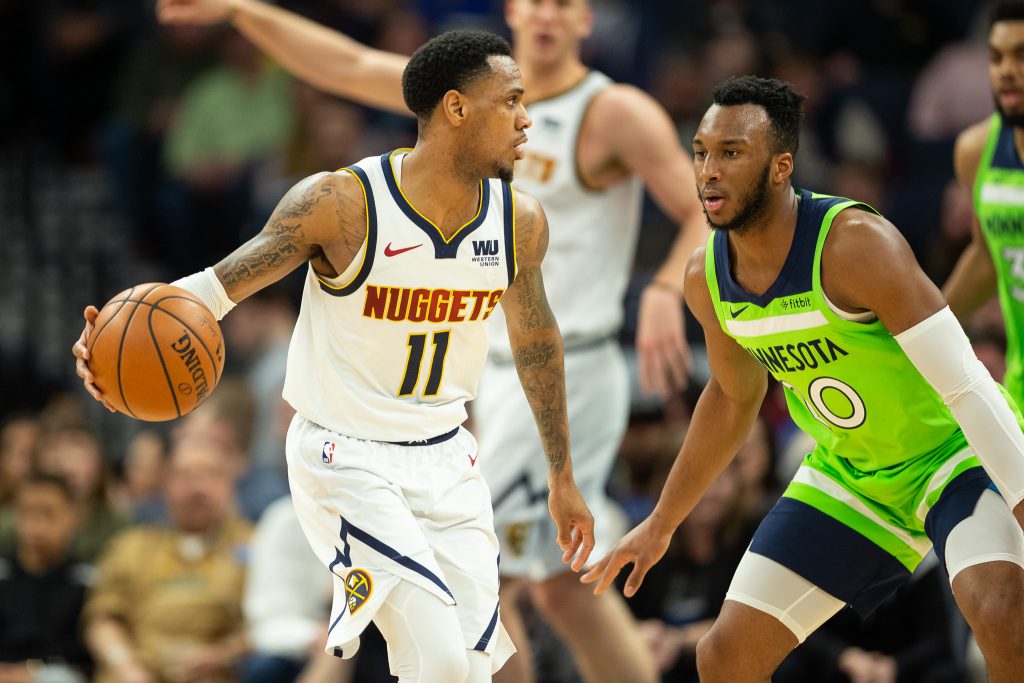 Dandy (forums) asks: If you have to "wear" one all summer, which shirt tan line are you rolling with: t-shirt, cut-off or bro tank?
Assuming that by wearing one all summer means I wear it every time I go outside and will add to my tan (minus swimming situations where I'd go shirtless), then the answer is cut-off. The traditional farmer's tan line with T-shirts is always awkward-looking and I'd want my full arm to get tan. But if you go too far in the other direction and wear bro tanks then, well, that means you're wearing bro tanks and that's definitely not a good fashion choice.
At least in my case, wearing a cut-off usually means I've either been doing yard work or exercising and I feel no shame in having other people assume I've been doing those things. It's a good middle ground that provides a better tan line than a T-shirt while avoiding the judgment that I'd get from constantly wearing bro tanks.
Brandon (forums) asks: How often should I wash my thong?
Put it in the wash until you see the washing machine below come to a stop:
discydisc (forums) asks: Best 4th of July food?
Burgers. No need to get fancy here.
JP4CY (forums) asks: Best firework name?
Whistlin' Bungholes
Spleen Splitters
Whisker Biscuits
Honkey Lighters
Husker Do's
Husker Don'ts
Cherry Bombs
Nipsy Daisers (with or without the stick)
Whistlin' Kitty Chaser
I think you answered your own question by listing Whistlin' Bungholes at the top of your list. You didn't need to go any further than that.
JHUNSY (forums) asks: Given fireworks are coming soon with the holiday:
What are the 5 most overrated "America" things? (Apple pie, Ford trucks, Nascar, etc.)
Apple pie is God's gift to mankind, so I hope you were just listing that one as an example…
Five: Ford Trucks. This is slightly influenced by the fact that my Explorer (yes, I know, not exactly a truck) required me to drop some Benjamins on a couple of repairs recently.
Four: The Super Bowl. It's become so commercialized that the game itself isn't as special any more.
Three: Southern Hospitality. Midwestern Hospitality is better, obviously.
Two: Hot Dogs. I don't really care what kind of meat is packed into the 'dogs – burgers are the superior option regardless.
One: Country Music. The stuff that CW calls "douche country" is probably what I'm referring to most here and I'll admit there are some country songs that aren't too bad, but the douche country genre is super popular and I seriously question the sanity of anyone who willingly listens to that stuff.
coolerifyoudid (forums) asks: What is the worst sports-related beat-down you've ever been involved in? I'm looking for personal examples. For my own mental health, I don't need to relive anything Cyclone or Viking related. Include examples of when you were on the losing end and (if applicable) winning end.
My junior year of high school at Albia, we beat a smaller neighboring school (Twin Cedars) in basketball by a final score of 84-20. Everyone on our roster got into the game and everyone made at least one shot from the field too. It was a total beat-down.
Luckily, I wasn't on the losing end of any games that bad during my sports career. I ran cross country and played golf in high school and our teams in those sports were pretty good. We had some bigger losses in basketball (30ish points) on occasion but were never flat-out demolished to the tune of a final score like 84-20.
To make up for the lack of stories for when our team got embarrassed, I'll say that the personal most embarrassing moment of my athletic career was getting put on a poster during Simpson College high school basketball camp. I still maintain that it was a charge, but some guy rose up and slammed it by going straight through me when I rotated over in help defense in front of the basket. The immediate aftermath of the event was mostly a blur but I remember a timeout getting called before the dunker's lone free throw (they called an and-1) and I'm pretty positive the rest of my teammates were torn between full-on laughter and trying to keep their heads in the game. Sigh.
jbindm (forums) asks: You can choose one TV series or movie from your childhood to reboot or remake. What's your pick? Subquestion: Who do you want to direct it and who do you want to star in it?
We used to get Flight of the Navigator on VHS from the library and the premise of that movie would be fun with some updated special effects and possibly written for more of a young adult audience. (Gotta keep the Beach Boys though – no need to replace them with a new artist…)
I'll say JJ Abrams can direct since he's proven he can do sci-fi pretty well, and the star can be one of the Stranger Things kid actors.
Sigmapolis (forums) asks: First movie that you remember seeing in theaters? First movie that you saw in a theater with a member of the opposite sex on what could be reasonably construed as a date or something like that? Worst movie you've ever seen in theaters?
I'm sure I saw other movies in theaters before it, but the first one I REMEMBER seeing was The Phantom Menace. I grew up watching the original trilogy, so it was a big deal to be able to go and watch new Star Wars in theaters.
The first movie I saw in a theater with a member of the opposite sex (with no other friends around – just a one-on-one date) was Nick and Norah's Infinite Playlist. I don't remember anything about the movie and I'm pretty positive I time-traveled through it because all I could think about the entire time was how excited and nervous I was to be on a "date."
Worst movie in theaters? 2015's Fantastic Four. So bad.
mdk2isu (forums) asks: You and the wife are looking to go on vacation, spending no more than $2000 on round trip flights and hotel for 3-4 nights. When and where do you go 1) inside the continental US and 2) outside the continental US?
Inside the continental U.S., I think I'd go to Florida just because flights to Orlando are pretty cheap and you could either do the theme park route or beach route once you're there.
Outside the continental U.S., on a $2,000 budget, I'd go sit on a beach in Mexico. You could still do a pretty nice all-inclusive Mexican resort if it's just 3-4 days. We went for a full week last summer and I believe the final tab came in just north of $3K – very reasonable compared to other locations in the Caribbean.
Cyclones_R_GR8 (forums) asks: Who would you prefer to punch in the face, the Sprint guy or the Trivago guy?
Sprint guy, easily. He's been around longer and Benedict Arnold'd Verizon. That kind of disloyalty cannot go unpunished. Just look at this smirk: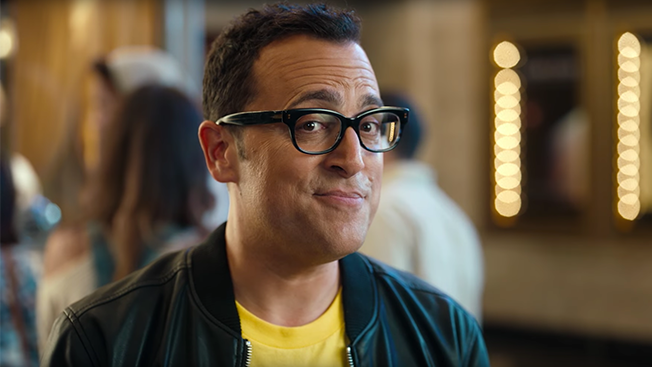 Just asking for a knuckle sandwich…
Hope everyone has a great Fourth of July!