Aidan Bouman has always had a football in his hand.
As a young child, he carried it with him anywhere and everywhere, begging anyone who would listen to play catch with him. He would tell them about his dreams of being a quarterback. He wanted to follow in the footsteps of his father, Todd, who spent parts of 13 seasons as a signal caller in the NFL with six different teams.
"I can remember just sitting in the basement of my house playing catch with all my parents' friends watching my dad on the TV and just saying, 'That's what I want to do,"' Aidan told Cyclone Fanatic. '"That's what I want to do when I grow up.' I think that's been my mindset ever since I can remember."
Todd Bauman could see that Aidan had natural ability early on. The younger Bouman was doing things on a football field in fourth grade that nobody else could do.
The family lived near Todd's hometown of Ruthton, Minn., in the southwest corner of the state. He coached his son's team to run a wide-open, pro-style offense that most would likely consider too advanced for a fourth-grade quarterback.
But not for for Aidan.
"He just always had the innate ability to throw the football," Todd said. "When he first started playing padded football and just doing some things that you don't normally see kids at that age doing you kind of get that thought that maybe he has a chance of doing something someday."
On March 19, 2014, Todd was named the head high school football coach in Buffalo, Minn., a town of roughly 15,000 people 42 miles northwest of Minneapolis. That's where Aidan would eventually prove his father's beliefs about his potential to be accurate.
The youngster caught the eye of coaches at the University of Minnesota during a camp prior to his freshman year of high school in 2016. He went on to throw for 681 yards and 10 touchdowns while completing 41.7 percent of his passes in his first high school season while Buffalo struggled to a 3-5 record.
Despite the struggles as a team, the future seemed bright for Todd's program with his son under center taking the reigns of the offense he had run since the fourth grade. It also put the pair back in the position of navigating the unique and sometimes sticky, father-son/coach-player dynamic.
"There's a certain relationship that you have with your dad and sometimes it gets a little bit hard to contain that when you're on the field," Aidan said. "You're like, 'Oh, this is my Dad. I have to kind of control what I say to him.' I think that also helps us too because my mom has a bunch of pictures of us on the field where we're in the exact same pose while we're looking at the film or the playbook and that kind of stuff. It's really nice because he's taught me everything I know and just having that relationship on the field is something that I'm very happy to have."
Off the field, Aidan's list of college options continued to grow with Nebraska, Iowa and a handful of FCS schools starting to take notice.
Meanwhile, in Ames, Matt Campbell and his staff had just completed their first season at Iowa State. With only three wins to show for their progress, the overall feeling was that the program was heading into 2017 on an upswing with most of the team's major contributors returning.
That 2017 season was a breakout one for the Cyclones. Iowa State won eight games, including an upset over No. 3 Oklahoma and Heisman Trophy winner Baker Mayfield in Norman on the back of third-string quarterback Kyle Kempt. Led by quarterback turned linebacker/quarterback hybrid Joel Lanning, Campbell's program won the Liberty Bowl over Memphis.
Back in Buffalo, Aidan and the program were growing as the sophomore gunslinger threw for 2,141 yards and 16 touchdowns with eight interceptions on 54.9 percent throwing while leading the team to a 4-4 record.
The production caught the eye of Iowa State's newly hired quarterbacks coach, Joel Gordon. He went to Buffalo to watch Aidan throw the football during the recruiting evaluation period.
Aidan did what he has done since he was a kid begging his dad to play catch with him. He impressed and Gordon extended Bouman his first Power 5 scholarship offer.
"We went down there before spring break and (Gordon) was the first one we talked to. Then I got to meet all the coaches," Aidan said. "I went on quite a few visits before that and that was probably was one of the best ones I've been on just because you can tell how transparent the coaches are."
In Todd's eyes, it is this transparency and genuineness that has allowed Iowa State's football program to take off in three years under Campbell. The former star at St. Cloud State had never seen anything like it during his football travels.
Camp after camp, visit after visit, those same points would come up in Aidan and Todd's conversations about college football programs.
"Anytime we went to another camp, every time we left, we would get in the car and he would say, 'This just isn't like Iowa State," Todd said. "He compared every other camp he ever went to with them. I think that was ultimately when he came to the conclusion that 'This is a no brainer.'"
This trend told Aidan nearly as much or more about his college choice as he could learn on an official visit. After camping in South Bend, Ind. and the thought arising again, the next move was clear.
Aidan Bouman wanted to be a Cyclone.
"That summer I went to quite a few camps and that really sealed the deal for me just knowing where I wanted to go because of how I felt at other places," Aidan said. "I knew I was going to commit right after my Notre Dame camp. I said, 'I think Iowa State's the place for me.'"
He was set to camp in Ames the next week. The three-star recruit considered one of the best high school prospects in Minnesota wanted to hold off until he could tell Campbell his decision face-to-face. The only problem, time seems to slow down when you are excited.
"I just kept telling my parents, 'When are we going to go talk to them?' I was just so excited," Aidan said. "Finally, got into the room and told (Campbell). It was just great. It was a great feeling and I was so happy to know I had a place I could call home for college and probably after that too. It was a great feeling."
Campbell was ecstatic to receive the news of his program's first commitment for the 2020 recruiting cycle. The pressure of getting a quarterback in the class was already gone nearly 18 months before the first 2020 signing period.
He opened his office door and yelled down the hallway to Gordon.
"Campbell was like, 'Hey, you got your first quarterback,'" Aidan said with a laugh. "Gordon, I've never seen him so fired up before. It was awesome. There was a camp that night and so we got to talk with all the coaches. We stayed until probably midnight. We were there for a while talking to all the coaches and just chatting it up. It was just a great day."
Thank you to @ISUMattCampbell and all of the amazing coaches at Iowa State. I'm so honored to be a Cyclone! #AStormIsBrewing pic.twitter.com/zajZ8rloJN

— Aidan Bouman (@boumanaidan8) June 22, 2018
With the pressure of the recruiting process in the rearview mirror, Aidan could focus on his junior season for Buffalo. Todd could relax knowing his son had found a program where he would be well taken care of.
"The first time you meet them, and I've been lucky to be around many, many different people and different coaches, just the relationship piece is such an important part of it," Todd said. "You're going to spend so much time with these coaches and from day one you can tell they're not only great coaches but they're just genuine people. They're not going to feed you a bunch of lines that you want to hear but they're going to be truthful with you and honest with you. I think that was the biggest thing that Aidan fell in love with from day one."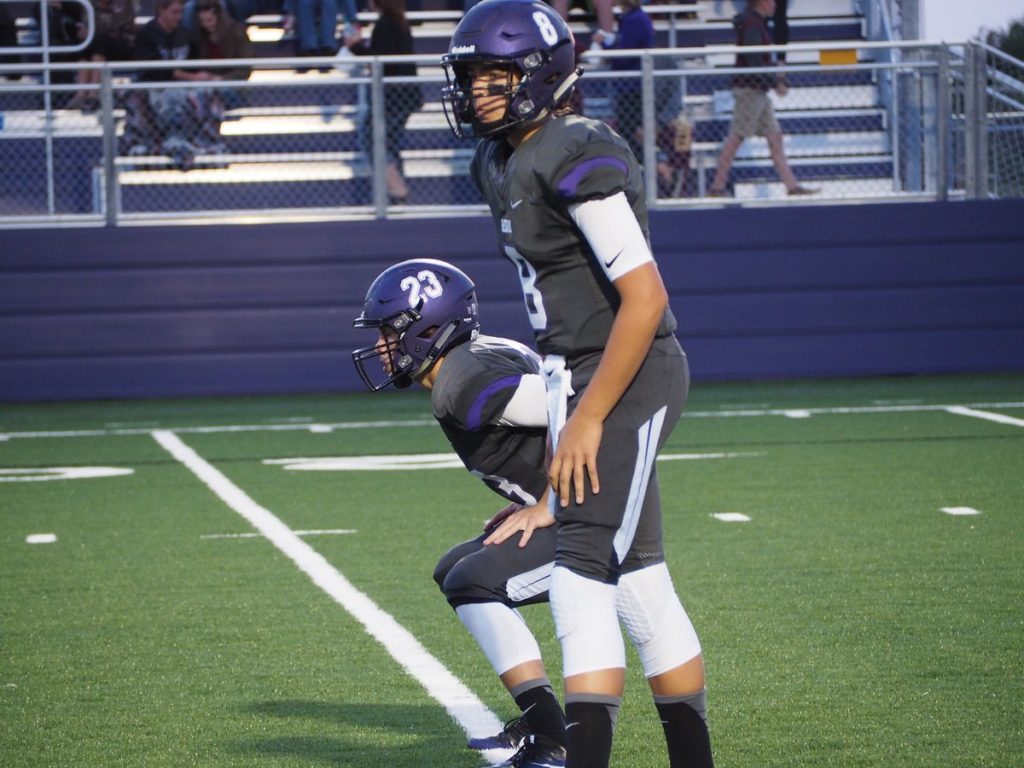 The 2018 season turned out to be not only a breakout year for Aidan, but for the entire Buffalo football program. The Bison rolled to a 6-2 regular season record behind the state's most prolific offense.
Week after week, Buffalo lit up the scoreboard. There was the 63-40 win over Andover where Aidan threw for 345 yards and seven touchdowns. He put up nearly identical performances in a 70-42 win over Cambridge-Isanti (470 yards, seven touchdowns and one interception) and a 62-35 rout of Chisago Lakes (458 yards and six touchdowns on 81 percent passing).
Aidan finished the regular season with a state-leading 2,974 yards and 35 touchdowns. He completed 65.2 percent of his passes on 319 attempts.
Suddenly, the idea of Buffalo winning a playoff game for the first time since 2013 seemed like a realistic possibility. Similarly, in Ames, on the back of true freshman quarterback Brock Purdy and a monster defense, the Cyclones were in the thick of competing for a berth in the Big 12 championship game and the idea of the first conference title in Ames since 1912 was starting to feel more like a real possibility than a pipe dream.
"You can tell the culture there is changing. You can tell by the atmosphere. I went to quite a few games this year and you could just tell by the fans and everything. It's a completely different culture," Aidan said of Iowa State. "I know they're putting the pieces together. Soon, it's going to be here before we know it, they're going to be a championship contender. I can't wait for that to happen."
Obviously, we know the Cyclones did not make their way to Dallas for the Big 12 title game after a late-season loss to Texas. But the foundation was set for what has become possibly the most highly-anticipated football season in program history.
Buffalo did not win its playoff game either, falling 52-42 to Prior Lakes. Aidan threw for 526 yards and six touchdowns. Despite the loss, the seeds were planted for what could come during Aidan's senior season.
"I really could not care less about what I throw, what I don't throw or anything like that. I just want to win," Aidan said. "It's been a long time since Buffalo has even won a playoff game. It's tough to say but that's my biggest goal. Make a run in playoffs this year, especially since it's my senior year. Kind of leave it all on the line and I think we've got the guys to do it."
First, Aidan is doing what he can to continue to plan for his future in the best ways possible. He camped in Ames two weeks ago and will be back again for next week's Saturday Night Lights camp.
The second trip will be especially crucial with Carroll Kuemper defensive end Blaise Gunnerson scheduled to take his official visit to Ames the same weekend. Aidan has made it a point every day to text Gunnerson, who is also slated to officially visit Nebraska this weekend, and let him know how badly he is needed in Ames.
"Hopefully we can get him because me and him are really close," Aidan said. "We talk every day. That would be huge if we can get him to come too."
Todd points to things like this while explaining how Aidan has grown as a leader and quarterback during his high school years. The quarterback of the class is doing what he can to make his team better more than a year before he will even step foot on campus.
A future in Ames is still at least a year away. Aidan and Todd have one last season to share the sidelines together with expectations higher than ever. Todd is prepared to embrace and cherish it more than he ever has before.
"You have to sit back and enjoy it because not a lot of guys get to (coach their sons). I have been very blessed to do it," Todd said. "With the stresses come so many joys. I've been very lucky. It's just been fun watching him grow every year and how much different he's gotten and how much he's changed and how much more leadership he has in the program now. Not only are you a happy and proud coach but you're also a proud dad at the same time."
Aidan enters his senior season inside the top-10 in Minnesota high school football history in completions, yards and passing touchdowns. He is one of the state's best quarterback prospects and his name sits in the record books alongside the likes of former Cretin-Derham Hall star Joe Mauer, who signed to play quarterback for Florida State before going on to a Hall of Fame baseball career for the Minnesota Twins.
Aiden is one of Minnesota's best high school quarterbacks. He is the future of Iowa State's quarterback room. He is the son of a former NFL quarterback. That is a lot of pressure.
But does pressure have to be a bad thing? Aidan is going to let it slide right off and enjoy one last year on the football field with his idol, his coach, his Dad.
"I don't know how to explain this but I love pressure. I'm not saying I look for pressure but when it's there I embrace it," Aidan said. "I use it as motivation. I don't think there's so much pressure as far as living up to (Todd's) name and all that kind of stuff because I'll work hard and whatever happens, happens in my career. I think if anything it gives me a little bit of extra motivation just knowing he's on the field and trying to make him proud."