The Big 12 is a very interesting league to consider for the 2019 season. As I have reviewed other's perception of the state of the league, I have noticed a consensus with which I agree.
That is: After Texas and Oklahoma, there is a five to seven team pile up for the balance of the league standings.
The train for ranking Iowa State in the third position is well fueled and is likely to be made manifest by media types. However, I, in my limited and dubious wisdom, believe the brakes should be tapped on the ascendancy of the program.
The truth is that there are significant questions and significant opportunities for the entirety of the league to have both breakthrough and disappointing seasons. Can a team fix a deficiency and put together a streak, or will a difficulty manifest and create a downward spiral?
Or, is this a 6-3 to 3-6 league of equals?
I do not know. But, I do have a feeling based on the direction of the wind at the programs and set forth my early rankings below.
Last general note: There are four new coaches in the league. I took some time and went through the records for teams switching coaches historically in a couple of contexts. In general terms, teams switching coaches neither rise higher than their previous year's performance, nor do they fall much below their previous year's performance in year one of the new coach.
Last year, there were six teams that significantly underperformed relative to their overall talent rating as provided by the consensus recruiting rankings. Five of those six were coaches in their first year at the school and the other led to the firing of the coach.
Therefore, it is significant that there is a new coach and a new culture being implemented. Player turnover and the introduction of new program level methods take time to sink in, however, a competent coach will keep the ship above water. Each of the Big 12 coaching additions are competent coaches.
Cyclone fans need only consider the trajectory of Iowa State's program in this regard. Matt Campbell has been lauded for his turnaround work at Iowa State, yet in year one he was only able to muster the same three wins as his predecessor. There were signs of improvement, but rising above the state of the program was not in the cards. I believe that analysis applies with some caveats to Kansas, Kansas State, West Virginia, and Texas Tech.
The rankings in descending order:
1. Texas Longhorns (2018 10-4; 7-2)
Texas is not without flaws and this pick is controversial based on the general consensus. Texas needs to replace key members of its secondary, defensive line, linebackers and offensive line. All are key position groups. In addition, they must find a rushing game from their running backs.
However, in reviewing film of last year's successful campaign, it is apparent that the team has embraced the physical culture that Tom Herman has sought to impose. It is a Big 10 style physicality that Big 12 teams (see ISU) have difficulty matching. Yes, there are players to replace, but the talent is abundant to do so and the talent is now enmeshed in a new culture at Texas.
The primary reason for this ranking is quarterback Sam Ehlinger. He only threw three interceptions after he threw two in the first game with a 65 percent completion percentage. Add in a tough, hard nosed running style and an established leadership position and something special can happen on the 40 acres.
Moving On Up If…
The performance of freshman Jordan Whittington at running back in the spring game was a significant development. Keontay Ingram has significant upside and if Whittington provides an additional run game option, then Texas will be where it wants to be.
Collin Johnson is likely to have a "Hakeem Butler" type season paired with Brennan Eagles. A solid ground game with an explosive passing game puts Texas in College Football Playoff contention.
If Todd Orlando works his magic on the defensive side of the ball, Texas will survive LSU and survive a difficult road back-to-back in Ames and Waco on the way to a playoff spot.
Slipping Down If…
Texas is thin on experienced depth. Key injuries on the offensive line or at quarterback will take the shine off of 2019. If injuries manifest, then Texas will remain difficult to beat, but will have a more pedestrian campaign.
Texas is built to run the ball and strike with big plays on offense. Given the new faces on the defense, it is likely that a few shootouts will be unavoidable (as it is for all Big 12 teams). If the offense can't ramp it up to compete in a shootout (West Virginia in 2018 for a loss, Oklahoma for a win), then there will be an upset, or two, in the cards that will see the sliding down in the standings.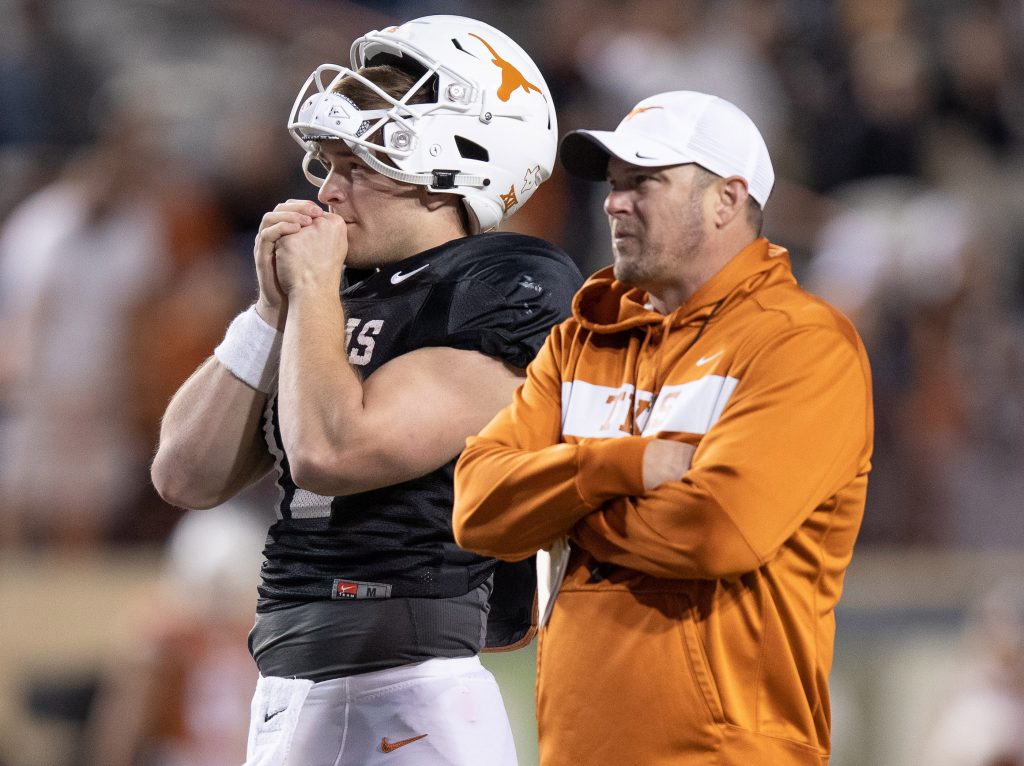 2. Oklahoma Sooners (2018 12-2; 8-1)
Jalen Hurts is not Kyler Murray or Baker Mayfield. As improved as he may be and as genius as Lincoln Riley is and as talented as his skill players are, Oklahoma has been fueled by the last two Heisman Trophy winners. The caveat here is that Oklahoma needed those performers to overcome a lackluster defense and that might not be the case in 2019.
Hurts was a 61 percent passer, which is far below the 70 percent completion percentage that Oklahoma has enjoyed the last two years. In limited time, Hurts threw at 72 percent in 2018 and that is the reason for optimism. However, I think a larger sample size will cause regression to the mean and incompletions will slow offensive production.
The defense will improve under new coach Alex Grinch. But, there is a lot of work to do, and as we saw at Oklahoma State last year, it can take a year to grab hold of a new system and new method of practice.
I actually believe there are four losses for Oklahoma, which would drop them in the standings. However, with Hurts, they have the most dangerous running game in the conference if they have the will to rely upon it. The running game will allow them to overcome some landmines and all but Texas should succumb.
Moving On Up If…
If the running game is primary and the new offensive line is solid, then Oklahoma can once again take the Big 12 crown and appear in the playoff.
The defense must improve to competent from its below average status. At times, it appears on film as if the squad just did not know its assignments and played perpetually out of position. If Grinch can simply instill a level of discipline in positional play then the defense will improve and allow for a slightly more stilted offensive performance.
Houston and UCLA are difficult early match-ups. If OU can get past these early season tests, then the Red River Shootout and Big 12 Championship game become the determining factors for a spot in the CFP.
Slipping Down if…
If Hurts struggles with his accuracy and teams are allowed to focus on the run game defensively, then Oklahoma will have to rely on its defense to create a margin of victory. That is a less than ideal position for this program. They are more than capable of countering any difficulty, but if the book gets out, there is enough talent in the balance of the Big 12 to make things difficult for OU.
Houston's D'Eriq King is perhaps the most dynamic play maker in college football. UCLA's second year under Chip Kelly will be significantly better than year one. Losses in either or both of these games can have a demoralizing effect and both are must wins to set-up the type of season OU expects to have.
3a. Iowa State Cyclones (2018 8-5; 6-3)
First, ISU is set as 3a, not 3. Here begins the group of teams that are virtually impossible to differentiate. The outcome of the contests between them will determine the order, but the likely outcome is a lot of eating your young and disappointing seasons with opportunities missed.
Iowa State represents the squad with the best opportunity to establish itself against the middle of the pack. First, they have Texas at home and a bye week before traveling to Oklahoma with a penchant for pulling an upset. Second, of the teams in the middle, Iowa State has the best quarterback, even if only slightly so. Third, and probably most important, Iowa State may have the best defense in the conference. This allows for game efforts on the road and will keep them within striking distance in each contest.
That said, Iowa State must elevate its offensive production while losing its two most productive offensive players. In addition, its poor offensive line is likely to be populated with the same players who comprised that line last year. For Iowa State to hit its target, the offensive line must improve and play makers must emerge. There is talent available, but it is unwise to make a prediction based on the unseen.
That said, it is the defense that elevates this team above its competitors below. Play on the corner will need to develop, but the front seven and the safety positions are as solid a unit as has ever taken the field in Ames. Offensive improvement that an complement the defensive effort can allow for a second straight third place finish in the Big 12.
Moving On Up If…
If Brock Purdy continues an upward trajectory and the running game can establish a legitimate threat by expanding its per carry average to an acceptable four yards per carry, then this team has the potential to push in to the Big 12 Championship game. A bye week before Iowa and another one before Oklahoma will test the staff's preparation and gives ISU an opportunity to seize control of a season that will surprise even with higher expectations.
Sliding Down If…
Injuries will be key on the offensive side of the ball. An injury at quarterback would be devastating for the team. There is more depth than is appreciated, but a rash of injuries can cause difficulty in finding a rhythm from week-to-week.
Iowa State has started slow and improved throughout the year under Campbell. That cannot be the case this year. The balance of the league will likely be on the same trajectory and a margin will not be created as in years past. Iowa State must establish itself early in the year and maintain its position if it wants to stay in the upper tier of the conference.
Five league road games. Defense travels and it must if Iowa State is to exceed its eight win threshold.
3b. Baylor Bears (2018 7-6; 4-5)
Established and solid quarterback, talent at the skill positions, experienced offensive line, major questions on defense. Baylor was a tough out in 2018 and will begin to win those close games in 2019.
Baylor's defense gave up an enormous amount of big plays in 2018 and must find a way to limit those in 2019. They lose significant pieces along their front, which will increase the challenge of slowing opponent's run game efforts. However, the roster is talented and improvement is likely.
The argument for Baylor in this position is largely premised upon their schedule. To the extent any league schedule is easy in the Big 12, Baylor most fits the bill. A patsy-filled preseason is followed by a league schedule where the teams ranked above them must all come to Waco and pull off a road win. The timing and location of those games give Baylor the best opportunity among the also-rans to pull standings-changing upsets.
Moving On Up If…
Baylor will contend if they stay healthy and find some level of defensive consistency. In particular, if they are able to create turnovers, then their offense will play downhill at a dangerous clip.
Baylor will run the ball effectively. Charlie Brewer is tough and makes tough plays with his moxie, however, he will also turn the ball over trying to make a play. If Brewer plays a bit more disciplined and eliminates some of his mistakes, then Baylor will prove difficult to stop, especially at home.
Sliding Down If…
Jalen Hurd was an incredibly valuable part of Baylor's success in 2018. He was the security blanket and a matchup nightmare. Baylor must find a replacement for his big play production. Who gets the needed first down yardage? If they are not able to find consistent production on crucial downs, then the defensive deficiencies will manifest and wins will be hard to come by.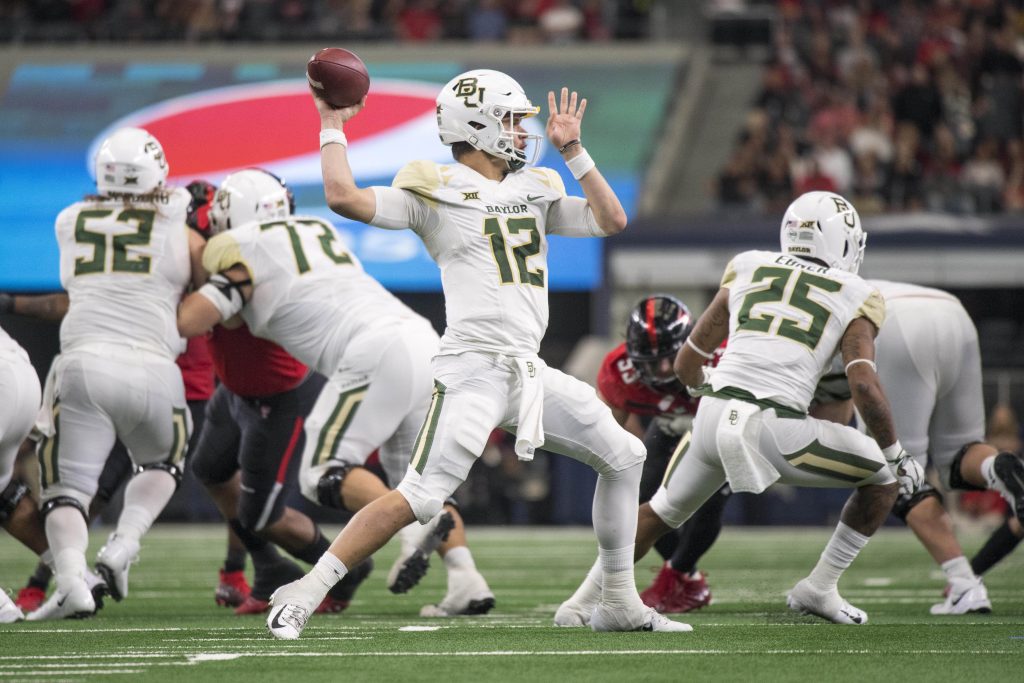 3c. TCU Horned Frogs (2018 7-6; 4-5)
TCU needs a quarterback. The room is full of talent, but who knows who will step forward. Inconsistent quarterback play has plagued TCU. Given that they, like ISU, only play one game before the middle of September, they are banking on the emergence of a leader at the quarterback position.
That said, Jalen Reagor (is Jalen the most popular name in the U.S.?) is a certified beast and the backfield is full of solid rushers. TCU's offense has struggled, but a return to Gary Patterson's preferred power run focus could be in the cards. If so, they will be effective and provide a compliment to the always solid defense.
TCU loses two NFL caliber pass rushers, but brings back solid to outstanding interior line defenders. They have to replace experience in the secondary, but the league's top pass defense rarely skips a beat. Even though there are personnel questions on defense, Patterson has earned the benefit of the doubt in fielding the league's top defense regardless of his limitations.
Moving On Up If…
Find a quarterback. Justin Rogers is the most talented if he is recovered from his knee injury. The Ohio State transfer has a chance. Max Duggan is a talented freshman. Pick one. If the choice is not a turnover machine, then TCU will have a chance to be the surprise of the league.
Or…run the ball like they did in 2017. TCU ran the ball and limited the options for Kenny Hill. They rode that to a Big 12 Championship birth. The same game plan sits before them in 2019 and they will move up if it becomes a reality.
Sliding Down If…
If there are multiple quarterbacks playing in rotation and this becomes an audition year for the stacked quarterback room, then TCU will maintain its current status in the lower tier of the Big 12. It is possible that each prospect is given opportunities upon the struggle of an initial starter. Or, that multiple options will be played regularly. In my opinion, this will cause issues that will be difficult to overcome.
However, if we see a rotation on the field, then it is a good bet that Patterson is gearing up for 2020 and that will not be good news for the rest of the league.
3d. Oklahoma State Cowboys (2018 7-6; 3-6)
Oklahoma State was awful on defense in 2018. First year defensive coordinator Jim Knowles struggled to put together solid play behind a very good pass rush. In 2019, the secondary will improve, but the pass rush may be non-existent. Finding consistency and improving against the run in the front seven will make or break OSU's position in the standings.
That said, it isn't like Coach Gundy minds playing 56-52 games. In fact, he may prefer it, after all, the few down years result in seven wins and when the offense is clicking there are 10 wins in the offing. The offense is stacked with Wallace and Hubbard and the offensive line will be one of the most solid in the conference. Quarterback play will be the key.
Spencer Sanders is who I expect to start. The redshirt freshman is a terrific prospect who is well suited to the Oklahoma State offense. The new offensive coordinator utilized his quarterback in the run game significantly and is as creative a mind as you will find. He will utilize the talent of Sanders and put him in a position to succeed.
Moving On Up If…
The defense must make strides for Oklahoma State to avoid a win one lose one season. I suspect they will. Much like Oklahoma, simple positional discipline will result in better results. That is an expected improvement in the second year of a new coordinator.
If the defense improves then I believe I have ranked OSU too low here. They have the greatest upside of any of the teams with a "3" designation based on talent and track record. If nothing else, Oklahoma State knows who they are and that is a 10 win team more often than not.
Sliding Down if…
If the defense struggles on the line and teams are able to control possessions with the running game, then Oklahoma State will be properly slotted here. Sanders or Brown will be able to distribute the ball, but if they make distributions to the opposing defense, then the recipe for losses will be complete.
3e. West Virginia Mountaineers (2018 8-4; 6-3)
Neal Brown is the best hire of the new coaches. His Troy teams were underrated and balanced. Given the unsettled nature of the program under Holgorsen, Brown's steady hand gives West Virginia a chance to maintain its position in the conference.
West Virginia brings back a strong running game and offensive line. They lose key pieces on the defensive line, but have talent to fill holes. The secondary should remain solid. The gaping losses are at receiver and quarterback.
Austin Kendall and Jack Elliot are highly regarded prospects and should fill in adequately for Will Grier. However, the loss of established outside play makers will make that more difficult. The unknown in the passing battery is why I have ranked West Virginia at the bottom of the potential conference "3's".
West Virginia faces the toughest non-conference schedule in the league. With a new coach, wins in those games can create excellent momentum, but losses will make ascending the standings an uphill climb.
Moving On Up If…
Kendall or Elliot hold the key to moving up the ranks. If they are good, not solid, but good, then West Virginia has enough talent to knock on the door of the top of the conference. However, they will have to be good early. I expect WVU to improve as the season progresses and an early upset will speed that improvement.
Dante Stills is capable of providing a pass rush threat to aid the defense. If he is able to establish himself as a sophomore, then West Virginia becomes a threat to be "3a".
Sliding Down If…
There is a new coach and new culture. It will take time, but less so because there are groceries in the cabinets. James Madison, NC State, and Missouri can all beat WVU. While the team will be tested, morale will suffer with two or three losses and WVU will be vulnerable in Big 12 play.
In addition, finding play makers on the outside will be key for the offense. If there is difficulty in doing so, then West Virginia will chalk 2019 up to a rebuilding effort.
8. Texas Tech Red Raiders (2018 5-7; 3-6)
Another new coach in the perennial candidate Matt Wells from Utah State. Wells had a great quarterback at Utah State and brings a good defensive reputation. However, his primary challenge is culture. His culture is not Kliff Kingsbury's culture.
The news from Lubbock invariably involves statements regarding changing the culture at the program. This has less to do with offense and more to do with defense. Changing culture in Lubbock is a difficult task. It will take time.
The offense will be fine and as expected at Tech. Bowman is a good quarterback and Henry is a play maker out of the back field. The offensive line is one of the best in the conference. Tech always finds receivers and this year will be no different.
The defense improved, but loses key pieces and remains vulnerable against the run. It will take some time to re-tool the defense and as a result, Tech will remain in the "can we become bowl eligible" category.
Moving On Up If…
Tech can move up the standings if it can find an answer against the run. The defense can create opportunities if it can plug the lanes. Historically, Wells has fielded solid run stopping units and if that transfers, then there will be opportunities against the middle division opponents.
Sliding Down if…
Culture change is hard. If there is a lag in implementation in desired style of play, which was seen at Iowa State in year of one of Matt Campbell, then there is a potential for regression here.
The team is talented enough to maintain its current level even with cultural difficulties, but if there is a school with a new coach that may regress while the program is being re-fitted, that school is Tech.
9. Kansas State Wildcats (2018 5-7; 3-6)
The loss of Isaiah Zuber to the transfer portal is devastating for the KSU prospects. There was already a serious question about skill position talent and the best skill position player is leaving.
Chris Klieman has proven to be a good coach. However, he moves to a roster with less talent relative to his opponents and will need time to bring in his type of players to re-stock the roster. It is assumed that he will maintain the Snyder culture, but it was apparent in the last two years that the Snyder culture was slipping a bit.
Kansas State will field a solid defense, as always, and that will provide an opportunity for upset wins and close losses. However, offensive production is likely to be limited and that will make a push forward under the new regime difficult. Expect a lot of 24-14 type games.
Moving On Up If…
If things remain the same and the product on the field looks like it always has, then Kansas State can repeat its 2018 performance and maybe finish a game they didn't to get bowl eligible. But, I believe the upside is bowl eligibility.
Kansas State must find a compliment to and for Skylar Thompson. Thompson is a feisty, play making quarterback. A reliable running back or receiver must emerge, and if so, Kansas State will be the tough opponent they have always been.
Sliding Down If…
There is not much further to go down. However, the loss of Zuber is an ominous sign. If it indicates a disconnect with the new staff, then there is big trouble brewing for Klieman in his first year. That is not necessarily unexpected or a long term negative. But, on a roster which creates a thin margin to begin with, rebuilding the developmental underpinnings can result in some significant struggles.
10. Kansas Jayhawks (2018 3-9; 1-8)
Les Miles is back in the Big 12 and has a big job ahead of him. Frankly, I believe this was a good hire and Miles will raise the level of Jayhawk football. Just not in the first year.
The good news is that Pooka Williams is as good a back as there is in the league and the offensive line is not a complete disaster. The secondary is talented and has potential to put a cap on the big plays that plague Kansas.
The bad news is that the defense loses Dineen and Wise up front and there is little to no depth on the roster. Also, quarterback is undetermined and the receivers will be all new.
I suspect Kansas will play conservative offense and surprising defense in the first year under Miles. Williams is a good enough player to put pressure on the rest of the league. I expect a two quarterback system with Miles Kendrick providing a dangerous read option combo. However, the benchmark here is competitiveness, not wins.
Moving On Up If…
The offense has a building block. Williams can change a game and if a quarterback plays above expectation, Kansas can threaten. The key will be if they can stop the run on the defensive side of the ball. I can see the stars aligning against Kansas State and Kansas pulling an upset.
Sliding Down If…
Well, no where to go really here.