Mar 14, 2019; Kansas City, MO, USA; Iowa State Cyclones guard Lindell Wigginton (5) reacts to a foul call during the second half against the Baylor Bears in the quarterfinals of the Big 12 conference tournament at Sprint Center. Mandatory Credit: Amy Kontras-USA TODAY Sports

KANSAS CITY — How many times can one group of competitors be described as "soft" before finally getting mad?
Actually, the word that was being tossed around in Iowa State's locker room following Thursday's 83-66 Big 12 quarterfinal beatdown of Baylor,, was "pissed."
"I'm from Chicago," said a determined Talen Horton-Tucker. "We're tough. Everyone was calling us soft."
"We were a little pissed off because we feel like Baylor punked us twice, really," explained Tyrese Haliburton, another freshman, this one with a grin the size of Texas on his face. "Especially at home. That's probably what hurts the most. We told ourselves, 'We aren't getting punked again. Not today.'"
"We were (mad). They came into our home and they punked us at home," said Lindell Wigginton, a sophomore who was in no joking mood. "They punk'd us on the boards. They punked us on defense. They punked us on offense. They punk'd us all around. We were mad coming into this game."
What thousands of Cyclone Fanatics witnessed on Thursday was a full-fledged ass whooping.
"We took it as a personal challenge," Michael Jacobson said. "We got tired of hearing it. You don't want to get three'd in this league. We were like, 'No way.'"
Lindell Wigginton on Iowa State's motivation today. pic.twitter.com/NBXwMzM0qL

— Chris Williams (@ChrisMWilliams) March 14, 2019
If you are an Iowa State fan who has recently been getting down on this team — and Steve Prohm's program for that matter — there was so much to love about this specific chapter of the 2018-19 Cyclone basketball season. 
The Cyclones competed for each other as players and the nine letters on the front of their jersey.
Whether it was media narratives, not wanting to get swept by Baylor, or even one of its own fans disrupting Senior Day festivities last week, Iowa State played one incredibly motivated basketball game in front of a turbulent sea of cardinal and gold that is commonly referred to as "Hilton South."
The Cyclones played angrily. 
They scrapped for loose balls. 
They challenged Baylor on the boards. 
They talked a little bit of trash. 
They backed it up.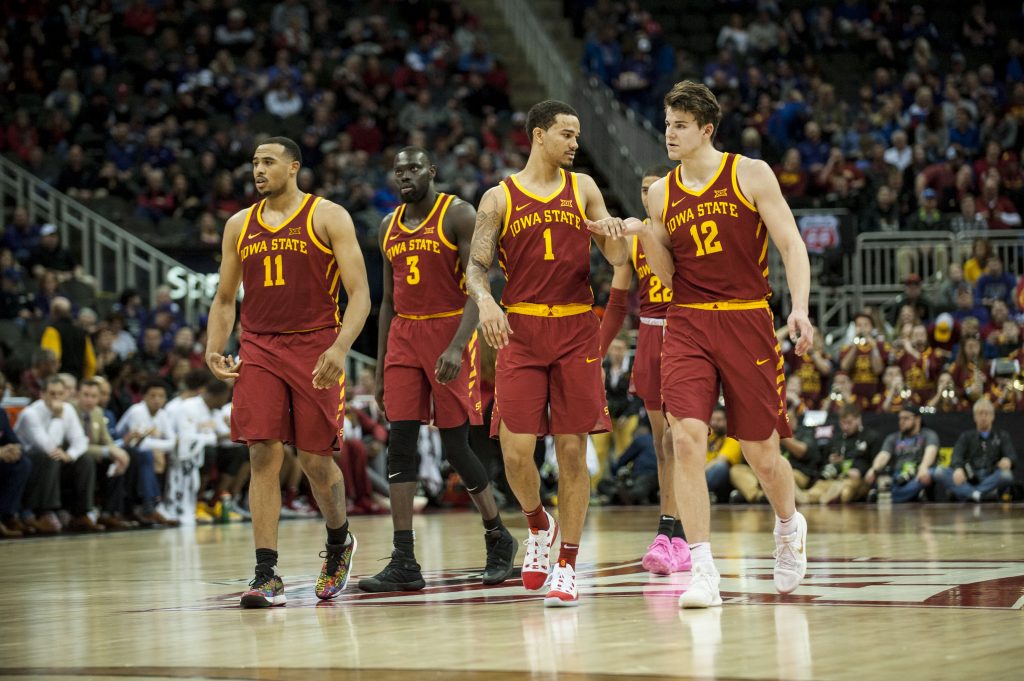 Prohm, who has challenged his team for weeks to get tougher, stood on the sideline with his arms crossed and chest puffed out on like a proud papa watching his team in the second half.
"I think you saw a real point of emphasis," Prohm said about toughness, rebounding and defense. "It was a huge focal point and they responded."
One significant moment from the thrashing stood out.
It was midway through the second half when Jacobson got knocked to the ground on his way up for a rebound. Within seconds, the entire Iowa State team on the floor ran to his aid. 
Remember when Nick Weiler-Babb went down at Texas a few weeks ago?
Not a single Cyclone attempted to help him up. 
Not that long ago, Iowa State was a fractured team. 
It's only one game, but that absolutely wasn't the case on Thursday.
Perhaps it is as simple as the fact that it's now March and the postseason is upon us.
"I just like the big stage," the team's leading scorer with 21 points, Horton-Tucker said. "I love it. I think I live for it. I feel like I was born for it."
Great. 
Whatever. 
We don't care. 
Just bottle whatever that was for 40 minutes vs. a good Baylor team up and bring it again tomorrow and the next day. And most importantly, next week.
That team can make a serious run in the NCAA Tournament.
"This is the Cyclone team that you saw in January and early February," Jacobson, who led the Cyclones with seven rebounds, said. "We can compete with anybody in the country. We just have to keep moving the ball like we did on offense and guard like we did on defense."
Iowa State's next challenge — according to the head coach — is simple. 
"Every time we this year we have tried to climb a mountaintop — a perfect example is the home game against TCU when the ratings came out — we got hit and we didn't respond," Prohm said.
The next chapter will commence at 6 p.m. on Friday night at the Sprint Center against either Kansas State or TCU.
Knowing Iowa State fans, I am sure to see you all there.