Nov 21, 2018; Lahaina, HI, USA; A close up of the shoes of Iowa State Cyclones guard Nick Weiler-Babb (1) worn in a game against the San Diego State Aztecs in the first half during the final round of the Maui Jim Maui Invitational at Lahaina Civic Center. Mandatory Credit: Brian Spurlock-USA TODAY Sports

TULSA, Okla. — Only one question will garner the same response from almost every member of the Iowa State men's basketball team.
"How many pairs of basketball shoes do you have?"
Each player you ask will tell you they have no clue how many pairs they own. There are too many to count.
"I honestly don't know," freshman center George Conditt said on Thursday at BOK Center in Tulsa. "I've got some in my locker. I've probably got like nine in my locker but at home, there's too much."
There are pairs that had to be taken out of the Hilton Coliseum locker room in preparation for this weekend's women's basketball NCAA Tournament and returned to the Sukup Basketball Facility. There are pairs that have never been worn – at all.
Did you know: In a game earlier this season, freshman Talen Horton-Tucker changed his shoes three times!
"My feet were hurting," Horton-Tucker said with a laugh. "It depends on the day just on how my feet feel. I have a lot of shoes. It's crazy."
Horton-Tucker didn't remember exactly which game it was, but he remembered the sequence of shoes. It started with a pair of standard Hyperdunks. Then he went to a pair of Kobe ADs before finally settling on his Chicago Hyperdunks.
Those Chicago Hyperdunks are Horton-Tucker's favorite pair. He wore them in all three games during the Big 12 Tournament last week.
They were released in 2017 in honor of Saieed Ivey, Horton-Tucker's former teammate at Simeon Academy in the Windy City. Ivey passed away in 2016, but not before coining a phrase prominently featured on the shoe — 'FINAO' or Failure Is Not An Option.
"I play in my Chicago Hyperdunks just because of my friend," Horton-Tucker said. "I play in those a lot. Pretty much every game. Not every game but every game in the tournament I've played in them. Just being able to have those shoes…"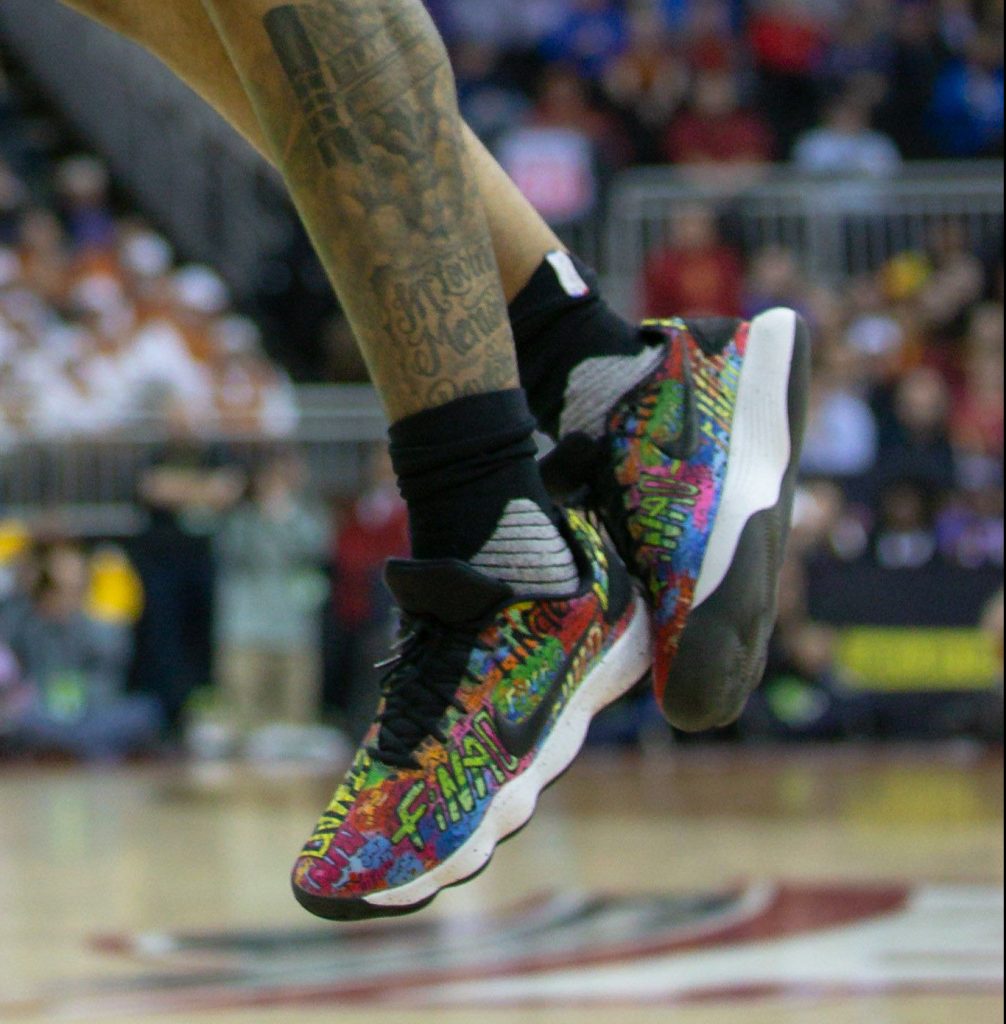 His words trailed off as if he remembering what those shoes represent. A fallen hoopster who was taken way too soon. It is a good representation of what basketball shoes can mean to individual players.
They are one of any good basketball player's most crucial on-court tools, while also being an outlet for their own personality and style. While picking which basketball shoes to wear may seem trivial, there are few more important decisions to be made on game day.
Lindell Wigginton doesn't make this choice lightly, and that's why he rarely changes shoes during the season.
"I don't switch shoes. If I play in a shoe, I stick to it because I feel comfortable," Wigginton said. "Shoot, (he'll wear them) until they get a rip or something like that. I've got a lot of shoes so if that shoe rips I can move onto the next."
He wore the 2018 NCAA Tournament edition of Paul George's signature PG 2 during last week's Big 12 Tournament. In Thursday's shootaround at the BOK Center, Wigginton was sporting a brand new pair of Kyrie Vs.
He hasn't decided which pair he will roll with on Friday when the Cyclones take the floor against Ohio State in an approximately 8:50 p.m. tip in the first round of the NCAA Tournament.
"I'm not really a big Kyrie guy but I like how these feel. These feel good," Wigginton said. "We'll see."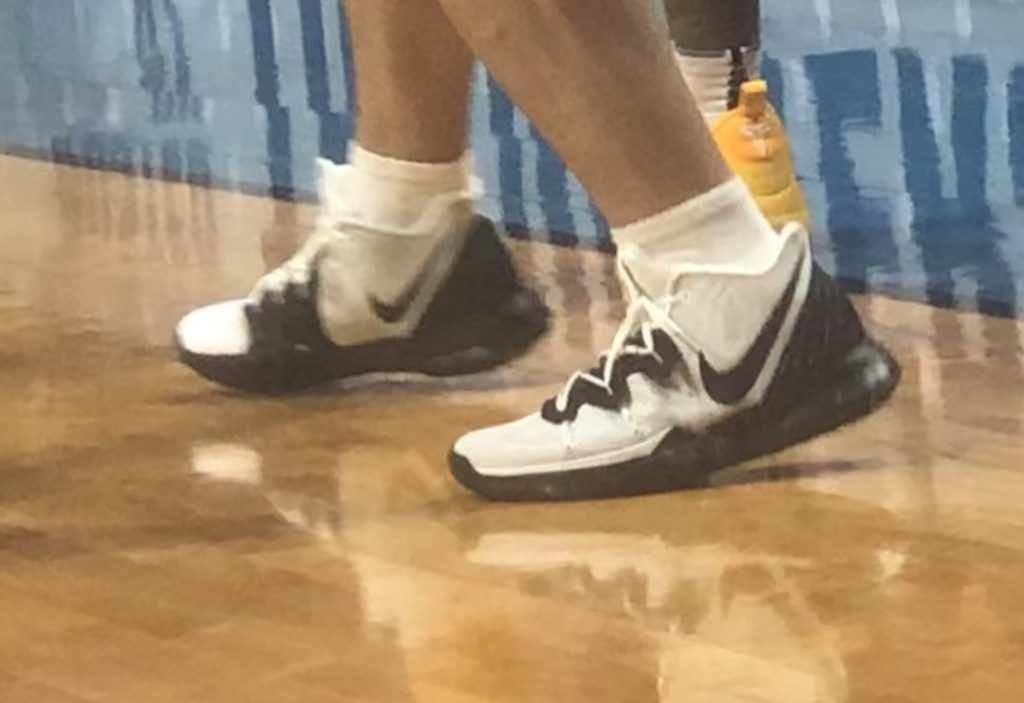 Nobody on the team changes shoes more religiously than Tyrese Haliburton. Last week, he told Cyclone Fanatic's Chris Williams that he refuses to wear the same pair in back-to-back games, which knocks the pair of Jordan 11 Concords he wore in the Big 12 title game out of contention for against the Buckeyes.
The freshman from Oshkosh estimated he has worn somewhere in the range of 10 pairs of shoes during the season, including a pair of Kobes that feature the I-State logo on the right shoe and the No. 22 on the left, courtesy of a friend from back home.
"I don't like wearing the same shoes as everybody else," Haliburton said. "I try to be a little different."
That desire to be different could have played into Haliburton's decision to wear those aforementioned Concords against Kansas in the Sprint Center. Most guys would choose a pair that feels comfortable before one of the biggest basketball games of their lives.
"I probably wore the Jordans for style points," Haliburton said as he flashed his trademark smile. "I was still comfortable enough."
For Friday, he'll choose between a pair of gold and cardinal Kyrie Vs, the pink Hyperdunks he wore against Baylor last Thursday along with the mismatched Kobe 8s he wore in the semifinal against Kansas State.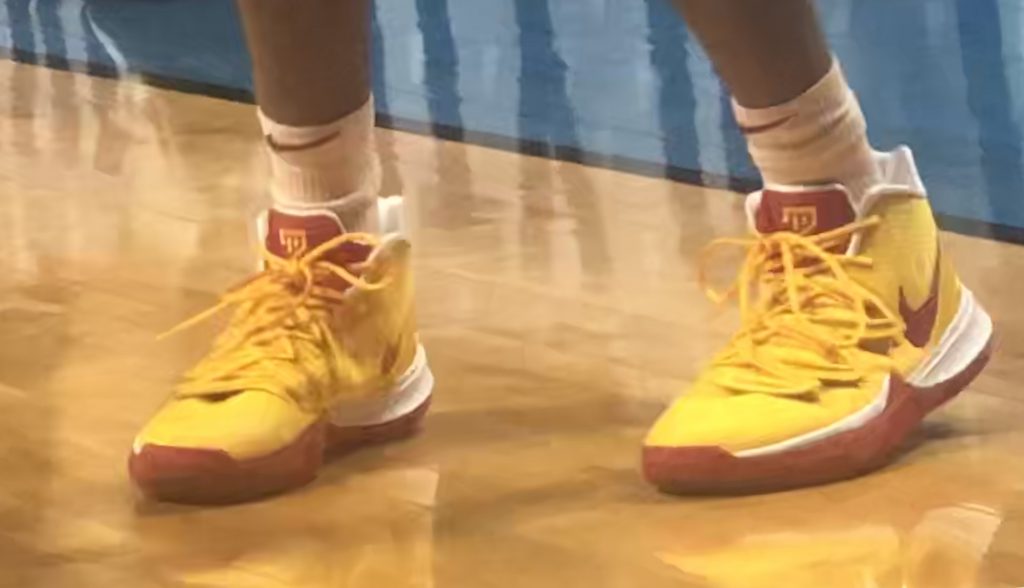 Nick Weiler-Babb's favorite pair from this season is the Kyrie IVs he sported during the Maui Invitational in November. Those are the shoes (pictured above) that jumped out on television considering the right one is bright yellow and the left is purple.
Conditt had a pair he knows would have jumped out to everyone who saw him, too. They were a variation of Kevin Durant's KD 6 referred to as the 'What the KD.' When the Cyclones' freshman big man bought the shoes, he was wearing a size 11.
Three months and a few inches later, he had grown to a size 13.
"I was so upset when I grew out of them," Conditt said. "I was still trying to wear those 11s. I was like, 'No I'm not trying to give these up.' My feet started hurting and I knew I had to give them up."
Apparently, even when you can't remember how many pairs you own, you never forget the one that got away.