The NFL's annual draft combine will occur this weekend and for the first time in a long time, Iowa State will have two former Cyclones participating who are worthy of being first-round picks. 
Below are schedules, notes, quotes, projections and links regarding David Montgomery and Hakeem Butler – two Cyclones who will be attending the combine. 
On-Field Combine Schedule
Friday, 8 a.m. (NFL Network): OL and RB (Montgomery)
Saturday, 9 a.m. (NFL Network): QB, WR and TE (Butler)
Sunday, 8 a.m. (NFL Network): DL, LB
Monday, 8 a.m. (NFL Network): DB
David Montgomery Draft Primer
The general consensus – as of now – is that David Montgomery is a second or third round pick. However Montgomery is close enough to the top of the running back close to make a considerable jump this weekend, which could put him in the first round. 
 "He just keeps the chains moving," ESPN draft analyst Mel Kiper Jr. recently told our Rob Gray. "He's the type who breaks tackles. He gets the tough yards. He's right now, my fifth highest-rated running back — same grade as the third highest-rated running back, which puts him in the second, third round category." 
Montgomery's 40-yard dash time will be closely watched by NFL scouts. 
"How does he run in the combine? I certainly think that will be big, Iowa State head coach Matt Campbell said. "That's a question I have heard. That's a thing at that spot. I think anything under a 4.6 and he will do himself well."
More from Campbell…
"I think that what all people love about David and what we have really heard is that he does all things well," Campbell said. "He runs it well. He catches it out of the backfield very well. He blocks well and he is an every down back. That's a big deal at that level. If he runs well, he can even put himself into being the first back taken."
#NFLCombine key measurements thread…

84. #IowaState RB David Montgomery
Height: 5-10 1/8
Weight: 222
Hand: 9 2/8
Arm: 31 3/8
Wingspan: 77 3/8

— Charles Robinson (@CharlesRobinson) February 27, 2019
Montgomery's top competition
Josh Jacobs, Alabama
Damien Harris, Alabama
Devin Singletary, FAU
Benny Snell, Kentucky
Elijah Holyfield, Georgia 
David Montgomery Links
*** Montgomery's NFL.com combine profile to track his progress. 
*** NJ.com reports that Montgomery has recently met with the Philadelphia Eagles. 
*** Nine players in the NFL Combine with something to prove … David Montgomery is among them according to USA Today. 
*** Five names Chiefs fans should know at the NFL Combine, per the Kansas City Star.
Hakeem Butler Draft Primer
While Montgomery is essentially a lock to go in the first three rounds, Hakeem Butler is more of a wildcard. He could go anywhere from in the first round to the third day. 
"The 40 time is what people are waiting on," Kiper said. "There's a wide range of opinions. Some (observers) think he could be a late first (round) possibility. I thought about putting him there, but I'm gonna wait until after the Combine to see how he runs because he's really one of the key guys, but I think the 40 time's gonna be important to see if he's a first or he drops maybe into the third round. So there's a wide disparity there, first to third round, but there's a mixed opinion."
Megatron gives NFL prospect Hakeem Butler some tips at the line

(via @NFLTotalAccess) pic.twitter.com/CBgcwF7Xv1

— Bleacher Report (@BleacherReport) February 26, 2019
Butler's top competition
D.K. Metcalf, Ole Miss
Marquise Brown, Oklahoma
A.J. Brown, Ole Miss
Kelvin Harmon, NC State
K'Neal Harry, Arizona State
JJ Arcega-Whiteside, Stanford
Deebo Samuel, South Carolina
Riley Ridley, Georgia
Parris Campbell, Ohio State
Emanuel Hall, Missouri
Anthony Johnson, Buffalo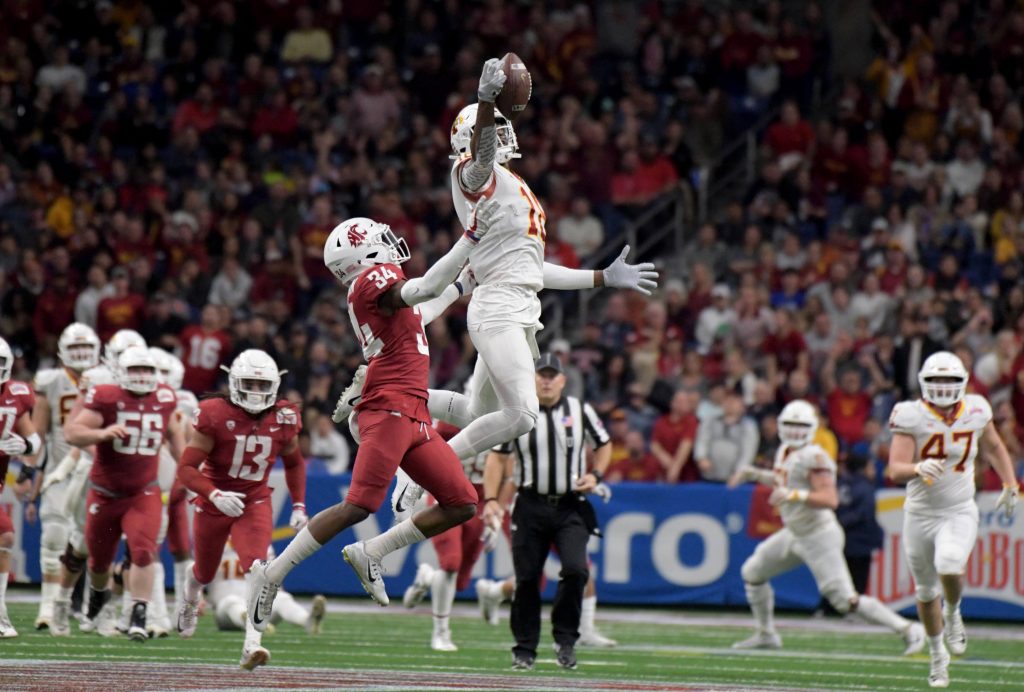 Hakeem Butler Links
*** Butler's NFL.com combine profile to track his progress. 
*** Bruce Feldman from The Athletic lists Butler on his list of the 12 "biggest freaks" to watch at the NFL Combine.
*** On Butler potentially going back home to Baltimore, via PressBoxOnline.com. 
*** From the Des Moines Register, how Hakeem Butler could work his way into the first round of the NFL Draft. 
Some Iowa State NFL Draft history …
— A Cyclone hasn't been selected in the first round since George Amundson at No. 14 by the Houston Oilers in 1973. 
— The last Cyclone to be drafted at all was Jeremiah George in the fifth round of the 2014 draft. 
— The last time that two Cyclones were selected in the NFL Draft was in 2013, when A.J. Klein went in the fifth round and Carter Bykowski went in the seventh.
— Troy Davis was the last Iowa State running back selected in the NFL Draft (1997). You have to go all the way back to 1995 to find the last Cyclone receiver to be taken, that being Tracy Henderson.
Matt Campbell's overview of 2019 NFL Draft and Iowa State
"What I hope is that at the end of it, here are two young guys who came in and had the ability to maximize their opportunity and develop. Hakeem is a great example. What he did as a redshirt freshman to what he did as a redshirt sophomore to what he did as a redshirt junior, you saw him grow leaps and bounds. At the end of his junior season he was one of the best players in the country at his position. I hope that says a lot about where our program is at. David, it's the same thing. You saw great growth and development in his game both mentally and physically. He became one of the best running backs in college football. That's your goal – to develop players in this program and let them grow and become the best guys at their position when they leave the program and we can be the best program we can be."