Jan 5, 2019; Ames, IA, USA; Iowa State Cyclones guard Tyrese Haliburton (22) reacts during the second half against the Kansas Jayhawks at Hilton Coliseum. Mandatory Credit: Jeffrey Becker-USA TODAY Sports

A few weeks ago, I started collecting lineup data from play-by-play logs for a few major reasons, but mostly because it is a concept that has always interested me I. wanted to sort out Iowa State's four-guard lineup and rotation to match. That rotation was largely a question because of the depth of talent on this roster and the Lindell Wigginton situation since his opening game injury and place as a non-starter in the lineup.
In doing this, I chose to stick with competition against high-major opponents only (Big 12 games plus Mississippi) and games where all of the current cast was available to play. One major issue with this project is that with the vast number of lineup combinations it can take a good number of games to accumulate a meaningful sample size to analyze. After nine games, I'd still prefer a larger sample but it's to the point where there is some useful information.
First, let's look at the full five man lineup data:

This is sorted by points per possession (ppp) margin (ppp – opp ppp) but shaded based off of which lineup has played the greatest percentage of the time in the past nine games. Keep in mind that an average Iowa State game is just under 68 possessions so four of these six lineups haven't even played what would be equal to a full game and a one game sample size is never all that reliable.
The starters have played roughly the equivalent of three games with 207 possessions and while their offensive output has dwindled, they have had the most defensive success which has propelled them to the third most efficient lineup.
But, in the top two slots you'll notice the same two lineups of four guards, which leads me to:

Because of how the mixing and matching of different combinations shakes out, the top of his list when looking at just the guards looks a bit different. The most efficient four guard lineup only has 38 possessions but what is interesting to me is that they played together for seven possessions against West Virginia and that is the most they have been on the court together in any one game.
But the promising aspect of the second and third best guard lineup options is that they have a dramatic scoring advantage over the span of a decent sample size. Based off of normal rotations, these are typically the guards on the court for the first 12 or so minutes of every game.
Within this, you may see a bit more of a trend when you start matching up pairs of guards on the court. I won't share all of them just yet because I'm not yet sure on the direct connection two guys playing together can have on the overall team performance, but from the eight possible combinations of these four guards – when split into pairs – Wigginton and Talen Horton-Tucker have the lowest net margin when on the court together at +0.045 ppp. The team's offense is 6th in those eight combos as is the defense.
It stands to reason a bit, is for much of the past nine games they have been similar types of guys, high usage players with below average shooting numbers that work to create off the dribble and at times take less than optimal shots. Something to watch as the season rolls along is how effective the Cyclones are with these two on the court together.
Lastly, this is still getting pieced together, but I found it worth mentioning which lineups Marial Shayok and Wigginton have scored most efficiently. For Shayok, he has notched a raw scoring of 0.593 points per possession when he's on the court with Nick Weiler-Babb, Tyrese Haliburton, Michael Jacobson, and Wigginton; a lineup that has been used in a bout 10 percent of possessions in the last nine games. Wigginton has scored at his best rate with Shayok, Haliburton, Horton-Tucker, and Jacobson on the court by netting 0.603 points per possession though the lineup has only been used in five percent of possessions.
Twister Sisters
You may have noticed that the women's basketball team has been having a heck of a season and absolutely rocking teams at home with four wins in league play by more than 26 points. Because of this, their league play efficiency margin is a staggering number that is closer to first place Baylor than Texas, though the Longhorns are second in the conference standings.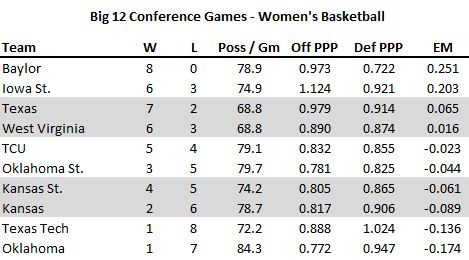 They dropped a close one at home to Texas and have a tough road loss at West Virginia and a loss at Baylor but if they stick anywhere near this rate they're going to continue their amazing season.