Dec 28, 2018; San Antonio, TX, United States; Iowa State Cyclones quarterback Brock Purdy (15) scrambles up the field for yardage during the second half against the Washington State Cougars in the 2018 Alamo Bowl at Alamodome. Mandatory Credit: Soobum Im-USA TODAY Sports

AMES — Iowa State freshman phenom quarterback Brock Purdy's not entirely sure where the photo is, but it's the moment, not the electronic image that he truly treasures.
It was snapped before a 2018 spring training game, when his idol, Tim Tebow, strolled onto the field as a non-roster invitee with the New York Mets.
Purdy sidled in alongside him and smiled. Click. And that was that.
"I don't know where the picture's at," Purdy, ESPN's Big 12 True Freshman of the Year, said during the first media availability of his young career. "It was on an old phone."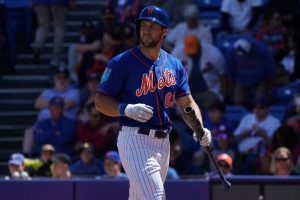 While that image proved fleeting (and perhaps lost to a phone upgrade), Tebow's impact on Purdy remains profound.
When asked why the two-time national champion at Florida and 2007 Heisman Trophy winner was his ideal role model, Purdy elaborated.
 "Tebow, man, just his faith first of all," said Purdy, who went 7-2 as a starter his rookie season while compiling the best-ever quarterback rating (169.91) for a true freshman. "I take my life seriously with my faith — that's first and foremost with everything. The way he did it was awesome and the way he shared the word with everybody, I want to do that, too, so watching his game and his passion for his team and the university that he played for, that's what I want to do here at Iowa State."
He's off to a rousing start. The Gilbert, Ariz., native said he wanted to improve all aspects of his game in the offseason — presumably, pump fake included, but it's growth as a leader he's focused upon the most.
"All the guys trust in me and I trust in them," Purdy said. "We've got a good relationship with everybody in the locker room, so we're excited to take the next step."
One aspect of Tebow's game Purdy's been particularly good at matching is his toughness.
"He was my idol with everything," Purdy said. "His toughness, man, what he did was awesome and I wanted to emulate that in my game."
Growing up, Purdy's eyes were glued to every game Tebow played in college and in the pros. He studied his demeanor and shared his deeply-felt faith.
"All four years that we was there, really I watched him," Purdy said. "and when he went to the NFL I watched him. Always just trying to see what he did on the sideline and on the field to get his team going and to find that drive for everybody."
Once Purdy arrived in Ames, he quickly bonded with another true freshman, linebacker Mike Rose. Coaches made them roommates and their friendship flowered from there.
CFTV: A little bit of Mike Rose on Brock Purdy: pic.twitter.com/DRXhKrRcfO

— CycloneFanatic.com (@cyclonefanatic) January 18, 2019
"His relationship with Christ just keeps him really calm, cool and collected," said Rose, who earned FWAA First Team True Freshman All-American status in 2018. "He just believes it's all in his hands, so he doesn't really worry much."
Not about winning or losing. Not about lost photographs that document a bucket list moment. What matters is it happened.
Speaking of which — Purdy was asked, jokingly, if his emulation of Tebow would extend to eventually marrying a former Miss Universe (Tebow is engaged to Demi-Leigh Nel-Peters, who won the title in 2017).
He smiled as the cameras and voice recorders rolled.
"If it happens, it happens," Purdy said.
But seriously, he's looking forward to helping make other momentous things happen in Ames first.
One, win Big 12 championships.
Two, compete at the level that his childhood "idol" did.
"We just believe in one another and know that we can every single game," Purdy said. "That's our mindset going into everything that we do."