Sep 15, 2018; Ames, IA, USA; Oklahoma Sooners quarterback Kyler Murray (1) is tackled by Iowa State Cyclones defensive back Brian Peavy (10) Iowa State Cyclones at Jack Trice Stadium. Mandatory Credit: Reese Strickland-USA TODAY Sports

AMES — Lockdown cornernback. An all-Big 12 performer. A captain, team leader and mentor.
All of those labels describe Brian Peavy, the standout Iowa State football player.
But how would he describe himself at the deepest level? Beyond passes defended, interceptions and elite Big 12 matchups?
"Who is Brian Peavy?" the Cyclones' likely future pro laughed, reflecting. "Aw, man. I guess when you take the labels off, of which, we created, I would say I'm love. I'm peace. That's me."
Five-foot-nine, 190 pounds. A solid NFL prospect … but there go those labels again.
Peavy's gained a deeper understanding of what it means to be alive — in a global community, and not just on a one-on-one island — than many have in his position.
Will he be drafted in 2019? Will he have a long NFL career? Who knows?
But one thing is certain: Peavy's molded himself into the heart and soul of the Cyclones' stout defense.
"It don't matter who it is, Peavy feels like he can always share some of his wisdom," junior defensive end JaQuan Bailey said. "He'll just tell you something."
Best be listening.
Peavy's shined for ISU under two coaching staffs and three secondary coaches.
Troy Douglas recruited him to Ames from Houston. Then Maurice Linguist — now at Texas A&M — came in. D.K. McDonald's his position coach now. 
This trio of mentors helped Peavy quickly develop from promising, to solid, to elite at corner. 
"They all have their different ways of making their players better," Peavy said. "I wouldn't say the transition was too rough, just because, I guess I'm coachable, you can put it like that. So if coach put me in this position to make the team better, I'm all for it."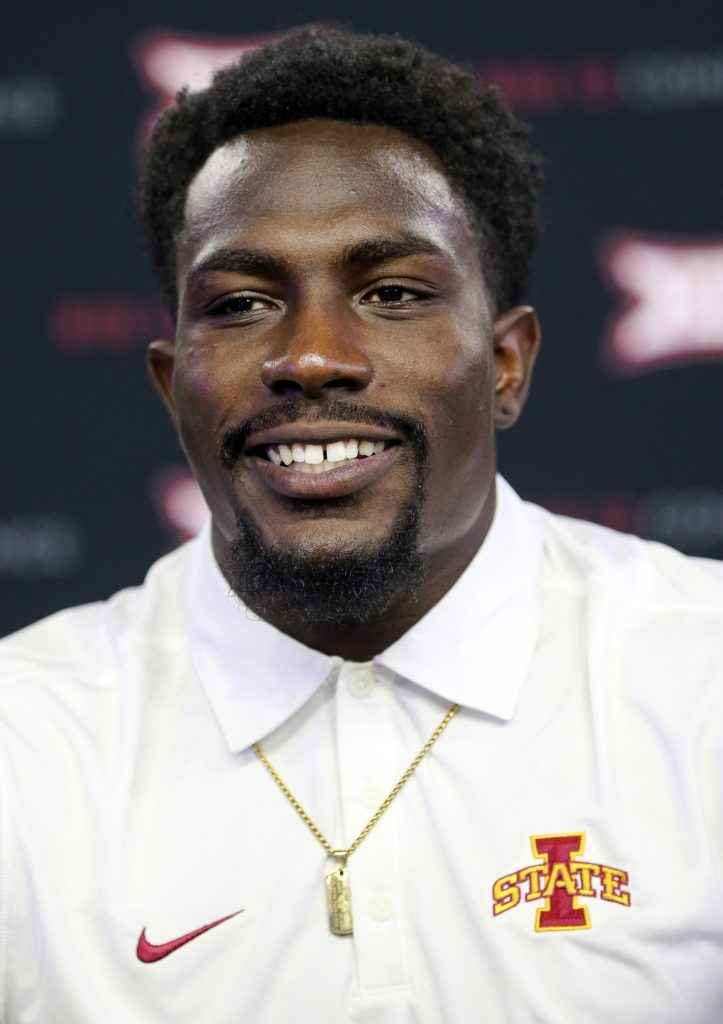 That says a lot, but not close to all, about Peavy, as a recent feature segment Fox Sports produced in advance of ISU's 30-14 win over then-No. 6 West Virginia showed.
 Peavy, along with linebacker Marcel Spears, Jr., joined the Cyclones' "Soles4Souls" mission to Costa Rica in Central America last June. Several ISU student-athletes distributed new and used shoes to folks in need in one of the region's most stable countries and gleaned valuable perspective along the way.
"The look in their eyes, it was honest, it was pure," said Peavy, whose 3-3 team is in the midst of a bye week before Texas Tech comes to town Oct. 27. "We use technology as far as social media with them as far as letting them see their their face and goofy stuff. One of our leaders brought up to us, that some of them actually don't have mirrors, so they really don't even get to see themselves. Just the reaction of them seeing themselves on my phone, or when we took pictures and we showed them — their reactions of just seeing themselves, was truly amazing."
Those kids kicked. And ran. And played in those shoes.
"When they play, they have fun," Peavy said. "They're still competing, but at the end of the day it's fun, enjoying what they do. Not really worried about outside circumstances. All that matters is the ball and where they're trying to get it to go."
Just like the football Brian Peavy. The "real" Brian Peavy, too. There's a joy that transcends restrictive coverage, urgent matchups, tight competition — as 14 sacks the past two weeks, due in no small part to great downfield coverage attests.
"We draw it up and if everyone executes it the way it's supposed to happen, like you said, I look back and see (West Virginia quarterback Will) Grier running for his life," Peavy said. "So, I'm just thankful for my teammates being coachable as well and just doing their jobs."
Peavy sees his job as one that extends far beyond sports.
He's a fledgling fashion designer as well as a humanitarian. He's "love and peace," with nuance and perspective — as his trip to Costa Rica demonstrated.
That community was flush with both, even as the needs were many. 
"It definitely gives you a different perspective of what you're here for," Peavy said. "And what I feel is irreplaceable — it's bigger than an interception, game-winning (play), championship. I just think it's bigger than that when you can see somebody else smile, you know? That's big to me."
Smile. Boost. Help out whenever possible, living by his coach Matt Campbell's mantra:
"Staying present," Peavy said. "Don't let the past ruin the future."
So, for now and the forseeable future, Brian Peavy stars as a lockdown corner and a part-time purveyor of treasured shoes.
He's an all-American talent willing to help on a worldwide level.
He's a mentor, leader and captain aiming to take the Cyclones to new heights … but there are those labels again.
"Like I said, we'll stay present," Peavy said. "We won't look too far ahead. We're right where we need to be."