Dec 7, 2017; Ames, IA, USA; Iowa State Cyclones forward Cameron Lard (2) dunks against the Iowa Hawkeyes at James H. Hilton Coliseum. The Cyclones beat the Hawkeyes 84 to 78. Mandatory Credit: Reese Strickland-USA TODAY Sports
Anybody who knows me, follows me on Twitter or has read one of my articles in the five-plus years I've worked for Cyclone Fanatic knows I love post players. It was hard not to love the post growing up 6'7″ in southwest Iowa where the tallest guy on most other teams you play might be 6'4″.
Quick aside: The week before we played in the state tournament my senior year, my high school coach adjusted our offense to where I would spend all my time on one block. Seriously, I went to one spot on one side of the court every single time we had the ball and posted up. (We won and I was the leading scorer so I'd say it worked.)
I was destined for a life in the paint and there was not much avoiding it. I love post players so much I created #PostUpPorn for any time I saw a someone exhibiting tremendous skill in the post.
I have long thought I love post play more than anybody I know, probably more than most anybody in the Iowa State media sphere. It has become clear to me my love for post play is amateur compared to the loved displayed by our Cyclone Fanatic Facebook commenters.
But, not just any post play. Post play by guys who are 6-foot-9-or-taller.
They love tall basketball players so much it has nearly become an obsession. I went back more than two years through hundreds of posts on the Cyclone Fanatic Facebook page and… Well… Here's what I found (along with some commentary of my own).

The average size of an NBA center is 6-foot-11, 255-pounds based on the brief Google research I did. Joel Embiid, my favorite basketball player in the universe, is listed at 7-feet, 250-pounds.
Simply, centers who range from 6-foot-9 to 7-feet and weight 290-pounds are not common. Especially ones who can play around the rim at a high level.
Side note: Purdue's Isaac Haas was listed as 7-foot-2, 290-pounds this past season. I'm definitely not going to say anything else about Isaac and I'm definitely not going to tell you to click this pretty disturbing link posted earlier this week.

This was one of the two comments on a story we posted earlier in the day on Thursday which sparked my interest in Fanatics' love for play in the post. Why does Iowa State recruit so many guards?
It could be because college basketball (and really the sport of basketball in general until sweet prince Joel and Ben Simmons change everything) is dominated by high-quality, skilled guards. Or the staff is so focused on guards because they want to space the court and play at an up-tempo pace while attacking open driving lanes created by shooters and good perimeter players.
Another possible reason is Iowa State will bring in two true freshmen who are taller than 6-foot-7, including one who is within the coveted 6-foot-9-or-taller range, in the 2018 recruiting class to join the two frontcourt players who made huge impacts on Iowa State's 2017-18 team. There is also a chance the staff might still be evaluating its options when it comes to potential frontcourt targets for the still young 2019 recruiting cycle.
I think any of those reasons would be acceptable answers to the commenter's question.
I'm telling you the Cyclones ne– Wait.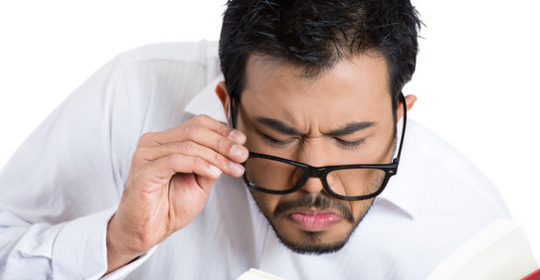 While most basketball teams are getting smaller with more guards, Iowa State should counter with more post players.
It worked for another team in our state this past season.
Sure, three is a pretty solid starting point, but I'm starting to think some of our commenters won't be happy until the Cyclones are putting a team of five players 6-foot-9-or-taller on the court. Honestly, I would probably feel the same way if I hadn't completely turned heel on the ultimate basketball snowflake, Kevin Durant.
Why doesn't Iowa State just find another Kevin Durant? Players of his caliber grow on trees, right?



Clearly, Steve Prohm has not read New York Times Bestseller Basketball (And Other Things) by Shea Serrano, a book in which an entire chapter is dedicated to answering the question of whether or not a fully-grown grizzly bear would have performed better than Karl Malone during his 1997 MVP season with the Utah Jazz.
According to Wikipedia, grizzly bears are almost 10-feet tall (which happens to be the same height as a regulation basketball hoop and considerably taller than the commenter's 6-foot-10 suggestion) when they stand on their hind-legs. I know without any doubt grizzly bears are animals.
Why haven't we been able to report Iowa State targeting a grizzly bear for the 2019 recruiting cycle? I guess I have the first question I'll ask Coach Prohm at our next media availability.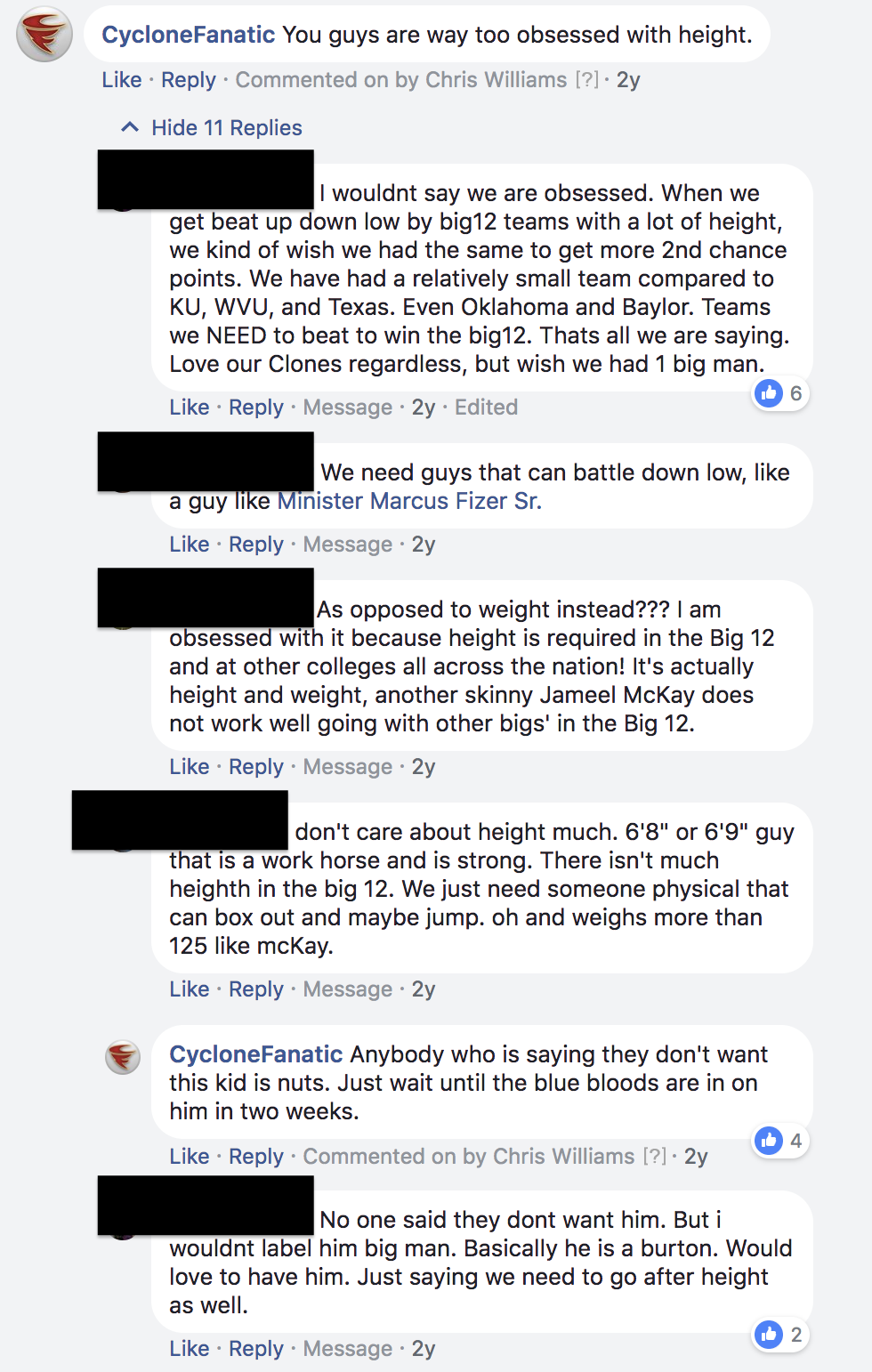 This is actually my favorite thing I've ever found on our Facebook page and it just so happens to be the last time our commenters were called out for their obsession with abnormally tall human beings.
I mean, I know CW only needed eight words to get his point across back in 2016, but this is 2018 and I needed roughly 1,000 more.
All jokes aside, we love our Facebook commenters and everyone who consumes our content at Cyclone Fanatic.
Now, excuse me as I need to get back in the garden to finish planting my Kevin Durant tree before garbage weather hits us in the face again this weekend.