Jan 13, 2018; Ames, IA, USA; ISU Cyclone guard Nick Weiler-Babb (1)and guard Lindell Wigginton (5) celebrate a late first-half point surge put them ahead of the Baylor University Bears at James H. Hilton Coliseum. Mandatory Credit: Rachel Mummey-USA TODAY Sports
AMES — Steve Prohm told Cameron Lard he was not rebounding enough.
Iowa State's 6-foot-9 freshman center was headed to the bench after picking up his third foul with 17:30 left Saturday afternoon at Hilton Coliseum. The Cyclones held a 37-34 advantage over Baylor.
When Lard returned with 11:11 left in the game, his rebounding numbers did not drastically go up. He finished the second half having grabbed only three of his nine total rebounds, but he was able to get his most important one with 1:52 on the clock.
Lard's tip-out off of a Solomon Young miss was corralled by Nick Weiler-Babb near the top of the key, allowing Iowa State's offense to reset with a 66-62 lead. Seconds later, Weiler-Babb found Lindell Wigginton wide open in the corner.
Swish. Seven-point Cyclone lead. Nail, meet coffin.
Iowa State 75, Baylor 65.
"That was a big possession for us," Weiler-Babb, who finished with 15 points, 10 assists and seven rebounds, said. "Any extra possession in the last media is a big possession for us. He tipped it out and we reset the offense and we got a great shot and Lindell knocked it down. Took us to the end."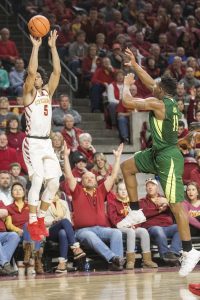 The 3-pointer, Wigginton's fifth of the game, gave the freshman from Nova Scotia 28 points on an afternoon when he looked like a first-team All-Big 12 player. He became the fourth Cyclone freshman to score 30 points in a game several possessions later when he broke free for an exclamation point dunk with 20 seconds left.
Coupled with his defense on Bears leading-scorer Manu Lecomte, Wigginton further solidified the idea of Iowa State basketball's bright future. It feels like there is no ceiling for the program as long as the 6-foot-2, 188-pound guard is wearing Cardinal and Gold.
Maybe that is hyperbole for a team currently sitting at 1-4 in league play, but he is seriously that good.
"I thought Wigginton was a monster," Baylor head coach Scott Drew said. "We recruited him and we knew he was going to be really good… He's an elite scorer. He's got great strength. He's really good off the bounce. Obviously can shoot it. But when you come from Oak Hill and you're one of their best players for the last couple years, he's seen everybody, played against everybody."
"He's just really good."
Lard, who gave us perhaps the best highlight of the day when he intercepted a lob intended for Wigginton and dunked it during the first half, is awfully good in his own right.
Baylor is known for its length and wealth of solid frontcourt options, but it was Iowa State's freshman big-man who owned the paint with 15 points and five blocks to go along with his nine rebounds. He is the first Cyclone with five blocks in a game since Jameel McKay against UAB (I know, barf) on March 19, 2015.
Add in Young, who compiled his second career double-double with 11 points and 12 rebounds, and you have a young duo capable of controlling the paint in the Big 12.
"Down the stretch, the last four minutes, the one rebound all I really remember is him coming really out of nowhere and just getting it. That's what you have to do the last four minutes of the game," Prohm said about Lard. "Five blocks, he gets a lot of the LeBron James chase from behind blocks, he gets that. He competes running on both ends of the floor. We just have to continue working on his pace when he has the ball around the basket. So he can really become more efficient around the basket. We really tried to make a point of throwing it inside against their zone. He was terrific down the stretch."
Prohm said it does not feel like there is a monkey off the team's back with their first conference win in the rearview mirror. It is hard to feel too much relief when you know a game against No. 16 TCU looms in the middle of the coming week.
In the first four games of a Big 12 slate that can only be described as a gauntlet, Iowa State's Baby Cyclones showed they can compete. Saturday at Hilton Coliseum, they showed they are capable of much more than that.
"We made great steps today," Prohm said. "I thought there was a different vibe everywhere in this arena today. If you were here for the first game to this game, the last couple games, there was a different passion, different emotion for whatever reason."
"We're just trying to get better. This was big."