We don't want to get ahead of ourselves. There is a reason why Iowa State (6-2, 4-1) is an underdog on the road tomorrow. Morgantown (5-3, 3-2) is a brutal place to play and Dana Holgerson's Mountaineers boast one of the top offenses in all of college football.
However with four games left, I do believe this is a valid question for fans to be thinking about: What scenarios need to play out for Iowa State to land a spot in the Big 12 Championship Game?
My good friend Brett McIntyre actually created a spreadsheet to figure this out. I'll wait until after tomorrow to dig too deep when it comes to specifics but here's what I feel like fans should keep in mind during tomorrow's Big 12 action.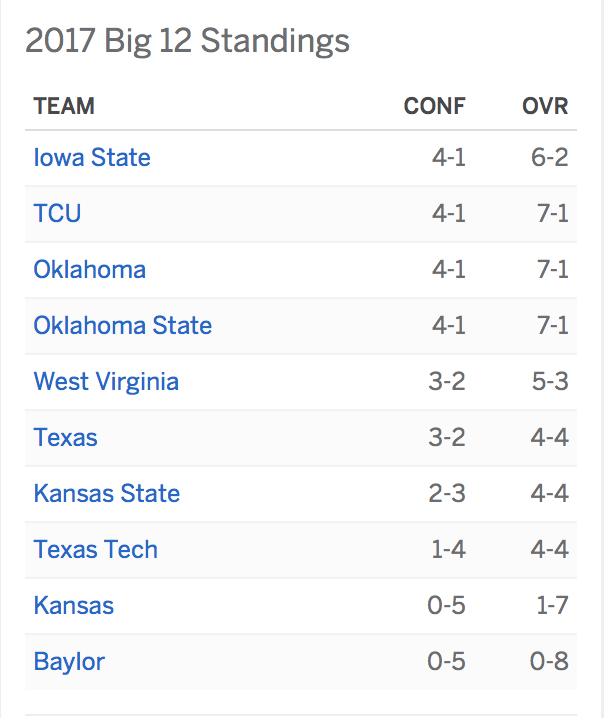 — If Iowa State goes 3-1 the rest of the way with one of those wins coming over Oklahoma State, the Cyclones will have essentially clinched a spot in the game assuming that Oklahoma or Texas does not win out.
— Regarding tomorrow's bout with West Virginia: Iowa State can lose this game and win the final three games and still make the title game. Obviously Iowa State wants to win tomorrow but as far as getting to Dallas goes, the game isn't really that important. Next week's home contest vs. Oklahoma State is the one to circle due to tiebreakers and what not.
— Who should Iowa State fans be rooting for in the Big 12 tomorrow? TCU over Texas and Oklahoma State over Oklahoma. There is still so much football to be played that neither game is going to affect Iowa State's fate too much right now.
— Why is beating Oklahoma State so important? Iowa State already owns tiebreakers over Oklahoma and TCU. There is currently a four-way tie at the top of the league with Iowa State, those two teams and the Cowboys. If Iowa State owns tiebreakers on every other team in contention (this is assuming that Texas doesn't win out), then it's impossible for the Cyclones to be kept out.
— Let's say that Iowa State goes 3-1 and loses to Oklahoma State next week … the Cyclones would still have a very realistic shot to play in Dallas, but other tiebreakers would open up that could potentially keep them out.
I hope this helps. In closing, here is a screenshot of Big 12 tiebreaker rules straight from the conference's website.