FRISCO, Texas — Craig Brackins is one of the best players to ever play basketball at Iowa State. Last week, when we unveiled our Iowa State basketball "Field of 64," I found it curious that Brackins was only a 7-seed.
The Brackins I remember watching was an obvious pro. He didn't care much for playing defense but as a stretch-four, Brackins could take over a game. Talent wise, Brackins was one of the best players we had seen in Ames since that guy name Fizer was drafted in the top five.
However part of the formula used to rank these players included team success. Brackins, who once scored 42 of Iowa State's 67 points in a loss to Kansas, played on some really bad teams.
So has Allen Lazard.
Think back to Dec. 4, 2012 – the day that Lazard, then a 5-star prospect, committed to Iowa State. Optimism surrounding the future of Paul Rhoads' program was at an all-time high.
"I knew that I couldn't see myself ever playing in another jersey," Lazard said. "It is what I always wanted."
We are about to enter year four of the Lazard era and not only has he never played in a bowl game, the guy who is about to exit Ames as the best receiver in the history of the program has only won eight games.
It's is a local football tragedy, really. Lazard's time in Ames wasn't supposed to go this way.
Just for some perspective, with an entire season yet to play, here is where Lazard stands in the Iowa State record books.
Career records
— Currently second all-time behind Todd Blythe (2004-07) with 170 receptions. Blythe had 176.
— At 2,419, is third in receiving yards behind Blythe (3,096) and Lane Danielsen (2,690). (Needs 677 to break the record.)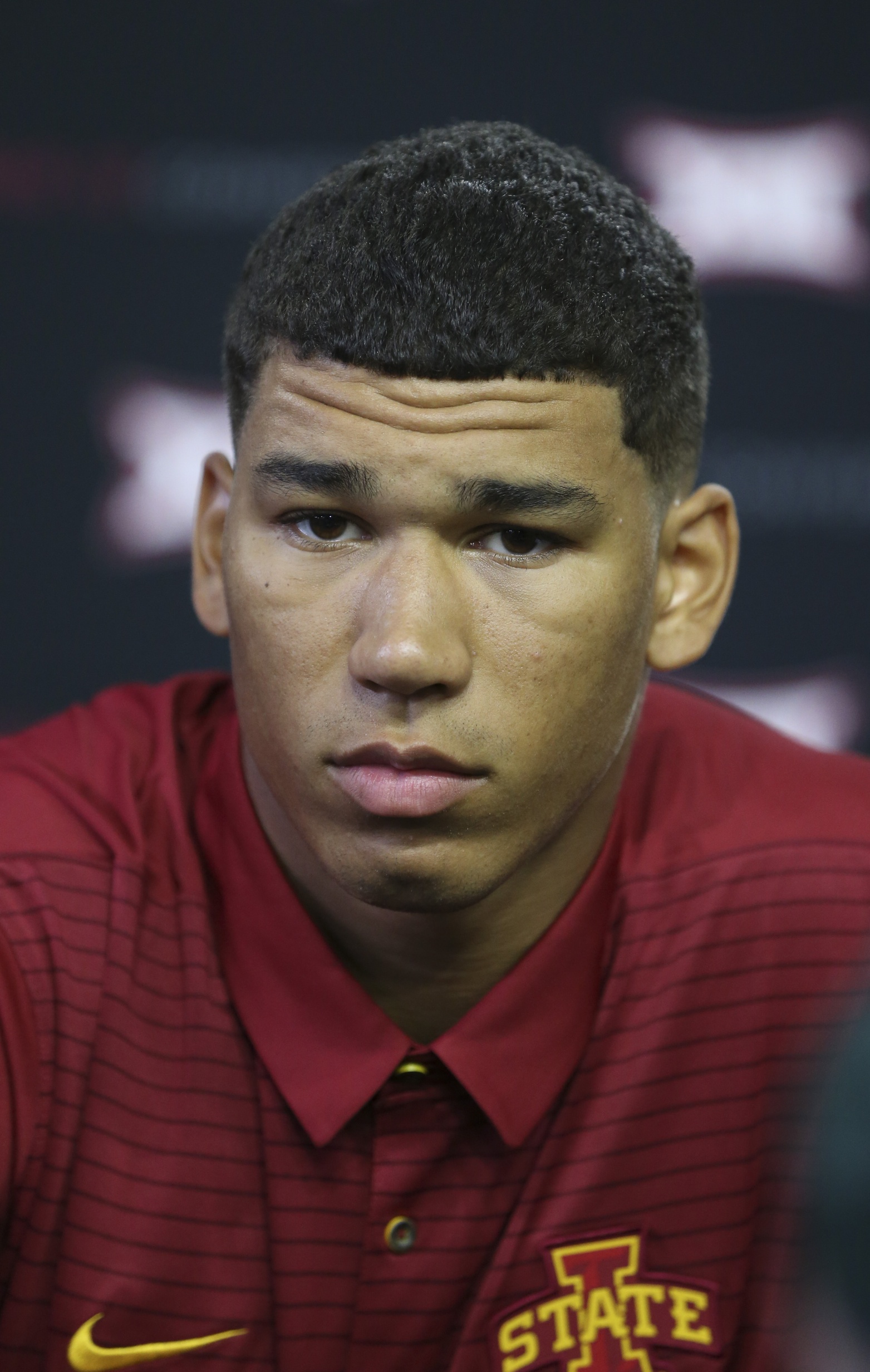 — Is tied for the school-record with Danielsen and Tracy Henderson for  100 yard receiving games at 8.
— Is second behind Blythe (31) for touchdown catches at 16. The school-record for touchdowns in a season is nine, so catching Blythe here would be a tall task.
— Is first in consecutive games with a reception at 35 with Ottow Stowe (1968-70) way behind at 23.
Lazard has put up these gaudy numbers without any consistency at quarterback. Three years into his career, he has yet to play with the same quarterback for an entire season.
"It's all about developing chemistry," Lazard said. "Most people who don't play football think it's just throwing the ball around but it all happens with repetitions. When you switch quarterbacks two or three times it makes it really difficult to feel what they feel."
In addition to the instability at the most important position in sports, Lazard's offenses have consisted of bad offensive lines, below average running games and a flurry of different offensive coordinators – one who after being fired midseason, openly mocked the very group he coached on Twitter a few weeks later.
What's sad is, like Brackins during all of the losing during the Greg McDermott era, you can't blame Lazard for the last three years.
As a blue-chip prospect in Urbandale, he could have gone just about anywhere and had a great career. Lazard, who often tells stories of playing pick-up football on the old Jack Trice Stadium hillsides growing up, chose to try and be a difference-maker for the school that he loves.
I really, really respect that.
"When I came here I wanted to be the most decorated player to ever play at Iowa State," Lazard said. "I want to be talked about for years to come, to be able to come back and have a legacy."
It's time to get not only Lazard, but a senior class littered with high character guys like Jake Campos and Joel Lanning to a bowl game.
"The one common theme with all of these guys is they love football and they have all stuck through it and stayed the course," Matt Campbell said. "That's been one of the reasons why we have been able to make the culture change in the program."
Right now, the culture change talk is simply that. Just talk. We have yet to see tangible results on the field.
However the feel around the Cyclones at the Big 12 media days was loose, fun and confident. Lazard enters 2017 as one of the top receivers in college football, a legitimate NFL Draft prospect and one of the most motivated seniors in the country.
"It drives me every day," Lazard said. "I want to not only go to a bowl game, but win a bowl game."
The numbers and impact are inarguable. Allen Lazard is one of the best receivers to put on the Cardinal and Gold. But number five's legacy would be cemented by getting Iowa State to SIX wins and leading the Cyclones back to the post-season.