There is one big thing I have learned over my years of doing this when it comes to conference realignment and the business side of college athletics.
Do not believe what people say in public.
Unfortunately at the ripe age of 32, I have turned in to a bit of a skeptic. I am a more miserable human being because of it but am also probably better at my job too.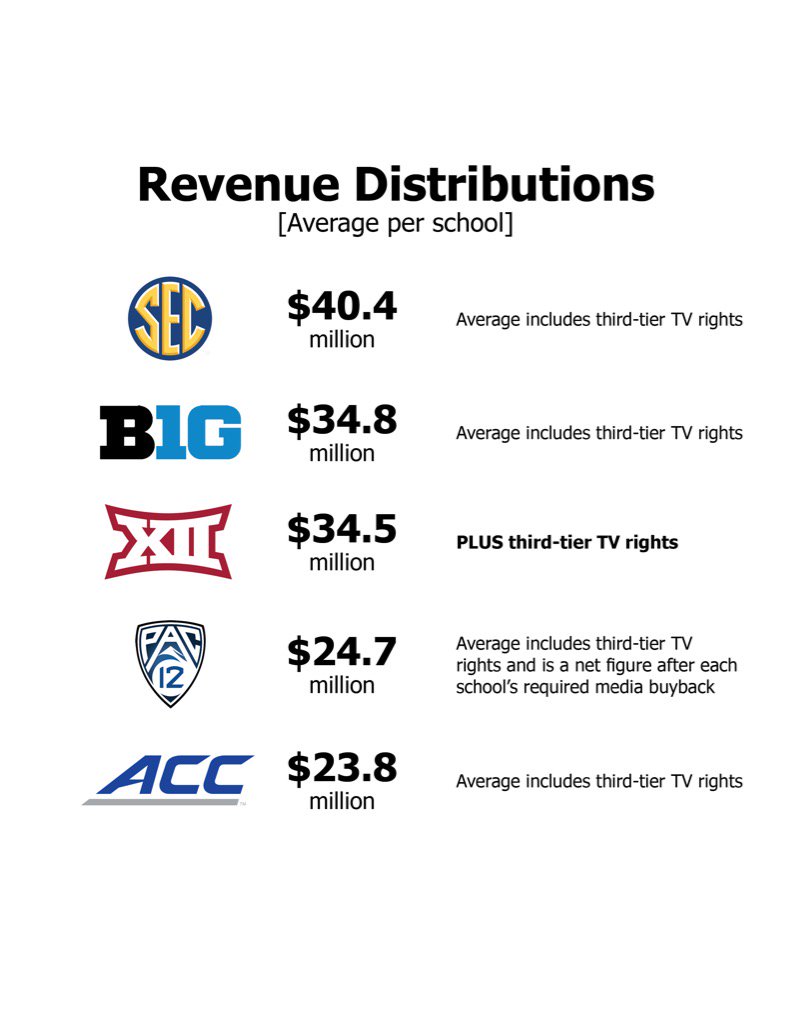 Having prefaced today's Musings with the above, allow me to dig into last Friday's Big 12 announcement that stated the league dished out $34.5 million in first and second-tier television rights per school in 2016. That is a major number that when you add in third-tier rights puts both (Texas $15 million for the Longhorn Network) and Oklahoma (reportedly just over $5 million for the Sooner Sports Network) above the SEC and the Big Ten.
I have no idea what will go down in 2024 when the sports media landscape that we currently know is going to blow up entirely (over the span of two years, nearly every major sports property will be up for bids at that time). However, despite what Paul Finebaum thinks, I am very confident that this league will be just fine until then.
Assuming the current college athletics model avoids an Armageddon of sorts (amateurism lawsuits, etc.), I actually believe that the Big 12 will exist beyond that as well.
According to multiple birdies with direct knowledge of the conversations, the league's directors spent a good chunk of time last week discussing the future – specifically new opportunities that will likely await the Big 12 (and others) when it next comes up for bids. Names of behemoth companies like Amazon, Netflix and Google were tossed around.
And guys, ESPN isn't dying. There is no doubt that the worldwide leader was late to the digital party and because of cord cutting is still taking on water by the day. But I look at what's going on in Bristol right now as nothing more than a harsh evolution.
It is similar to what we saw happen with newspapers five years ago or so. The difference is that newspapers all had to compete against each other (in addition to a blooming digital world and sites like Cyclone Fanatic) while ESPN is its own entity. It is changing and will probably never hold dominance on the market like it once did, but ask yourself this: Do you really think that Disney is going to let the brand that has dominated the sports landscape for two decades just die?
The answer is, "hell no."
Moves are being made behind-the-scenes. My guess is that Disney will soon acquire a major digital entity to set ESPN up for the future.
As a fan of the Big 12, which I am, the last week has made me feel as positive about the league's future as I have in quite some time.
I don't know who, but somebody told the Big 12 to not expand last fall.
Perhaps it was a future media partner hoping to keep the group from being watered down?
As is always the case, stay tuned. I do not believe that anybody knows what the future holds for not only the Big 12 – but media rights in general – but things are going to change drastically in the not-too-distant future.
I happen to find change awfully exciting.
How much is Cyclones.tv worth?
I got this question a lot on Friday when these numbers began to trickle out.
It is a complicated answer but I will try to keep it as simple as possible.
Iowa State launched Cyclones.tv as more of a promotional item than anything. It was a way for the Iowa State brand to reach hundreds of thousands of households in the state via Mediacom.
It is a profitable venture though – more because of sales (like the Chevy ads you see during women's basketball games) than actual checks being paid to the athletics department via Mediacom.
If I had to guess, I'd say Iowa State makes anywhere from $1 million to $1.5 off of Cyclones.tv via subscriptions, media sales and from Mediacom.
Just an educated guess.
Capital City League prediction
In case you guys missed it, the YMCA Capital City League held its draft on Friday night. Jared Stansbury recapped what happened with Iowa State players, which you can view by CLICKING HERE.
My quick take: Give me the Des Moines Outreach Lions Club to win the title.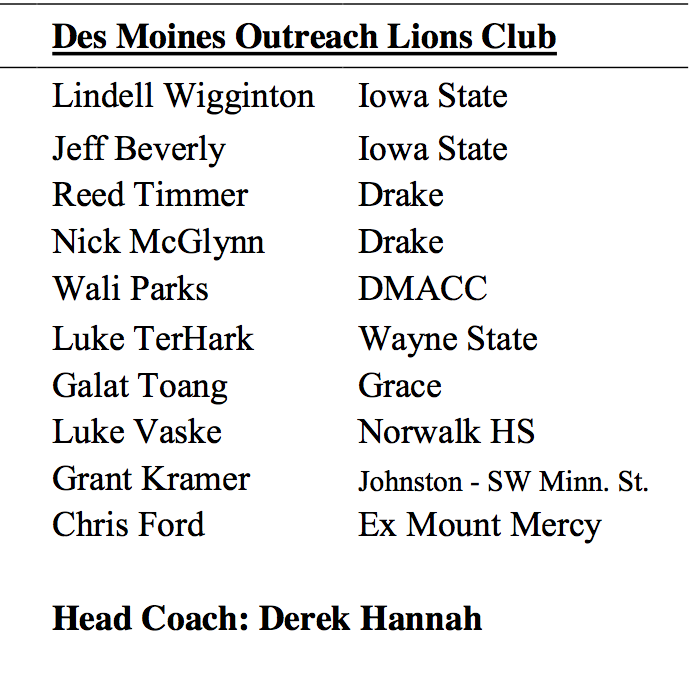 Freshmen usually play the hardest in this league, which Lindell Wigginton is sure to do. Jeff Beverly's game (lots of dunking) will transfer very well to the Cap City League. Plus, Drake's Reed Timmer is on that team too? It's not even fair.
My second favorite team on the roster is probably Doerrfeld Promotions. Solomon Young will be a house down low and I could see Iowa State freshman Terrance Lewis hitting a ridiculous amount of threes.
Our Jared Stansbury will be hanging around the Cap City League a lot this summer so stay tuned for his coverage on CF.
One final note…
The South Point sports book released its 2017 win/loss totals for the upcoming college football season on Friday. Previously, the number we saw for Iowa State out of Vegas was 4.5. South Point however is more bullish on the Cyclones with a number of 5.5.
You know what that means: Hit the over and go to a bowl.
For a look at how South Point sees the Big 12 season going down, CLICK HERE.