Jan 18, 2017; Morgantown, WV, USA; Oklahoma Sooners guard Jordan Woodard (10) drives the baseline against West Virginia Mountaineers forward Brandon Watkins (20) during the second half at WVU Coliseum. Mandatory Credit: Ben Queen-USA TODAY Sports
Two weeks ago, the Jordan Woodard-less Oklahoma Sooners looked like perhaps the worst team in a loaded Big 12.
Lon Kruger's senior guard is back. Oklahoma was a 17-point underdog and won at West Virginia on Wednesday and just like that, the Sooners are one of the hottest teams in the league.
It was nice of OU to find its groove right before Iowa State came to town. Pretty typical.
Woodard, who has scored 27 and 20 points in his last two contests (wins over Texas Tech and at West Virginia), is as valuable to the Sooners as say Monte Morris is to Iowa State. He is their glue.
"Woodard now that he's back and healthy, they're a totally different team," Iowa State head coach Steve Prohm said. "He was awesome last night. That was a great win. They were down 15 or 12 with about eight minutes to go and to come back and win, I think it just talks about the strength of our league, how good our league is. And then it also lets you know that we've got a big task on hand on Saturday but it's something that we're really looking forward to."
Oklahoma's turnaround with the return of Woodard has been brief but still somewhat incredible. Before winning two in a row, the Sooners had lost seven straight (albeit to pretty good teams).
Also consider the following: In Big 12 games with Jordan Woodard, the Sooners have averaged 81 points per. In the three games without him, that number was at 57.
Iowa State enters Saturday a two point favorite in Vegas and has a 59 percent chance of victory according to KenPom.com.
WILLIAMS: Five observations after re-watching the Kansas game
How strong are the Sooners in the post?
Not very.
This is a good thing for an Iowa State squad that has given up an incredible 106 points in the paint in its last two outings.
Oh, and check this out.
Iowa State's rebounding margin is -11.5 in Big 12 play, which is last in the conference. Kansas State is 9th with a -3.3 margin. #Cyclones

— Luke Manderfeld (@LukeManderfeld) January 19, 2017
A 6-foot-9 junior, Khadeem Lattin is Oklahoma's best post player. He's at 8.5 points and 5.8 rebounds per game right not but as a whole, is not extremely skilled.
Kristian Doolittle, a 6-foot-7 true freshman, likes to throw around his 236 pound frame. He's averaging 7.4 points and 5.5 rebounds on the season.
Both are capable of doing damage against Iowa State's weak front court but this is not as damning of a matchup as TCU or Kansas were for the Cyclones.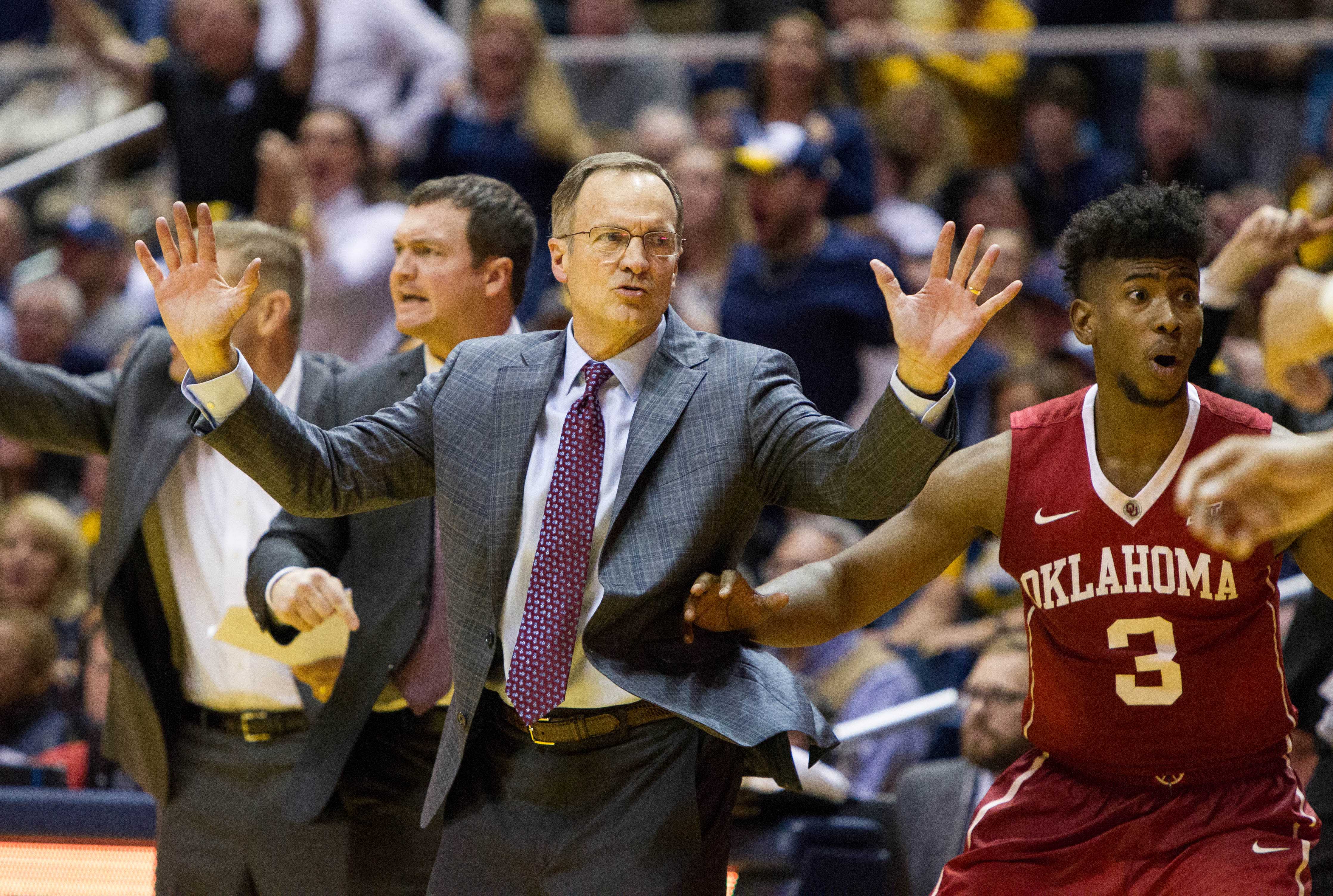 Five things to think about…
1 – This group of Iowa State seniors has never won in Norman, which is an impressive stat considering how many games that these guys have won.
2 – Crazy stat: In four of the last six games that Iowa State and Oklahoma have played against each other, the winning team has come back from a double-digit deficit.
3 – Despite dropping two in a row, Iowa State is still ranked 23rd according to KenPom.com. The fact that four of Iowa State's six losses were to ranked opponents by a combined nine points is why. Iowa State's offensive (36) and defensive (25) efficiency numbers are still in the top 40 in each category.
4 – Iowa State has never lost three games in a row during the Steve Prohm era.
5 – Monte Morris is shooting 52 percent from 3-point range during conference play.