Jan 11, 2017; Stillwater, OK, USA; Iowa State Cyclones guard Monte Morris (11) dribbles past Oklahoma State Cowboys guard Jawun Evans (1) during the first half at Gallagher-Iba Arena. Mandatory Credit: Rob Ferguson-USA TODAY Sports
Iowa State (11-4, 3-1 Big 12) point guard Monte Morris was listed among the top 25 players in college basketball on Wednesday when the Wooden Award's midseason watch list was released. Later in the day, he performed like one of the best players in the country.
The Cyclones' star floor general scored 30 points, dished five assists, grabbed five rebounds, recorded five steals and zero turnovers to lead Iowa State to a 96-86 win over Oklahoma State in Stillwater.
The win was Iowa State's fourth-straight in Stillwater and its eighth in a row against the Cowboys.
"Tonight was my night," Morris, who will finish his career without a loss at Gallagher-Iba Arena, told the Cyclone Radio Network after the game. "There's going to be nights where I'm not making shots but I have to keep attacking for this team. That's what they demanded from me so I'm finally learning and it's coming around to me."
Iowa State played some of its best basketball of the season while jumping out to a 14-4 lead before the first media break of the first half. The Cyclones were especially flying around defensively while forcing a handful of early turnovers and creating easy baskets on the offensive end.
They were able to keep OSU star point guard Jawun Evans, 12 points on 4-of-14 shooting, almost completely in check after he picked up two fouls early in the game. A mix of pressure defense kept him on his toes while forcing him into several tough situations.
Putting that pressure on explosive point guards will likely be something Cyclone fans can expect from Iowa State moving forward this season.
"My philosophy now really going forward, and this is how I was in the past, was you just can't let good point guards get downhill," Iowa State head coach Steve Prohm said. "You've got to get them going."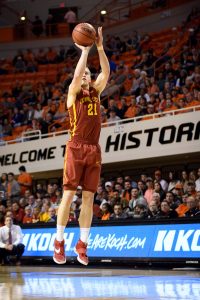 A fast start by Deonte Burton, who finished with 12 points and four rebounds, helped the Cyclones take early control of the game. Matt Thomas, 19 points and four 3-pointers, also got off to a hot start while knocking down a few early shots.
Fellow seniors Darrell Bowie, 13 points, and Naz Mitrou-Long, 19 points and six boards, were also key in helping Iowa State stay in control even once Oklahoma State took a lead during the second half.
"I think our guys they really showed a lot of poise and maturity," Prohm said. "At the end of the day, when you go back and look at great wins and tough losses, your best players step up and make big plays. You go down the line and Monte Morris was awesome. Matt Thomas awoke and made big shots. Deonte got us off to a great start. Naz, Bowie's and-one, Donovan (Jackson)'s defense, you just go down the line. This was a terrific win. It was a great bounce-back from the Baylor loss on the road."
The win kicks off a tough stretch of games for the Cyclones that will continue on Saturday when they visit Fort Worth to take on TCU in a 4:30 p.m. tip. The Horned Frogs moved 13-3 and 2-2 in Big 12 play with a 64-61 win over Texas on Wednesday.
The Horned Frogs, under new head coach Jamie Dixon, have been impressive while being led by freshman floor general Jaylen Fisher.
"TCU is shocking everybody," Morris said. "I like that point guard they have, man. He gets them into the offense and I like his motor. He's always up-tempo. He's very aggressive offensively and defensively so I know Saturday will definitely be a big-time matchup between us. I'm looking forward to it."