Jan 16, 2017; Ames, IA, USA; Iowa State Cyclones forward Darrell Bowie (10) defends Kansas Jayhawks forward Landen Lucas (33) at James H. Hilton Coliseum. Mandatory Credit: Reese Strickland-USA TODAY Sports
AMES — Iowa State trailed Kansas by four with 10:39 left in the first half when Carlton Bragg and Lagerald Vick grabbed back-to-back offensive rebounds. Vick finished off his board with a put-back pushing the Jayhawks' lead to six.
It was a possession that pretty perfectly describes the way Kansas was able to beat Iowa State 76-72 on Monday at Hilton Coliseum. Own the glass, finish in the lane and repeat.
Two possessions later, another Vick layup pushed the Jayhawks' lead to 10.
The two points were part of a 52-28 Kansas advantage in the paint. The previously mentioned offensive rebounds were two 14 offensive boards by Kansas and part 41-24 rebounding advantage.
"That's the game right there," Iowa State senior guard Naz Mitrou-Long, who finished with 18 points on 7-of-13 shooting, including three 3-pointers, said. "Forty-one-to-24. You get beat on the glass like that, you lose the game. That's what it was tonight and that's why we lost the game."
It's time for the Iowa State coaching staff to go back to the drawing board when it comes to how they defend the paint.
INSTANT REACTION PODCAST: Kansas 76, Iowa State 72
Since moving more and more towards a smaller lineup, the Cyclones have gone hard at opposing posts, doubling on the catch. It has created some turnovers, but has also created way too many situations in which the interior defenders are out of position.
It played a role in the Jayhawks shooting 61.3 percent from the field in the first half and the Cyclones forcing 18 turnovers.
It played a role in Kansas' senior big-man Landen Lucas scoring 14 points, almost twice his season average, and turning the ball over four times.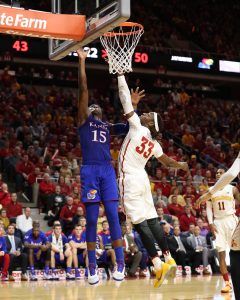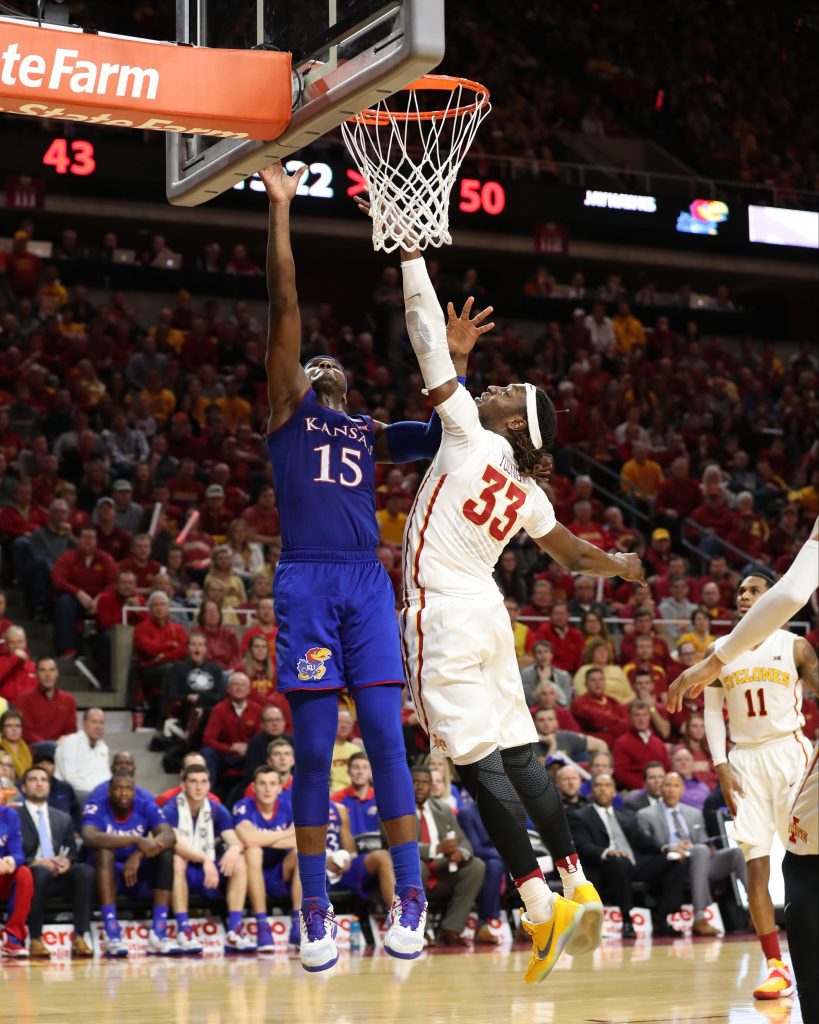 Even in times when it seemed like the defenders were in the right position, they weren't able to complete the play to keep Lucas or Bragg, 10 points on 5-of-9 shooting, from getting the ball to the rim from close-range.
"We're just small. I mean, it is what it is," Iowa State head coach Steve Prohm said. "We've got to go back to the drawing board on the steps for us to get better defensively, because we've been good at times. That's the frustrating thing. It's two. It's four. You know, if you're getting hammered it would be different, but every game's coming down the last four minutes, but that's every game in this league. We've just got to find a way to become a better defensive team. If you look, they shot 14 layups in the first half. Layups. You can't give Kansas 28 points in layups and expect to beat them."
At this point, it's hard to say what the solution is for the Cyclones' struggles in the paint. Outside of flat-out needing more production from frontcourt players, there isn't really anything that can be said.
On this night, senior guards Monte Morris, 23 points on 9-of-15 shooting with seven rebounds, seven assists, four steals and three uncharacteristic turnovers, and Mitrou-Long were, for the most part, spectacular.
The Cyclones' primary frontcourt players, Deonte Burton, who scored 21 points on 21 shots, Darrell Bowie and freshman Solomon Young, struggled. Bowie finished the game 0-of-6 from the field with zero rebounds. Young continued to be overmatched defensively but made the only shot he took.
After getting out-scored in the paint 54-28 in Saturday's loss to TCU, the Cyclones being owned in the paint is starting to become a trend.
"I think we've settled the rotation now," Prohm said. "We may have to figure out at the five if it just becomes this, but who's proven that they can rebound at the five 17 games into the season? Monte Morris is our leading rebounder, I think, in conference play. Now, his guy's getting back all the time so he should be a very good rebounder for us. I don't want to say you've got to rethink the whole thing. We've just got to become, we showed some grit at Oklahoma State. We showed some grit at Baylor. We've done it, Texas Tech, we've done it. A lot of times, it's being in position and not making plays. We've got to do that."
Iowa State now has five days before they roll into Norman to take on the Oklahoma Sooners in a 1 p.m. tip on ESPN2. I'm willing to bet a lot of that time will be dedicated to making strides up front.
At this point, there might not be much more the Cyclones can hope for.
"First half was more post guys were face-guarding the basket, but we had games like that before when we changed, when we started defending better," Prohm said. "We do give up a lot of size. When we get stops, we're able to push and run and run good offense. When you're walking against a set defense or you're giving up second chance points, it can beat on you. We'll be back."