Jan 14, 2017; Fort Worth, TX, USA; TCU Horned Frogs forward Vladimir Brodziansky (right) and guard Brandon Parrish (11) celebrate in front of Iowa State Cyclones guard Matt Thomas (21) during the second half at Ed and Rae Schollmaier Arena. Mandatory Credit: Kevin Jairaj-USA TODAY Sports
There probably weren't many people that expected Iowa State to own the paint on Saturday in Fort Worth, but there might've been even less that expected TCU to dominate the lane like it did.
The Horned Frogs out-scored the Cyclones 54-38 in the paint and owned the boards for most of the afternoon on their way to an 84-77 win.
It was TCU's first win against Iowa State since joining the Big 12 in 2012.
"We weren't good on the defensive end," Iowa State head coach Steve Prohm said on the Cyclone Radio Network. "On both ends of the floor, (they were) rebounding over top of us, tip-backs, (Vlad) Brodziansky had 25 points and probably only had one shot outside of three feet."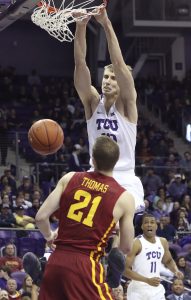 Iowa State struggled more against TCU's length on both ends of the floor than they have against any other opponent this season. That was most apparent in the matchup against the 6-foot-11 Brodziansky, who shot 11-of-14 from the floor and grabbed 14 rebounds, five of them offensive.
He also played a role in preventing the Cyclones from finding easy looks around the rim while blocking three shots and redirecting a handful more.
Led by 19 points from Naz Mitrou-Long, Iowa State's offense was never able to find the same flow it had at times in Wednesday's win against Oklahoma State. The Horned Frogs were able to keep them from finding easy looks at the rim and held the Cyclones to 46 percent shooting.
On the other end, TCU was able to get clear shots at the rim at will to the tune of 57 percent shooting from the floor.
"We weren't engaged like we need to be to come win on the road," Prohm said. "They're very good. They've vastly improved. They've got a whole different team. They play a whole different system."
I have no idea if TCU has played this well through the rest of the season, but it became very apparent early on this is not Trent Johnson's Horned Frogs. Under Jamie Dixon, this is a team that is going to be a force to be reckoned with as the Big 12 schedule marches on in the next month and a half.
They were flat-out better than Iowa State on Saturday.
That's especially true when the Cyclones only get nine points, on 4-of-14 shooting, from Monte Morris and five points, on 1-of-10 from the floor, from Deonte Burton. Even though backup point guard Donovan Jackson scored 16 points in the first half, Iowa State likely isn't going to win many games when two of their starters combine to go 5-of-24 from the field.
"I was giving those starters a chance in the second half and probably should've gotten Donovan a little bit more minutes," Prohm said. "We just weren't tough enough and physical enough on the road to come win today."
Iowa State won't have much time to dwell on the loss as they'll face one of their toughest tests of the season on Monday. The Kansas Jayhawks are set to visit Hilton Coliseum and they will likely do so as the newly anointed No. 1 team in the country.
If the Cyclones want to win their third straight home game against Bill Self's team, they will need the team that won in Stillwater to show up rather than the one that took the floor in Fort Worth.
"You've got an opportunity to beat the number one team in the country," Prohm said. "Got to get home, we'll watch this tape on the plane ride home and then we'll flip the script tomorrow night. We'll walk-through about Kansas tomorrow night at Hilton, shoot a little bit and then we've got to get ready. I know the crowd will be electric. I know the students are out there. We've got to come off that floor with a win."