Jan 21, 2017; Norman, OK, USA; Oklahoma Sooners guard Kameron McGusty (20) drives to the basket in front of Iowa State Cyclones guard Monte Morris (11) during the second half at Lloyd Noble Center. Mandatory Credit: Mark D. Smith-USA TODAY Sports
Earlier this week, Steve Prohm talked about how his team needed to play with more grit. After being owned in the paint in back-to-back games against TCU and Kansas, it was clear something was missing.
The Cyclones answered that call on Saturday in Norman.
Iowa State overcame a 28-9 first half deficit to defeat Oklahoma 92-87 in double overtime. It was the team's first win on the road in Norman since 2012.
"I told them before we left Ames we were doubted before the season, then we were doubted before we went to Florida, we were doubted when we didn't play well against Drake and Mississippi Valley and then were kind of doubted again because we lost two in a row," Prohm told the Cyclone Radio Network. "I think it helps everybody when people put you in a situation where they kind of doubt you. Then you have to come up here and play Oklahoma, who just beat West Virginia on the road. Sports reveal your character, toughness and, man, this was awesome to be apart of today."
The Cyclones got off to a horrid start to the first half while the Sooners were able to build their 19-point lead. Behind 11 points from Matt Thomas, including three 3-pointers, Iowa State was able to battle their way back into the game and hold a 30-29 lead at the halftime break.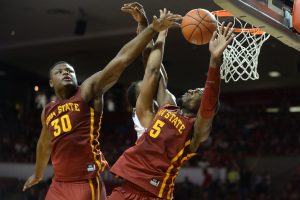 The second half and overtimes belonged to Deonte Burton as he scored 27 of his game-high 31 points in the final 30 minutes. He also knocked down three of Iowa State's 10 3-pointers, which came on 29 percent shooting from behind the arc.
Seniors Monte Morris, 19 points, eight assists and four rebounds, and Naz Mitrou-Long, 20 points and six rebounds, both made multiple crucial plays on both ends of the floor during the stretch run of the game.
They also played a major role in forcing Oklahoma, who was several days removed from a win over No. 7 West Virginia, into 25 turnovers and coming away with 18 steals, the most by an Iowa State team since 1993.
"Everybody's like, 'Iowa State, they're causing all these turnovers. They don't really press. They play half-court defense," Prohm said. "But if you're in gaps and you're being active in gaps and getting deflections, you're going to get your hands on some balls. That's what's big for us."
Perhaps the most pleasant surprise of the game was the play of senior forward Merrill Holden, who finished with zero points and seven rebounds. Despite not making an impact in the scoring column, he was effective defensively while altering shots and keeping the Sooners from getting easy looks at the rim.
"He played with the right mindset of this team needs me to defend and rebound," Prohm said. "That's what they need me to do for this team to be good. Not last year's Louisiana Tech team or last year's Iowa State team. This team right here Merrill we need you to defend and rebound and he did that. He really provided us a really big spark."
Next the Cyclones will turn their attention toward another one of the league's most improved teams — Kansas State. The Wildcats, who take on West Virginia on Saturday evening, will visit Hilton Coliseum on Tuesday for an 8 p.m. tip.
"We'll get to work on them late tonight and really more so tomorrow afternoon after church," Prohm said. "We'll get in there and then we'll meet with the guys tomorrow night. I was going to practice them, I didn't know we'd win in double overtime. Now they may be a little whipped so we'll go over K-State. K-State is vastly improved. Very tough and the difference I think is their perimeter play's been really good for them. They've got a legit post presence and so I can't wait to get in front of Hilton, the crowd and the fans. It's going to be a fun night Tuesday."